A stylish solution to teething.
Meet Tasty Tie, a wearable baby accessory that securely fastens to a baby's clothing for effective teething—in style.
Made with satisfying ridges that soothe sore gums and crinkly fabric for endless entertainment, the award-winning product has already reached thousands of customers and is stocked by over 300 retailers since its debut a year ago.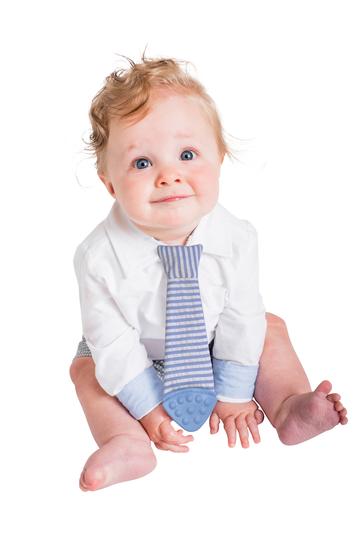 Founder Erin Pate says it was her son's particularly difficult teething phase that sparked her entrepreneurial spirit. "I tried nearly every teething product on the market, but the available products always ended up on the floor within moments, frustrating my son even more," she says. "They were not functional and certainly not fashionable."
Tasty Tie first appeared at AmericasMart in Atlanta, receiving overwhelmingly positive feedback from buyers. Following such success in Atlanta, Pate exhibited at ABC Kids Expo in Las Vegas, delighted by that market's equally enthusiastic response. "Reorders have since come in," Pate says."It is encouraging to see both large and small retail partners have such success with Tasty Tie!"
The stylish machine-washable teether has expanded its designs, now offering 12 eye-catching patterns. Pate hints other products will be rolling out soon, including a limited edition "Baby Shark/Daddy Shark" tie set for father and son in February. The brand is also adding tie-themed milestone stickers to its assortment.
For more information on Tasty Tie and its expanding collection, visit www.TastyTie.com. You can also contact the founder directly at 336-202-7962 or erin@tastytie.com.