The marketplace's retrospective unveils retail milestones from Y2K to now.
Diving deep into two decades of search and sales data, eBay shared the top trends and events that shaped its customers' purchases over the years. From Pokémon and velour tracksuits to royal inspiration and fidget spinners, here are some of the most popular trends that influenced eBay shoppers from 2000 to present:
2000—Pokémon: The Pokémon series was at its peak, and everyone was on a quest to 'catch 'em all'—especially the plush versions.
2001—Xbox and iPod: The first Xbox and iPod were introduced.
2002—Camera Phones: The Nokia cellphone was released, the first cell phone with a built-in camera.
2003—Velour Tracksuits: Juicy Couture was purchased by Liz Clairborne, infusing excitement into the brand's signature velour tracksuits (which became particularly popular once Paris Hilton and Nicole Ritchie's Simple Life series premiered).
2004—Friends Ends: Fans of the television show Friends snatched up series merchandise after the final episode aired in May.
2005—Reality TV: With reality television becoming more popular (e.g. Survivor and American Idol), viewers began looking to own a piece of their favorite shows and often turned to auction items.
2006—Tie-Dye: Tie-dye apparel and accessories were everywhere. (Thirteen years later, tie-dye has made another resurgence as it appeared on major SS19 runways like Prada, Proenza Schouler and Stella McCartney.)
2007—The Simpsons: After the release of The Simpsons Movie in July, sales for its character merchandise spiked 217 percent.
2008—Prioritizing Comfort: Consumers made leggings, Ugg boots and Crocs their go-to fashions. Ugg sales were up 105 percent going into the 2008 holiday season. Crocs were most popular as a summer shoe, with 135 times more sales than the prior season.
2009—Guido Go-Tos: With the premier of MTV's  Jersey Shore series, so came the quest for guido-inspired fashion. Think oversized sunglasses, animal prints, airbrushed hats and graphic tees.
2010—Tablets: The first iPad was released, peaking in sales around the holidays.
2011—Royal Fever:  Celebrating the union between Prince William and Kate Middleton, shoppers toasted with royal-inspired tea sets.
2012—British Takeover: On the heels of the previous year's royal-fandom, it was a year that celebrated all things British: One Direction, 007's Skyfall film, London hosting the Olympics, the list goes on. The Spice Girls reunion was another event that had shoppers instantly looking for Union Jack-printed apparel and home decor.
2013—The Next Generation: The newest iterations of a variety of tech and console devices rolled out, including the iPhone 5S, PlayStation 4, Samsung Galaxy S4, HTC One, the iPad Air, to name a few. In December 2013, nearly 300 Samsung Galaxy S4s were sold every hour on eBay.
2014—Beauty Gurus: Kylie Jenner launched her popular lip kits, igniting the age of beauty influencers.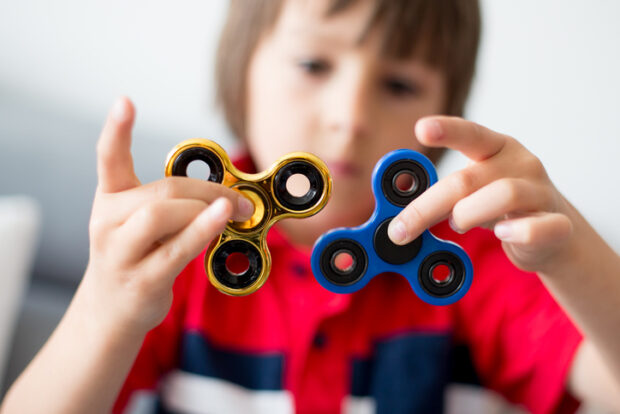 2015—3-D Flower Mania: Pop-up flowers blossomed in decor and clothing. During the last half of 2015, sales for 3-D flowers rose 115 percent!
2016—Superheroes: The releases of Deadpool, Suicide Squad, Batman and Captain America had shoppers celebrating their favorite superheroes. Superheroes and villains even turned out to be the most popular Halloween costumes.
2017—Fidget Spinners: Fingers stayed busy with fidget spinners of all varieties and colors. In fact, one was sold every 1.5 seconds on eBay!
2018—Fanny Packs: The '80s classic made a comeback across men, women and children.
And finally, 2019 shopping cart activity showed…
Sneakers: A growing trend over the past decade, sneaker sales increased in 2019 from the previous year with Air Jordans claiming the top spot (171 percent more sales than competitor brands on eBay).
Pearls: When Gigi Hadid was seen wearing a string of pearls, the marketplace saw a 21 percent uptick in sales.
Game of Thrones: With the final episode aired in May, Game of Thrones collectibles surged.
Beyonce: With the release of Homecoming and Lion King, all things Beyonce were smoking hot.
Micro-bags: The mini crossbody bag has grown exponentially, as high as 65 percent year over year. It was the most wanted handbag for the holidays.