Alex Gizela, founder of Cabbages & Kings NY, writes on cherishing the small magical moments that still exist during this difficult time.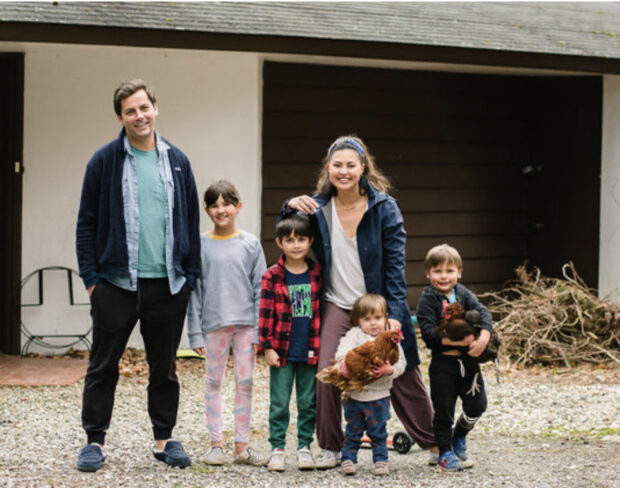 Dear Diary,
I'm glad to report I was able to keep my screaming at the kids to a minimum this week. I think it's finally dawned on them they are going to have to be each others friends/classmates for awhile. I must say it has been a challenge keeping the peace between four kids. The moment one decides to deviate off the (loose) schedule, they all jump in on it with annoying cries of "unfairness"…"Why do I have to read when Jameson is playing video games?!" "Why do I have to do math when Nieve is putting the chickens on the swing?!" "Why can't I have mochis and Skittles for breakfast like Stirling?!" 
All in all, I really can't complain. Quarantine life has been quite good to us. We are extremely grateful for our health and thankful to take this opportunity to slow down. We are focusing on reconnecting and communicating, and for once we are actually getting s#%t done! Projects put on the back burner are actually getting checked off the list—a dream for this Virgo!
Who knows what the future will bring for business, but we remain optimistic. Kids will always need to keep warm, and our fall/winter assortment will be ready for them.
As far as working from home goes, well that primarily happens after the kids are all asleep, a.k.a. 10:30 p.m.! Their bedtime has definitely gotten later, but the good part about that is my mornings have gotten pushed as well. When the kids were at school, Nieve would nap, and I would rush to get some work done…but that no longer is the case.
That said, it's been wonderful having hubby around—the extra set of hands is priceless. I'm actually able to sneak some moments to myself throughout the day, even if it means hiding in the pantry or car. A major plus is being able to turn anything and everything into a school assignment! You're hungry? Cooking class—learn to make your own meal! You can't find fresh undies? Perfect—time to learn how to do the laundry, fold and put clothes away!
I've also found it helpful to fill in those "I'm bored!!!!!" moments, with the many artists who have been stepping up with "how-to" drawing classes (like Mo Willems and Jeff Hopkins) and day-to-day challenges (like Carson Ellis). The family 1,000-piece puzzle has also been a real winner. We've also run the gamut of crafts. Everything from a life-size tree of parrots made from their hand prints, a zoo of egg carton animals and toilet paper roll airplanes!
At the end of the day, this experience has taught me to truly be grateful for what we have, to live in the moment and to cherish the small magical moments that we, as a culture, unfortunately take for granted.
Alex