Some educational kids' books to help families through this quarantine period.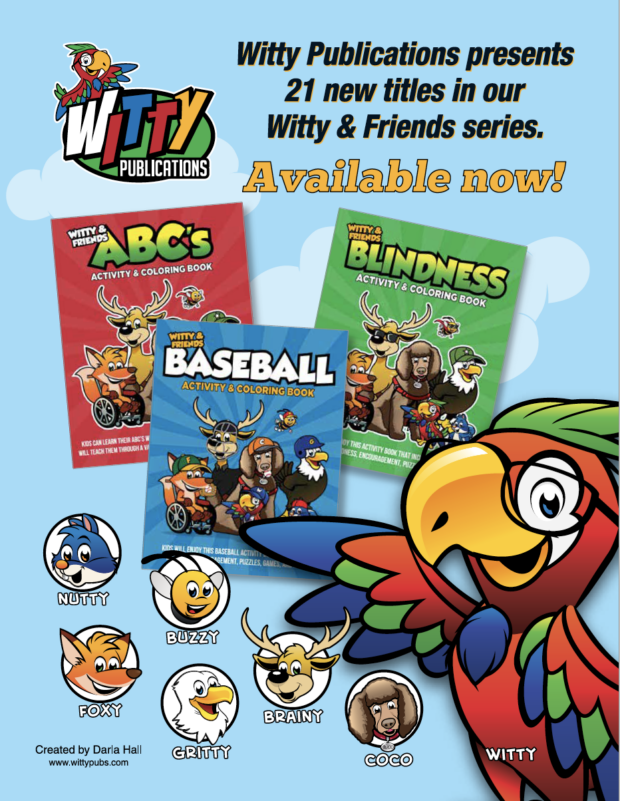 With so many parents homeschooling for the first time, retailers are encouraged to stock up on educational children's books as easy tools to get through this tough time. And empathy should be on the front lines.
Author Darla Hall just launched 20 children's educational activity and coloring books focusing on kindness and inclusivity. Her company, Witty Publications, aims to entertain while educating on empathy for those with disabilities and other illness.
"I started my company from scratch and cashed in my savings to create products to help children who may need love," says Hall. "My content is based on helping all children, sick or well, to understand and have compassion for each other."
Her inclusive characters include: Brainy-deer with mask, Witty-bird, Foxy-fox in wheelchair, Nutty-squirrel, CoCo-guide dog, Buzzy-bee and Gritty-eagle.
Hall started her sports-themed book company (originally called In the Sports Zone) as gift for a young boy who was hurt in a car accident. She branched out to publications for childhood cancer, anti-bullying, blindness, deafness, adoption and more, teaching kids that it's OK to be different, and that kindness and compassion go a long way. "I still do some of the sports-themed books as giveaways, but I've shifted into this new phase of compassion and empathy," says Hall.
View this post on Instagram
One thing Hall is empathetic about is kids home from school and families managing their new normal. To that end, she is offering free downloads on her Facebook page during these difficult times.
Books can be purchased wholesale in 12-packs from dhall@wittypubs.com.