NYIGF What: The New York International Gift Fair is the nation's premier trade show for gift, home and lifestyle merchandise. The fair, which is more than 80 years old, is divided into 10 easy-to-shop divisions, including Baby + Child. NYIGF is half-way through its three-year "Focus Forward" strategic re-organization. By summer 2013, the fair will […]
To Market We Go
LA Kids Market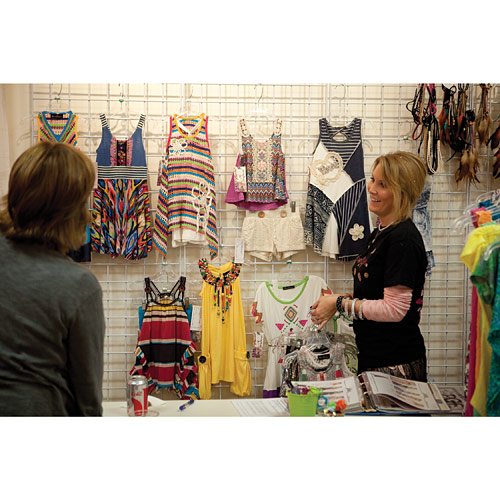 To Market We Go
ENK Children's Club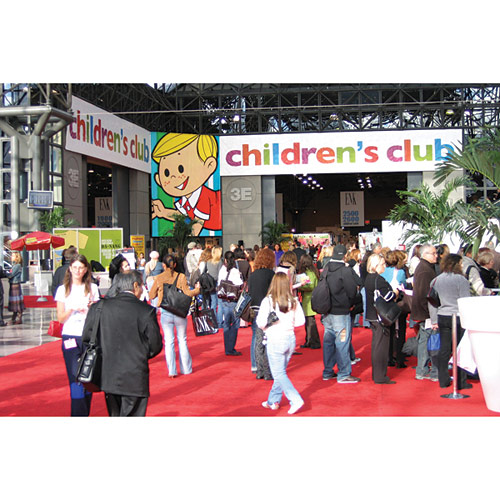 To Market We Go
Playtime New York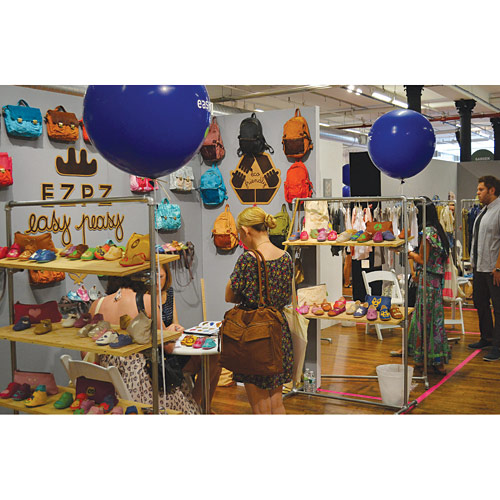 To Market We Go
NYIGF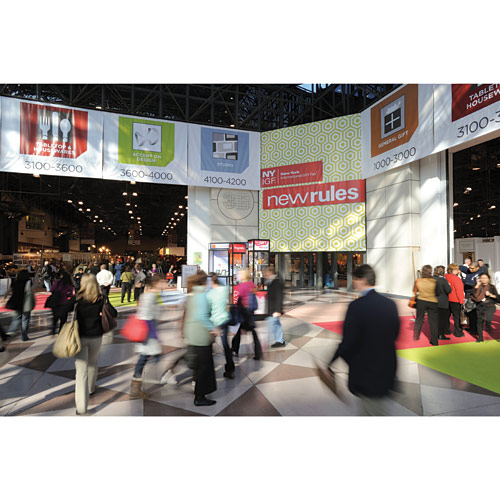 NYIGF
What: The New York International Gift Fair is the nation's premier trade show for gift, home and lifestyle merchandise. The fair, which is more than 80 years old, is divided into 10 easy-to-shop divisions, including Baby + Child. NYIGF is half-way through its three-year "Focus Forward" strategic re-organization. By summer 2013, the fair will be organized into four broad categories: home, craft, lifestyle and new. "Manufacturers who are ready to write and ship orders will be very successful at this show," assures Cathy Steele s/b Cathy Steel (NYIGF).
Who: More than 2,800 exhibitors present 100,000 product lines in 400 categories at NYIGF. The show's target audience is retail-focused, from independent specialty stores
to big-box brick-and-mortars to e-tailers. Retailers will find a plethora of products for children ages 0 to 10 in Baby + Child, as well as thousands of other products in the fair's other divisions. This year, expect a myriad of educational sessions and seminars on trends in the juvenile market for all attendees.
When: Jan. 28-Feb. 2, Aug. 18-23
Where: Javits Center and Piers 92 & 94, New York, NY
Contact: www.nyigf.com, (800) 272-7469

KIDZ AT STYLEMAX
What: Focused on the needs of childrenswear stores and specialty store buyers, Kidz at STYLEMAX sets up shop four times a year in Chicago. Attendees will find all of the resources and brands in one welcoming and convenient marketplace.
Who: Kidz at STYLEMAX is ideal for the childrenswear buyer who wants to stay ahead of current trends. Exhibitors can expect a clean and high-end exhibit space to showcase their collections. Brands at the show include A. Bird, Belabumbum, BabyLegs, Wheat USA, Tea Collection and Turtle Fur.
When: Jan. 28-30, March 24-27
Where: Merchandise Mart, Chicago, IL
Contact: www.kidzatstylemax.com, (800) 677-6278

LA KIDS MARKET
What: Right in the heart of the downtown Los Angeles fashion district, LA Kids Market taps into an eclectic yet hip mix of local talent like La Miniatura by Jeffery Sebelia and takedowns of Europe's finest, including Baby Dior,Roberto Cavalli and Moschino.
Who: A key resource for specialty boutiques like Kitson Kids, Red Balloon and Haute Baby, many of the market's sales representatives are reporting an increase in buyers searching for products beyond apparel and accessories. As a result, the show may appeal to buyers with a steady gift, toy and novelty item business.
When: Jan. 16-19, March 12-15, June 11-14, Aug. 6-9, Oct. 15-18
Where: California Market Center, Los Angeles, CA
Contact: www.californiamarketcenter.com, (213) 630-3683

ENK CHILDREN'S CLUB
What: Held quarterly on New York City's west side, ENK Children's Club opened its first show floor at the urging of the childrenswear community in 2000. An all-encompassing children's apparel event, companies showing at ENK offer clothing for newborns to age 12, as well as accessories and footwear.
Who: Retail attendees include children's specialty stores and boutiques as well as specialty directed department store merchandisers and buyers. "Buyers attending Children's Club have the opportunity to discover new collections alongside established lines showing their latest for the season," says Stanley Kaye of ENK. Typically, 700-plus collections are on display. "This certainly helps retailers establish their place in the market as a fashion leader," he adds.
When: Jan. 11-24, March 11-13
Where: Javits Center, New York, NY
Contact: www.enkshows.com/childrensclub, (212) 759-8055
KIDSHOW
What: A division of Specialty Trade Shows Inc., KIDShow celebrates its ninth year in Las Vegas in 2012. The biannual show focuses on moderate to high-end apparel, accessories, footwear and room décor. Denise Raeside, show manager, says, "It's a beautiful boutique show with something for everyone." Showcasing a mix of tried-and-true brands with new designers, Raeside expects more than 250 booths this year.
Who: KIDShow focuses on infant and toddler brands, although newborn through tween are all well represented. "We have vendors that work well with retailers. The bulk of what we do is the small, department and specialty stores. We don't cater to the mass retailer," says Raeside.
When: Feb. 13-15, Aug. 20-22
Where: Bally's Hotel, Las Vegas, NV
Contact: www.kidshow.cc, (305) 663-6635
PLAYTIME
What: This international trade show dedicates itself to the "universe of children, junior and maternity" and makes stops in Paris, Tokyo and New York twice a year. Look for a "fun and games" theme for the show's 11th edition, and expect more animation, workshops andartist-produced trend spaces.
Who: Approximately 400 brands will show at Playtime, including more than 50 new international brands this year. Some fresh faces for Playtime's 2012 childcare section include Bugaboo, Bloom Baby, Ergo Baby and Aden & Anais. Great for retailers and exhibitors alike, Playtime expects over 5,500 visitors from 48 countries.
When: March 10-12 (New York edition)
Where: 82Mercer, New York, NY
Contact: www.playtimenewyork.com, (212) 563-7301
DALLAS MARKET CENTER
What: With an entire 250,000-square-foot floor dedicated to children's products, this show features a bevy of brands from local showrooms, including The Closet, Eureka!, Hope's Chest and Summer Place II, as well as educational sessions held by digital marketing experts to lure attendees.
Who: The market draws all types of children's buyers with its range of infant, kids, tween and maternity lines, but a steady amount of retailers located west of the Mississippi River and east of the Rocky Mountains account for the show's most loyal and frequent attendees.
When: Jan. 26-29, March 22-25, May 31-June 3, Oct. 25-28
Where: Dallas Market Center
Contact: www.dallasmarketcenter.com, (800) 325-6587
ABC KIDS EXPO
What: Encompassing nearly a million square feet of exhibition space, in 2012 the ABC Kids Expo will turn 10 with more than 800 exhibitors in attendance. The event, set to return to a retailer-friendly Sunday to Wednesday schedule, also will host an industry reception with networking opportunities and entertainment.
Who: Juvenile specialty stores remain the show's core attendees, but thanks to its well-rounded range of categories (furniture and bedding, baby gear, apparel), the show is also well represented by many national retail chains, e-tail stores, catalogers, regional chain stores and specialty gift stores.
When: Oct. 14-17
Where: Kentucky Exposition Center, Louisville, KY
Contact: www.theabcshow.com, (210) 691-4848
AMERICASMART ATLANTA
What: From maternity to childhood, Children's World at AmericasMart Atlanta is home to more than 700 leading apparel lines that suit the South's unique taste for trendy and traditional goods.
Who: Children's apparel retailers itching to tap into add-ons and bonus sales will find plenty of tempting shoes, accessories, keepsakes, gifts and even bedding and home furnishing. The market's close proximity to women's, men's and accessories showrooms also make it a prime spot for retailers that cater to the entire family.
When: Feb. 2-6, April 12-16, June 7-10, Aug. 16-20
Where: AmericasMart Atlanta, Atlanta, GA
Contact: www.americasmart.com, (800) 285-6278
—Melissa D'Agnese and Angela Velasquez