Whereas many specialty shops rely on repeat business from their local customers, hotel managers know their clients are fly-by-night (or week) visitors. As another way to stand out, hoteliers are creating unique gift shops designed to make a lasting impression and appeal to the customers as shoppers, rather than travelers. What once was a place […]
The Inn Crowd
Inside the Mohonk Mountain House's gift shop.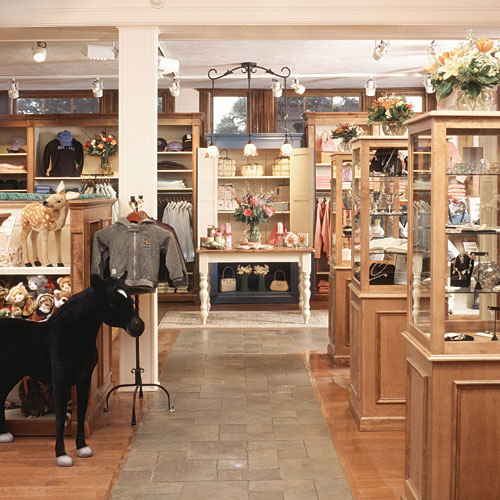 The Inn Crowd
The beautiful Mohonk Mountain House located in the Hudson Valley.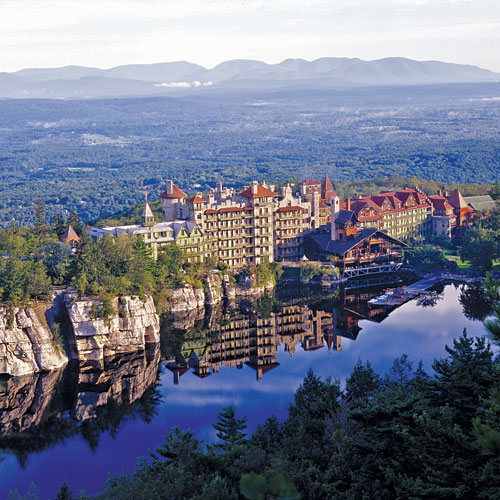 The Inn Crowd
The playful mural at Sunny G boutique at the Gaylord in Nashville, TN.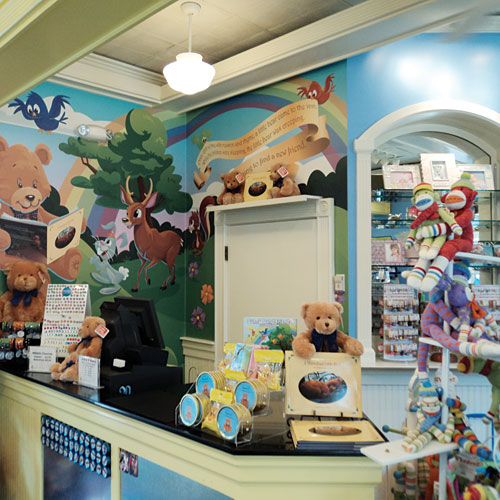 The Inn Crowd
Roma e Toska on display at the Grand Del Mar.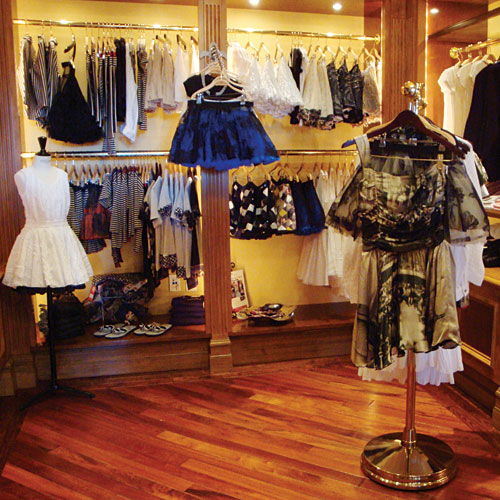 Whereas many specialty shops rely on repeat business from their local customers, hotel managers know their clients are fly-by-night (or week) visitors. As another way to stand out, hoteliers are creating unique gift shops designed to make a lasting impression and appeal to the customers as shoppers, rather than travelers. What once was a place to buy sunscreen and sunglasses is now a destination for the latest kids' duds, local goods and, in some cases, audacious character apparel.
Tucked away in New York's Hudson Valley, the Mohonk Mountain House, a Victorian-inspired resort, caters to families and groups ready to enjoy the great outdoors. While the gift shop features an old-fashioned soda fountain, the goods have an athletic appeal. Candy Martin, the gift shop manager, says the store looked at which adult brands were working—Champion and Sansegal—and brought in those brand's kids' styles. "Now our best-selling children's clothing items come from those two brands," Martin says, in addition to the resort's Mohonk logoed children's merchandise. Beloved brands are also a big draw at the Stowe Mountain Lodge in Vermont, where a Ralph Lauren shop exists in sharp contrast to local wares like dollhouse furniture and clothes, wooden trains and rockers. The Ralph Lauren apparel speaks to the sporty après ski vacationer, while the hand-carved pieces are keepsakes reminiscent of rustic New England.
Increasingly, hotel shops don't feel like hotel shops at all, with not a corporate logo in sight. "I treat the store as if it was an individual boutique on the street," says Mary Beth Voss, buyer at the Grand Del Mar in San Diego. The price tags on the merchandise at Voss' boutique reflect the upscale hotel's nightly cost, and the goods speak to the property, but that's where the connection ends. It's as if a quirky neighborhood shop just happened to be dropped inside of the hotel. In terms of the hottest brands for children, Voss says J Brand jeans, Roma e Toska and Kate Mack swimwear are tops, complementing the women's stable of Michelle Jonas, VIX swimwear and Twenty8Twelve by Sienna Miller. Voss says the biggest struggle is getting customers inside. "If they haven't been there, a lot of them have the attitude that they'll see Lacoste with logos or tennis wear. They're shocked to find things they'll wear again and again."
Getting people in the door is a specialty of Sunny G children's boutique, which is located inside the Gaylord Hotel in Nashville, TN. On any given day, the store's mascot, aptly named Sunny G, can be found walking the hotel's own quaint Main Street, building up a group of followers, posing for photos and eventually leading them to the shop. If you miss the giant bear, follow your nose—the scent of bubble gum wafts from the shop. Top sellers at Sunny G include Bunnies By The Bay, Mud Pie, Mis-Tee-V-Us and Rock n Roll Cowgirl, as well as books about Tennessee, children's cowboy boots and cowboy hats. Sunny G—both the bear and the store—is not just another hotel shop, it's an experience, says Chris Lane, operations manager at the Gaylord. "You walk into the hotel and it's an amazing property," he says. "Our focus as retailers is to keep those expectations satisfied in our store—to create that experience. We want to 'wow' every guest that comes through those doors," he says. —Meagan Walker