The pressure to reign in her bright design aesthetic triggered her move to launch her own label in 2011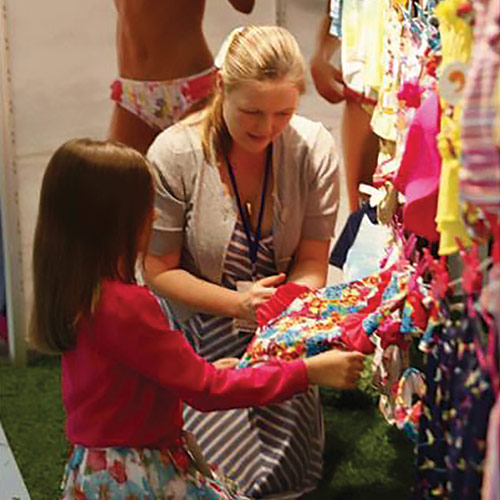 People can cite some unusual inspiration for taking the leap to achieving their career dreams, and Aussie designer Kate Zarboci is no different. She started out designing kids' collections at Speedo and Bonds and later lingerie at Berlei, where the pressure to reign in her bright design aesthetic finally triggered the big move: launching her own label, Escargot, in 2011—right out of the living room of her share house. "Berlei had a big farewell party for me and the next morning at 6 a.m., I flew to Tokyo and Los Angeles to get inspired," Zarboci says. "Escargot was born."
Each stitch and colorway that comprises the brand is chosen with "The Escargot Child" in mind: a seven-year-old imaginary muse who loves bright colors, swimming at the beach, shopping and playing dress up with her friends. "We love designing with her and our little customers in mind," Zarboci says. "Nothing beats the smiles when a little girl puts on an Escargot swimsuit for the first time and squeals with delight, 'Mummy, it has a tutu!'"
When designing the Spring/Summer '18 collection, Zarboci channeled summer family vacations and dynamic locales like Bali and Tokyo. Girls' see vintage floral and sophisticated tropical prints in the designer's signature vibrant sorbet and neon colors, while boys' styles are reminiscent of 1960s surfer movies. The collection boasts plenty of girly ruffles, tutus and printed sun tops for sizes infant to 14 years. Drawing from her experience at Speedo and Bonds, Zarboci uses chlorine-resistant nylon spandex fabric ("Super Resist"), which is quick drying and has a sun protection factor of UPF 50+. A "Mommy and Me" limited edition collection will also debut this spring, and Zarboci is partnering with Aussie labels Minnow and Pouch Australia to create separate beach booties and wave swimwear collections.
Designing children's swimwear is a labor of love for Zarboci as it runs deep in her upbringing. "As a child, I can never remember not knowing how to swim, and we literally spent every spare minute at the pool or the beach," she says. "This makes it so inspiring to be a swimwear designer living in Australia. Long summers, beach days and swimming are a way of life, and my designs reflect this lifestyle as we live the brand." —Aleda Johnson
Is there a "perfect" kids' swimsuit? I think there is. The formula is great fit + amazing print/color + something special, which can be the addition of a tutu, an adorable detail or a free matching hairband—the little touches that make our little customers smile. If we nail all three, that's the perfect swimsuit.
What celebrity would you like seeing in one of your designs? I would love Pink's little girl Willow to be rocking an Escargot tutu swimsuit.
Which designers do you admire most? My favorite designers are Issey Miyake and Vivienne Westwood. I love how unique their style is; they are both so creative, and what they design is unmistakably theirs.
What are your favorite shopping destinations? Tokyo, Tokyo and Tokyo!
What might you be doing if you weren't designing children's swimwear? If I weren't designing children's swimwear, I would love to be designing houses. My dad was an amazing interior designer and provided endless inspiration when I was growing up.