Helping Hand
Nicole Williams Glass founded her infant and toddler clothing line Tag New York with the intention of giving back to the talented artisans she met overseas during her previous career in high-end product development and design. That's why her socially responsible brand only works with fair trade organizations and small-scale manufacturers around the world. Moving into its second season, the line has expanded beyond printed tunics and pants to bow a unisex line of rompers, hats and mittens made from baby alpaca and pima cotton in sizes 6 months to 3 years. Wholesale prices range from $18 to $60. Go to www.tagnewyork.com.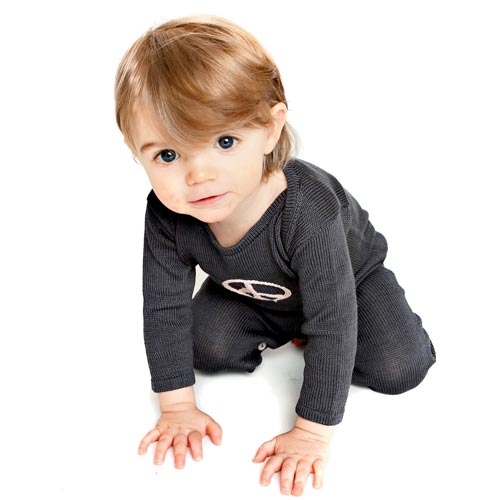 New Traditional
Austrian brand Hilda Henri makes its U.S. debut in Fall '14 with a collection of clothing and accessories for boys and girls in sizes 1 to 12 years. Inspired by Russian folklore and Czech fairytales, the line includes dresses, skirts, trousers and knitwear made from milled loden, a traditional Alpine felted fabric produced from boiled wool, ensuring each piece is lightweight, durable, water repellent and breathable. Wholesale prices range from $25 to $102. Check out www.hildahenri.com.

Soft Serve
Traditional styling meets the softest threads in French label Sol de Mayo's latest collection of cashmere and cotton clothing—its second to hit stores stateside. Girls get crewnecks, cardigans and dresses in a mostly gray palette peppered with pink and golden yellow. Meanwhile, round-neck pullovers and vests in gray, blue and key lime lend a sophisticated look to little gents' ensembles. Some unisex sweaters are available, too, and each cashmere piece is handmade by traditional artisans at a family-owned factory in Kathmandu, Nepal. Wholesaling from $40 to $112, sizes range from 2 to 12 years. Visit www.sol-mayo.com.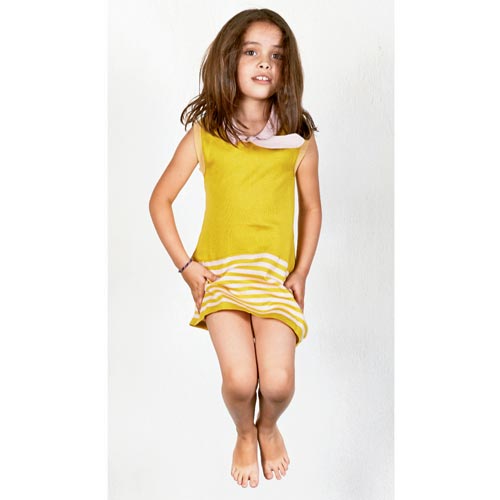 Local Hero
With years of architecture and design experience and a strong commitment to local production, Cristina López-Lago and Maria Llerena united their efforts to bow Motoreta, a small-scale brand of kids' clothes made in workshops in the south of Spain. Wholesaling from $22.59 to $76.45, the brand's sophomore collection comprises structured coats, knit sweaters, slim leg pants and a sprinkling of geometric prints for a sophisticated spin on fall dressing. Sizes range from 2-3 to 10-11 years. Check out www.motoreta.es.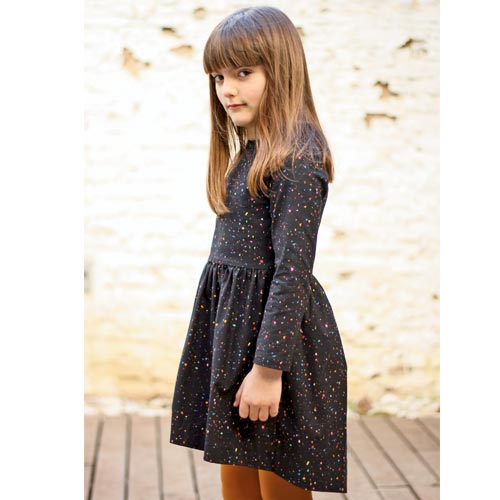 Nature Calls
Designer Dionne Ting combined her love for fashion with inspiration from her daughter to create My Moon. The line launched with baby blankets in 2013 and has since expanded to include rompers, dresses, leggings and tops in sizes 6 months to 6 years. Everything is handmade in small volumes using organic and sustainable fabrics printed with non-toxic water-based inks at a family-owned and operated factory in downtown San Francisco. Wholesale prices range from $24 to $48. Go to www.mymoonsf.com.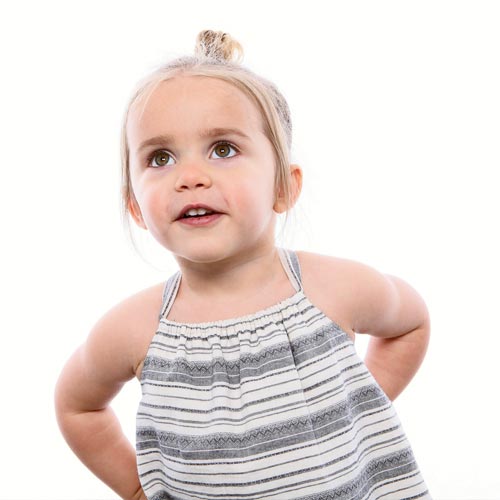 Socially Responsible
Based in San Jose, CA, Ellie Funday works with marginalized women in India to embroider deli- cate patterns on its line of blankets and swaddles. Free from harmful pesticides and chemicals and wholesaling from $22 to $39, the GOTS-certified organic cotton muslin offering includes four-layer blankets and double weave swaddles. Blankets are available in four patterns each for boys and girls, while swaddles come in six colors. Visit www.elliefunday. com.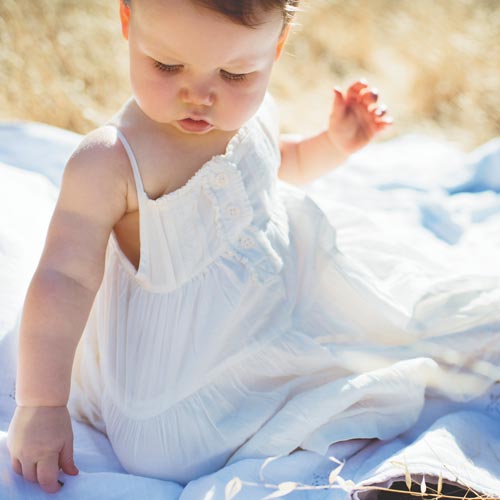 Knit Wit
For Italian newcomer Bubino, it's the little things that count. Domestically sourced wools and cottons are hand washed before cutting and stitching to avoid shrinkage, while deli- cate details like mother-of- pearl buttons, handmade brooches and grosgrain ribbon top off its range of clothing and accessories for boys and girls. Available in sizes 3 months to 10 years, wholesale prices range from $31 to $150. Check out www. bubino.com.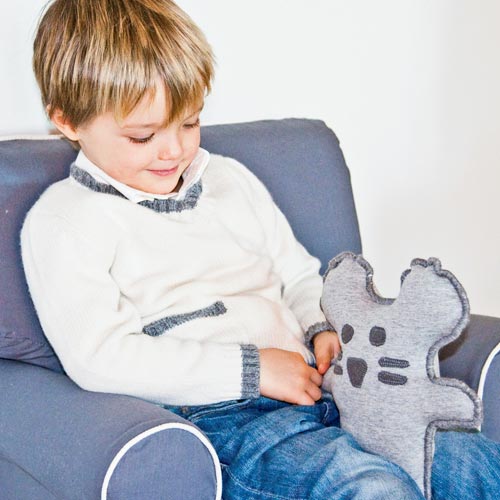 Starry Night
Aden + Anais has inked a deal with Stokke to introduce a line of cotton muslin bedding for the Norwegian furniture brand's convertible crib, Sleepi. Hitting stores in October, the collaboration offers three of Aden + Anais' iconic star-filled prints (Twinkle, Lovely, Night Sky) in both mini (18" by 26") and crib (29" by 49") sizes that fit the oval-shaped crib as it grows with infants from newborn to 3 years. Wholesale prices range from $15 to $17.50. Check out www.adenandanais.com.