Four-year-old twins and social media sweethearts Mila and Emma Stauffer add fashion designer to their resumes—before pre-k!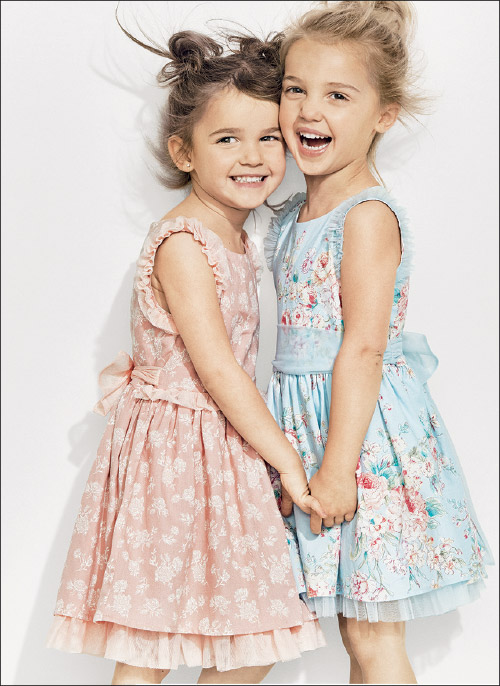 Captivating viewers with their adorable toddler voices, twin stars Mila and Emma Stauffer have gained more than 11 million hits on Instagram with viral videos that make fun of common complaints by grown-ups. 
The twins, who turned four this past Halloween, have not only raised the following on their mother's Instagram (@KCStauffer) to more than 4 million but also garnered a Facebook following of more than 5.2 million along with several celebrity fans like Shawn Mendes, 50 Cent, Reese Witherspoon and Kris Jenner. Most recently, Mila and Emma were spotted in New York, sitting front row at Fashion Week around the time the girls were promoting their new eponymous Mila & Emma clothing line, released last month in Target stores and at Target.com.  
Comprised of nine pieces, including dresses and two-piece sets, the spring collection is made of "elevated fabrics" doused in pastel hues that convey a "sweet, feminine aesthetic." Suggested retail prices range from $13 to $24. As for quality and fit, it's only the best, according to their mother Katie Stauffer. "Mila, especially, is very specific in how a dress hits her waistline," she says. "If it's not correct, she'll ask me to pin it—so you can be sure the entire collection is Mila-approved!" 
Fast Faves
TV Shows: "Sofia the First" and "Vampirina" and "Power Rangers" and "Paw Patrol."
Movies: Anything with princesses or zombies.
Music: David Bowie
Toys: LOL Dolls and baby dolls
Game: Tic-Tac-Toe
Food: S'ghetti (spaghetti)
This is just the beginning of the Mila & Emma clothing enterprise. In early May, expect a line of Mila & Emma swimwear to hit shelves and more categories to follow in future seasons. In the meantime, the girls are busy making more videos for their YouTube channel, Mila & Emma. Aimed at young kids, the channel features videos of the girls doing fun activities like ice cream challenges, sharing their (very honest) opinions of toys, music, games and fashion, and even the occasional interview of movie stars, like Channing Tatum, James Corden and Danny DeVito at the premiere of Small Foot.
So what's it like to be four and famous? "We go to a lot of parties," Emma says. "And we get tons of stuff in the mail—I like it," Mila adds.
How was your first day of pre-k?
Emma: It was so fun!
Mila: We did karate and read stories, but we had to be quiet.
What did you wear?
Mila: Dresses, duh!
How would you describe your personal style?
Mila: I don't know…perfect?
What do you like to wear on the weekend?
Emma: Dresses, but sometimes mommy makes us wear pants.
Do you accessorize?
Mila: Yes—bows and jewelry! We like pink.
How about shoes?
Mila: Tall boots for everything.
What do you typically do on the
weekend?
Emma: Play with our toys, watch movies or have parties.
Do you go shopping?
Emma: Sometimes.
Where do you shop?
Mila: Target, Tom's Toys, Fred Segal…
Does your mom buy more clothes for you in store or online?
Mila: In stores…I think. Right, Mommy?
What's one fact people would be surprised to know about each of you?
Mila: I used to be super scared of dogs.
Emma: I don't like loud noises.
What do you want to be when you grow up?
Mila: An actress and a doctor.
Emma: A doctor and an actress.
Well, I think that's all…
Mila: I have some questions! What's your favorite animal?