Jamari International President Jared Levine chats about what it takes to succeed in the fast paced luxury kids' market. by Jennifer Cattaui There's no denying that today it's a fast fashion market, and Jared Levine, president of Jamari International's childrenswear showroom, headquartered in New York City, can certainly attest to that. "We start our sales […]
Haute Kidture
A FALL LOOK BY ROBERTO CAVALLI.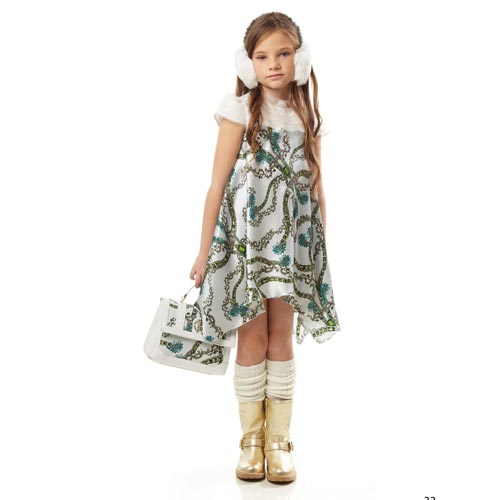 Haute Kidture
FENDI FALL '13 BOYS' WEAR.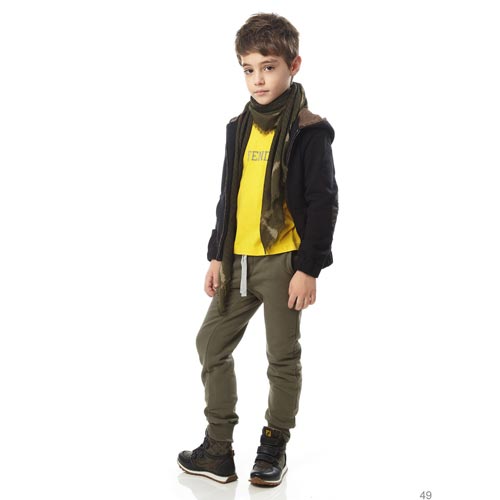 Haute Kidture
FROM FENDI'S FALL '13 GIRLS' CHILDRENSWEAR COLLECTION.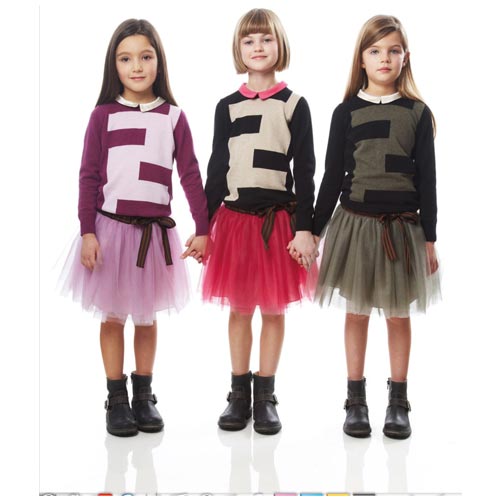 Jamari International President Jared Levine chats about what it takes to succeed in the fast paced luxury kids' market.
by Jennifer Cattaui
There's no denying that today it's a fast fashion market, and Jared Levine, president of Jamari International's childrenswear showroom, headquartered in New York City, can certainly attest to that. "We start our sales for Fall '13 in mid-November and some brands close in early January," he confirms. Moving quickly is all about improving deliveries, Levine says: "In the U.S. market in particular, to get the best sell-through, the brands have to be in the stores first. To be in the stores first, we need to deliver first; to deliver first, we have to produce first, and so on…" The first-to-market strategy seems to be working for Jamari, a family-run business that was started by his parents in 1977 with a single line—Levine now has many premium brands under his roof and notes growth has been strong and steady. But, he realizes short sales windows do come at a cost. With hot tickets like Young Versace, Stella McCartney Kids, Hugo Boss, Scotch Shrunk, Petit Bateau, Il Gufo, Little Marc Jacobs, and most recently Miss Grant and Mackage, lining the walls, demand isn't the problem—but can buyers back up their buying plans enough to meet these early deadlines? "I'm sure that we miss some people," Levine notes, "but I'd rather miss a few to be able to ensure the timely and complete delivery for the customers who are able to make it in when the goods are available." With these early sales, Fall '13 begins to arrive at retailers' doors mid-June, making back-to-school coincide with the start of summer vacation.
The fast-fashion state of mind that exists in the women's market has affected his brands, Levine says, noting that Marc by Marc Jacobs and Scotch & Soda added pre-collections with even more abbreviated selling windows. "What used to be two collections a year has become four," he adds. This makes a lot of sense with today's consumer who is expecting to see something new every time he or she enters a store or visits a website.
Levine and his "amazing" 16 person team ("I can't stress enough how great they all are," he adds), work hard to support the mid- to high-tier boutiques and department store business, as well as protect the brand image of the luxury labels that they represent. "We do not work with discount stores or discount websites. Putting luxury kids' collections on a sale site could hurt a brand's image, and we're careful to not let that happen," he says.
The American market is more price conscious, compared with its European counterparts says Levine, who focuses most on the price-value ratio. "If the customer feels that the price-value ratio is correct for their store, there is no price limit to what people will spend," he says, noting that many of his brands, including Scotch Shrunk and Petit Bateau, are at the same price point as domestic brands.
When entering the vast U.S. market, Levine says many of the foreign brands expect all of their problems solved. "You have to explain to suppliers that while the U.S. is a big country, [children's luxury goods] is not a huge market segment, and they can't turn to the U.S. to save them from what is happening in Italy, Greece, Spain and Portugal. They can do a nice, big business here but they cannot sustain the kind of distribution they have in Europe," he says. Whereas monobrand stores are a big trend in Europe, Levine notes he hasn't seen that model as successful in the U.S. "Americans like variety," he says, but adds that stores doing deeper buys in fewer brands, within his customer base, seem to be turning a lot of product, due to the fuller "story" that a more complete line affords. "Customers end up buying more pieces," Levine suggests.
Levine says the difference in taste between U.S. and European childrenswear was most apparent on a recent buying trip to Europe (he goes eight to nine times a year) when he spotted a father and son in Galeries Lafayette in Paris: "The boy has red pants, a pink check shirt, a pullover sweater with buttons down the sleeve and a puffer jacket."
But, the market segment with a penchant for brand labels is alive and well in the U.S., evidenced by the gaggle of luxury brands diving into the kids' market. "Nothing is recession proof," he notes, "but there is always a little cushion in the top level of the business. There are super rich who will always be super rich and will always spend."
That being said, it most certainly is not an easy business, and Levine notes that for the brands, distributors, showrooms and retailers, it's survival of the fittest. "There's still some shaking out to do, with all of these brands and not enough doors," he notes. For the retailers, success is all about service. "The stores that are still doing things—hosting fashion shows in the store, parties and events—these stores are growing. They always want new merchandise on the floor because they always want the customer coming back."
And his business is more demanding as well, with service being paramount. Knowing speed to market is crucial; Levine and his team pick, pack and turn around orders in 24 to 48 hours. They're also teaching their retailers' sales floor associates the finer points of the garments over Skype and distributing photography for the retailers to leverage, including approved celeb children shots (not surprisingly his lines are a big hit with Hollywood). On the other side of the equation, he's working closely with the manufacturers, suggesting small changes, requesting colors and trying to guide them to success in the U.S. market. "I ask them to make 10 changes to get two," he laughs, but notes that many of his brands will tailor garments per his feedback.
One thing he does not do is keep stock, and notes that it can result in lost opportunity. "I had a customer this morning who wants to reorder pieces and I don't keep stock so it's impossible. She missed out on additional sales because she didn't order ahead, and I missed out for not holding stock."
Levine, who started at the family-owned showroom sorting hangers, then picking, packing shipping, pricing and labeling ("I still do all that stuff," he laughs) knew from the beginning that this would be his career. "It's exciting—every season we get new collections and new products and start from scratch. Just because a brand was great last season doesn't guarantee it for the next. If we lost customers we have a chance to regain them. We have an opportunity to increase and improve every season."