The French brand outfits its customers in elegant basics. In 2004, Ronit Pardo was freelancing as a childrenswear designer when she realized she wanted to create her own collection and call all the shots. "I wanted to be able to make the decisions from A to Z, as sometimes the designs that I had drawn […]
Pearls to Popcorn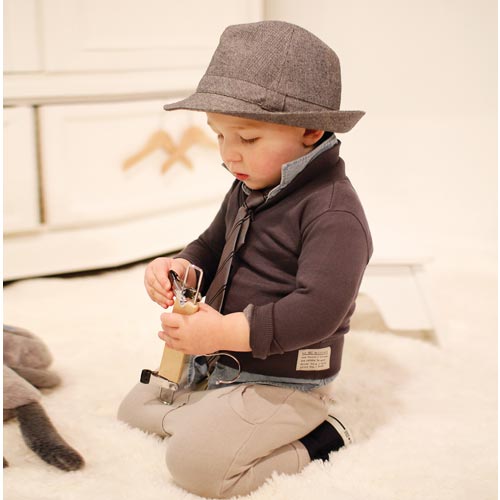 The French brand outfits its customers in elegant basics.
In 2004, Ronit Pardo was freelancing as a childrenswear designer when she realized she wanted to create her own collection and call all the shots. "I wanted to be able to make the decisions from A to Z, as sometimes the designs that I had drawn did not always end up in the shops the way I had planned," she notes. So when she had her son in 2007, she decided to finally make her dream a reality with Pearls and Popcorn.
Pardo describes the brand as "very wearable chic and European style at a price point that is affordable to all." She says the keys to the line are comfort and practicality, and she encourages her customers "to roll up their sleeves and get messy." Pearls and Popcorn offers basics, from knit sweaters to soft cotton T-shirts, but the designer says the fun is in the tiny features. "We try to make sure that there is always a small detail to be discovered on each piece of clothing, whether it is a little smock at the back of a tee, a hidden print or embroidery, a cut slit pocket, etc. It is the little things that make the big difference," she notes.
The inspiration for Fall '13 collections is back-to-school shopping. "There is nothing more exciting than buying school supplies, which basically signals the end of those summer days," Pardo says. For its "Preppy for School" line, navy blue, red and yellow are star colors, while graphic tee designs include textbook prints that feature such quips as "Time to Play," with a printed watch on the cuff. "The fabrics are all super-soft cottons, and the goal is to achieve maximum comfort stylishly," Pardo adds. For girls, standout pieces include denim chambray blouses and dresses that "transform a girly look into an ultra-wearable, usable piece." The second collection, "Norwegian Woods," centers on winter whites and softer colors, such as toned-down pinks and brick red, with touches of silver-accented yarn, jacquards and flower prints. The boys' clothes are set for adventure, with explorer-themed sayings and graphics, such as binoculars.
A bright coral hue is the central girls' color in the "Portobello" collection, and the boys' line returns to wardrobe staples, such as tees, chambray shirts and denim. There is also a holiday capsule collection for girls, which includes a navy tutu with black detailing—"an elegant mix." But don't let the elegance fool you—Pardo tries to keep her prices reasonable for customers. "While we want the brand to be elevated and maintain a high-end, luxury look and feel, we want to make sure that moms can build amazing wardrobes for their children and incorporate pieces from each collection, season after season," she says.
With its re-launch at ENK this past January (the booth was so busy that Pardo had to schedule appointments), and its expanded size range into toddlers, the sky is the limit for this French brand. "I hope children will be wearing our clothes from newborn right through to 6 years. We also hope to expand the line; the scope to evolve is endless. I would love to incorporate a layette cashmere line, outerwear, swimwear—the list goes on!"
Wholesale: $10-$35
Sizes: 3 to 24 months, 3 to 6 toddler
—Maria Bouselli