How a movie inspired our January 2017 fashion photo shoot.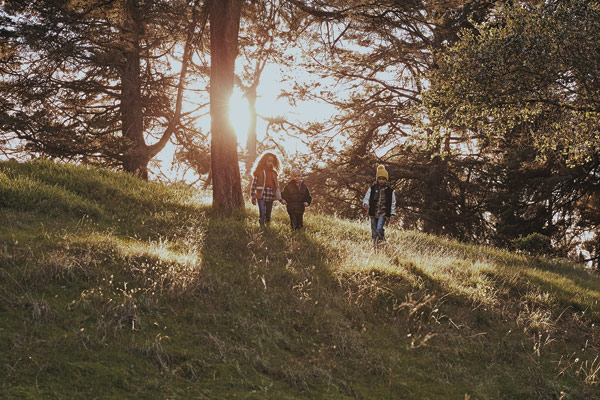 If you missed Captain Fantastic, take it from us, see this film. Aside from starring Viggo Mortensen, who received a Golden Globe nomination for his portrayal of a father devoted to raising his six children in the forest far away from outside influences, the movie is set against the majestic wilds of the Pacific Northwest and a visual stunner. What does this have to do with childrenswear, you ask? It was Captain Fantastic that inspired stylist Mariah Walker and photographer Zoe Adlersberg to cart five oversized suitcases filled with children's clothing through the streets of New York, hop a plane and drag them deep into the woods north of San Francisco. Together, they captured the movie's mood in "Evergreen," page 20. Captain Fantastic was all about shaking convention and, arguably, the same can be said of the newest pieces from the Fall '17 collections. They let the children run free and, whether in a fashion spread or in real life, that's always a beautiful sight to see.
Speaking of free spirits, when it comes to creating theatrics both on the runway and off, nobody does it better than Betsey Johnson. In our new column, "Designer Chat," page 32, Earnshaw's shoots the breeze with Johnson to gain insight into the unstoppable energy and spunk that's made her a legend in women's fashion since the '60s. Turns out, recently launching an exclusive kids' line for Babies "R" Us was a walk in the park. "After all my years in the industry, there's nothing challenging," she relays.
Life force is particularly celebrated in the act of baby gifting, and the January issue highlights one of the longest-standing gift companies in the business. Elegant Baby's Chief Executive Offer Yates Hooper refers to gifting in almost reverent terms, describing it as way more than a "stuff" business, but a celebration of new life and a demonstration of love through the act. Flip to "Happy Birthday, Baby!" on page 14, and you'll also find out what's behind Hooper's first name and which one of his relatives signed the Declaration of Independence.
Breaking with custom was also a theme last year among many businesses, eager to find unorthodox methods to help offset any setbacks. This was especially true in the outerwear category. In "Inside Out," page 10, we tackled the state of the children's coat business which appears to have fared better last year compared with 2015. And there's optimism for 2017, which is remarkable given that at press time, 2016 was shaping up to break another record for the warmest year.
January is a time of setting goals, casting off bad habits and maybe shedding a pound or two. To that end, we asked our industry peers to jot down their New Year's resolutions. Sometimes answers were all-business, sometimes they were personal. All were enlightening. As for what's on my agenda for 2017, I want to meet more of our readers, read more books, sew for fun and travel to a far-off land. I've been fortunate enough to experience countries like Myanmar, India, Africa, Cambodia and Thailand. Vietnam is next on my list. Travel is my definition of freedom.
Until I get to dust off my passport, however, I'll be in New York where we're co-hosting Earnshaw's Live, a collaboration with the Children's Club trade show this month. If you find yourself at the Javits Center from Jan. 8 to Jan. 10, stop by our onsite studio for industry interviews and discussions hosted by our team. We look forward to seeing you there. .