When iconic designers Mark Badgley and James Mischka launched their brand 30 years ago, kiddie couture was not on their radar.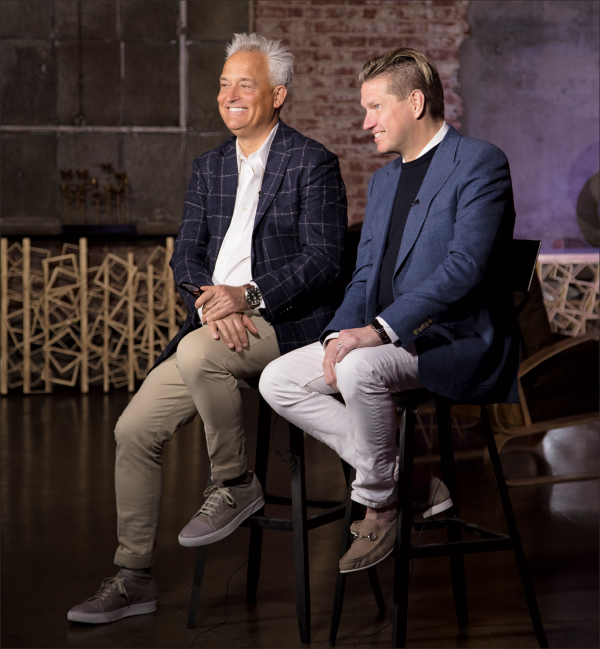 When iconic designers Mark Badgley and James Mischka launched their brand 30 years ago, kiddie couture was not on their radar. Fast forward three decades and the dynamic design duo has made successful forays into bridal, eyewear, home décor and, two years ago, girls' footwear with Synclaire Brands and, coming for Spring '19, its first-ever dress collection with Pastourelle. The designers, who first met as students at Parsons School of Design and bonded over their shared interest for sartorial elegance, believe the time is now for a similar level of sophistication for little ones.
"As the brand expanded and evolved to become more pervasive, children's fashion began making a lot of sense," Mischka says. "We love how Synclaire captures the DNA of Badgley Mischka with kid-friendly versions of our adult shoes," Badgley adds, noting tasteful embellishments such as pearls and gems. "Having the opportunity to experiment with more casual silhouettes for little girls has been a lot of fun," he says, alluding to its chic sneakers in addition to the label's signature wedges and heels.
Mischka is equally optimistic about its license with Pastourelle. "We were just so fond of Pastourelle upon meeting its mother-daughter team, Fran and Julia," he says. "Fran is so talented at design, and Julia is just amazing at marketing the collection. Our journey into childrenswear has been nothing but a joy." —Emily Beckman
What's special about the new dress line? Badgley: Lots of the dresses were influenced by our couture collection—very similar fabrics and colors. In addition, a lot of embellishments—tassels and pompoms—that are still popular in women's ready-to-wear have been adapted into our girls' dresses along with a lot of amusing mix-and-match prints. However, the silhouettes are quite classic and timeless, because that's what our customer admires. The first collection is very signature, special and feminine. The following season we'll diversify with more day-into-occasion dressing. Overall, sophistication is always important—you really can't underestimate the taste of these little girls.
Little ladies who lunch. Badgley: Yes, and I think social media plays a large role. While girls want comfort, they also want to look pretty like their mom and older role models. I also think these moms can get very competitive with each other!
Do the dresses complement the footwear? Badgley: The collections are very compatible. From our day shoes working back to our flower girl styles, the palette stays pretty neutral. There's a lot of metallic—gold, silver, rose gold—that blends back to the dresses easily without being too overwhelming.   
What's been your No. 1 inspiration? Mischka: Many of the women in our office have little girls, who often come in and help us with this project. Beyond that, fabrics are the inspiration and often dictate the outcome of the individual dresses.
Any unique challenges to designing sophisticated fashion for girls? Mischka: Well, the fact that we come from a couture background where we are used to making $10,000 gowns—that's been an adjustment. We can't forget that there's a disposability factor with childrenswear. Women invest in special pieces that may remain in their closet for years, but little girls grow out of everything so fast. Our partners have also taught us a lot about children's fashion compliance—seeing embellishments as choking hazards doesn't always come to mind when you're used to designing for women.    
Any advice for your retail partners trying to survive these challenging times? Mischka: We've been in business for 30 years and seen our share of cycles. Remember, this business is cyclical. Whatever is down now will be up again later, pretty much without fail. The other aspect we stress is to never try to be everything to everybody because then you're nothing to anybody. Badgley: That goes for designers and retailers. You've got to pick your niche and just excel in that area.
Any other projects in the pipeline—like children's furniture perhaps? Mischka: We haven't really thought about children's furniture until you just mentioned it. Interesting idea. Badgley: It is! Right now we have dresses and shoes, however we've been in talks with our eyewear company about perhaps doing children's optical.    
What do you love most about design? Badgley: It's very gratifying that you constantly get to start over. It's always amazes me how some product companies come out with a new product every five or 10 years. They work on this one product day-in and day-out, whereas James and I had about 160 different products last year alone with our various collections and licenses. It's nice when you never have a chance to get bored.