Corinne and Craig Rickenbach launched Persnickety Clothing Company with one major mission in mind: giving back. "We really have a passion for philanthropy," Corinne said, noting that footwear company TOMS Shoes—which gives away a pair of shoes to a child in need for every pair sold—inspired them. The American Fork, Utah-based company borrowed the philosophy, […]
Wild Child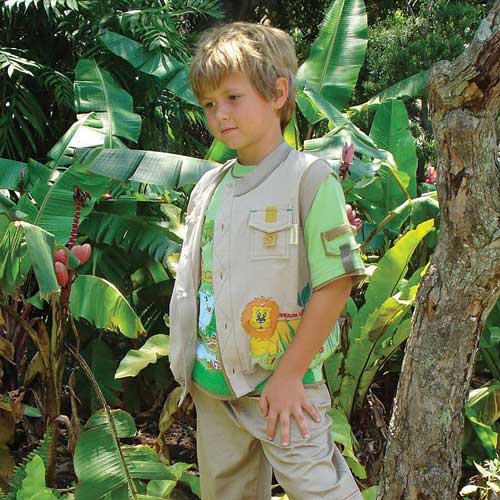 For All Eternity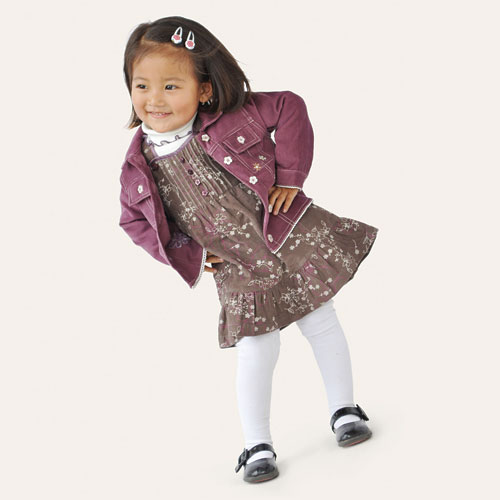 Helping Hand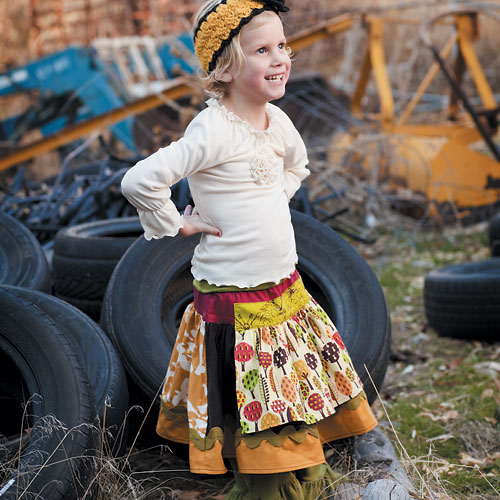 Corinne and Craig Rickenbach launched Persnickety Clothing Company with one major mission in mind: giving back. "We really have a passion for philanthropy," Corinne said, noting that footwear company TOMS Shoes—which gives away a pair of shoes to a child in need for every pair sold—inspired them. The American Fork, Utah-based company borrowed the philosophy, and is providing a garment to a child in need for every piece purchased.
Targeting girls 12 months to 12 years, Persnickety Clothing comprises approximately 30 pieces split into three groupings. Funky Play is an all-cotton group featuring unordinary silhouettes created with vintage-inspired fabrics; Little Lady has an old-world, European feel and offers dressier pieces in cotton, silk, satin, wool and lace; and Knit Essentials uses a high-end Supima cotton/modal blend for toned-down (but not necessarily basic) pieces. Highlights from the line include a tiered skirt with different vintage-inspired fabrics for each layer and a foldover yoga pant waist, a dark charcoal wool pea coat lined with a cotton/silk blend with five vintage buttons, tees made with appliqués from scrap fabric, a "corset" dress with ruching around the bodice, wide-leg ruffled pants, a double-layer dress with one layer cinched in the back for a bustle effect, leggings with gathered lace and more. While each grouping has a distinct look, Rickenbach said the pieces can be mixed and matched.
Although Persnickety is focusing on girls' apparel for now, the husband-and-wife team hopes to expand to boys' in the next year or so. "We don't want to just give little girls something," she said, noting that boys deserve the same attention. Currently, the donated clothing is being distributed in South America; the Rickenbachs hope to also hone in on Haiti in response to the recent earthquake. Prices run $16 to $60 wholesale. Call (801) 763-0106 or visit www.persnicketyclothing.com. —Melissa Knific
Wild Child
Hooligans began making a name for itself in 1996 when Adri and Wayne Jeffers started up the safari-inspired clothing line for kids in Durban, South Africa. Today, the company can be seen all over Australia and Europe; it landed Stateside at the January ENK Children's Club show. The line, aimed at newborns to 6-year-olds, enables disadvantaged women the opportunity to work. "A lot of these are female workers who may not have been able to support their families otherwise," explained Marian Bonsignore of Las Vegas-based Allegra Luca, the brand's U.S. importer and distributor.
Bonsignore said that Hooligans' quality is top-notch, and explained that employees are paid a set amount per piece and are allowed to take garments home to work on them. The boys' and girls' line is animal themed (Hooligans' staff supports the Centre for Rehabilitation of Wildlife, a nonprofit that helps treat abused wild animals), and comprises two groupings of approximately 125 pieces: 0 to 24 months and 12 months to 6 years. "Everything has interesting textures that a child can feel," Bonsignore said, pointing to such treatments in the layette line: One piece, for example, features a giraffe whose "legs" can be lifted from the shirt. Key items include a jersey tank dress with an empire waist, dip-dyed to look like a sunset; a cap-sleeve swing top; a raw-edge, double layer T-shirt; a khaki jumper with floral and animal appliqués; a ruffle-sleeve, animal-print shirt; and more. The color palette reflects the African savannah at sunset with bold reds, yellows and oranges mixed with safari-appropriate khaki.
Hooligans keeps production within 30 miles of Durban, and each garment is made from 100-percent South African cotton. The company does not discontinue pieces at the end of each season and regularly adds updates to the line throughout the year. Wholesale prices range from $10 to $35. Call (702) 496-2601 or visit www.hooliganskids.com. —Melissa Knific
For All Eternity
When Frances Carrington graduated from design school in Sydney, Australia, she had her sights set on a volunteer training program in Africa, where she hoped to pass on the skills she had learned. Instead, she was placed in Dharamsala, India—a small village home to the Dalai Lama and the exiled Tibetan government, where she spent her time teaching Tibetan refugees tailoring and design. When her volunteer time was up, she wasn't ready to end her mission: "She fell in love with the whole area. She borrowed $5,000 from her dad and decided to start Eternal Creation," noted Claudia Ramirez, U.S. distributor for the children's clothing line Carrington runs.
Eternal Creation began its wholesale business in Carrington's native Australia (she continues to live and work in India) and recently expanded to the U.S. market. Taking a cue from European designers such as Kenzo and Catimini, the boys' and girls' line emphasizes color, prints and texture. "It's very timeless," Ramirez said about the line. "A daughter can keep [a piece] and put it on her child later on." Each garment in the line, available for newborns to 10 years, is hand-cut—even the embroidery, beading and crocheting is done without the use of a machine. "The quality is amazing," Ramirez noted, adding that there are between four and five fabric choices per piece.
Girls' items run the gamut from an off-white balloon skirt with a floral pattern embroidered down one side to a plum hand-knit cardigan with a belted waist and crocheted flowers. Highlights from the boys' collection include a hooded wool pea coat trimmed with contrasting orange fabric and a colorful, geometric button-down shirt. Eternal Creation also offers dresses, raincoats, leggings, pants, blazers, vests, hoodies and tees as well as hats, hairclips, handbags and bibs.
With the tagline "Ethical fashion from the Himalayas," the company—one of the largest private employers inthe area—prides itself on practicing fair labor and uses locally sourced, all-natural fabrics. Wholesale prices range from $13 to $60 for the apparel and $2 to $13 for accessories. Call (206) 779-1842 or visit www.eternalcreation.com. —Melissa Knific.