Kendra Lewis left one cool job for another. As a design manager for the Target Corporation, Lewis jetted across the Atlantic for inspiration and served as the creative and strategic visionary for many of the retailer's back-to-school and back-to-college merchandising concepts. Leaving it behind, Lewis opened her own boutique Bébé Babble in Edina, Minn., in […]
Tailor Made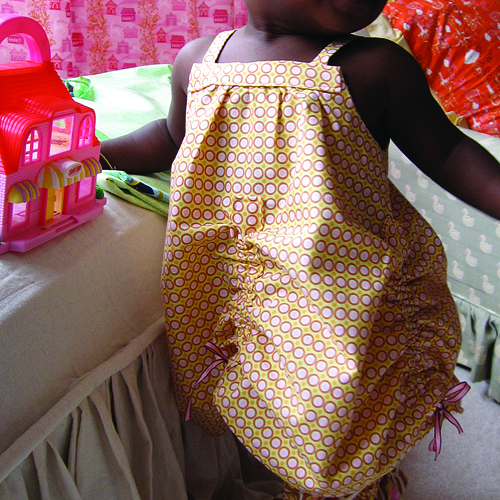 Bird Is the Word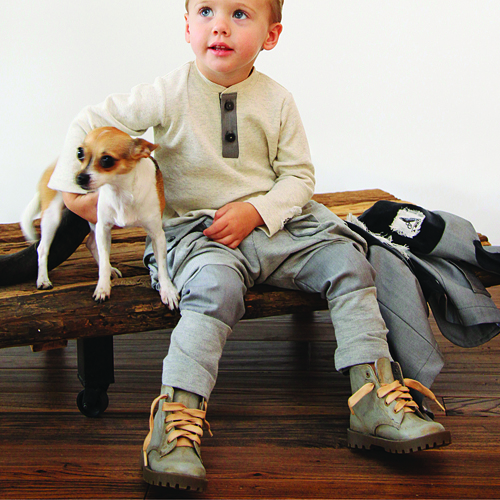 Babble On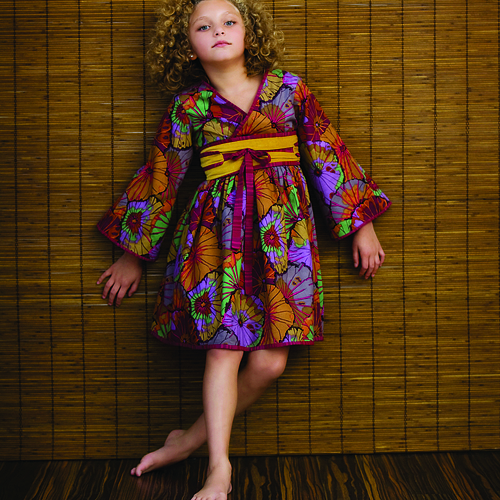 Kendra Lewis left one cool job for another. As a design manager for the Target Corporation, Lewis jetted across the Atlantic for inspiration and served as the creative and strategic visionary for many of the retailer's back-to-school and back-to-college merchandising concepts. Leaving it behind, Lewis opened her own boutique Bébé Babble in Edina, Minn., in 2005, bringing an edited group of nontraditional, mix-and-match merchandise with a modern sensibility to the Midwest. Last spring, Lewis launched a private-label collection, which she has begun wholesaling for fall.
During quarterly meetings with a select group of opinionated shoppers, Lewis learned that moms search for clothing that can be worn as a dress one year and a tunic the next. They also like clothes that are easy to wear, she reported, and they want options—lots of them. The Fall '10 Bébé Babble collection for girls is divided into three groups presenting moms with a trio of design aesthetics. The Sweet and Classic group for 0 to 24 months includes diaper covers and simple dresses with a vintage twist. Pieces are accented with ruching, ruffles and princess sleeves. Peace signs mixed with solid knits drive home the Mod Girl collection's retro vibe. The range for 2- to 8-year-olds features sophisticated short flared skirts and shift dresses that Lewis described as "mini-me" looks, with gray anchoring many of the graphic prints. "If a mother says she wishes the dress was available in her size, you know it's a guaranteed bestseller," Lewis noted. The final grouping, Global Holiday (also for 2- to 8-year olds), has the jet-set kid in mind. Its range of dresses includes kimono and wrap silhouettes with metallic embellishments and beading. Wholesale prices range from $25 for basic knit shirts to $150 for beaded dresses. Visit www.bebebabble.com. —Angela Velasquez
Tailor Made
When established fabric company Westminster Fibers OK'd the idea for a girls' apparel line, Tina Givens ran with it. In her time as a partner for the Charlotte, N.C., company, Givens had often thought a clothing line would provide brand awareness by bringing the textile vendor's original prints to life. Catering to sizes newborn to 7 years, Biscuit & Poppet offers an "informal, dressy look" designed to grow with the child. "It's sort of whimsical but sophisticated at the same time," Givens added. Naturally, the line is fabric-driven; buyers can select from four to six fabrics per piece to tailor the selection to their customers.
Biscuit & Poppet comprises two collections. An infant gift collection targets retailers who don't strictly sell children's apparel, Givens said. The small group of about eight items is made for babies 12 to 18 months. The second collection, aimed at apparel boutiques, includes approximately 25 items and is available for infants through age 7. Key pieces include the reversible Zoe dress, with a bell-shaped silhouette and hint of a racer back; the knee-length, button-up Pearl coat, which has an Asian aesthetic; an elbow-length, drop-waist dress with a ruffled collar and hemline; and a reversible kimono coat. Tunics, pantaloons, skirts, shorts, baggy pants, capris, necklaces and hats round out the line. Eye-catching fabrics run the gamut from green and yellow dot prints to pink and orange florals to brown, yellow and fuchsia bird motifs. The palette also includes teal, turquoise, gold, aqua, lime and olive. Most of the prints sway toward the feminine for now, but Givens hopes to add some masculine designs. Wholesale prices are $12 to $48. Call (704) 329-5964 or visit www.biscuitandpoppet.com. —Melissa Knific
Bird Is the Word
Of all places for designers to meet, the mall was where Molly Payne and Patricia Cammareri first encountered each other. Both had 3-month-old daughters at the time, and it wasn't long before they put their heads together to create A.Bird. "Initially, we were just going to [design] girls', but we realized that boys' clothes are needed," noted Cammareri, a former footwear designer for Liz Claiborne. She and Payne, an interior designer, launched the St. Augustine, Fla.-based line for Fall '10 with the hopes of creating classic, quality keepsake apparel that is beautiful yet practical. "We want our clothes to be those that parents buy to pass down from generation to generation," Payne explained.
The duo describes the line—which targets kids 12 months to 6 years—as having a whimsical, English country aesthetic, driven by sophisticated fabrics like linen and playful details such as ruffles. "Every piece has its own story," Cammareri said. For example, the Posey frock—a gray, button-down dress with lavender accents and ruffles on the bottom—is intended "for our frilly bird who wants to be taken seriously." Other highlights include the Keely dress, a light beige A-line frock featuring a linen ruffle on one side meant to look like a bird's wing; the Burk military-inspired gray denim jacket with velvet elbow patches and a bird motif on the back; as well as bloomers, pirate shorts, ruffle-front shirts and more. The muted color palette features grays, beige, light blue and lavender. "We probably won't stray too far from the color scheme," Cammareri noted. "We want the line to kind of build on itself, so that two years from now, you can buy something that will go with what we originally [designed]." The entire line is machine washable. Wholesale prices run $35 to $55. Visit www.abirdbaby.com. —Melissa Knific