With takedown styles driving children's fashion, Ellen Dietrich saw an opportunity to miniaturize Ray-Ban's iconic Wayfarers.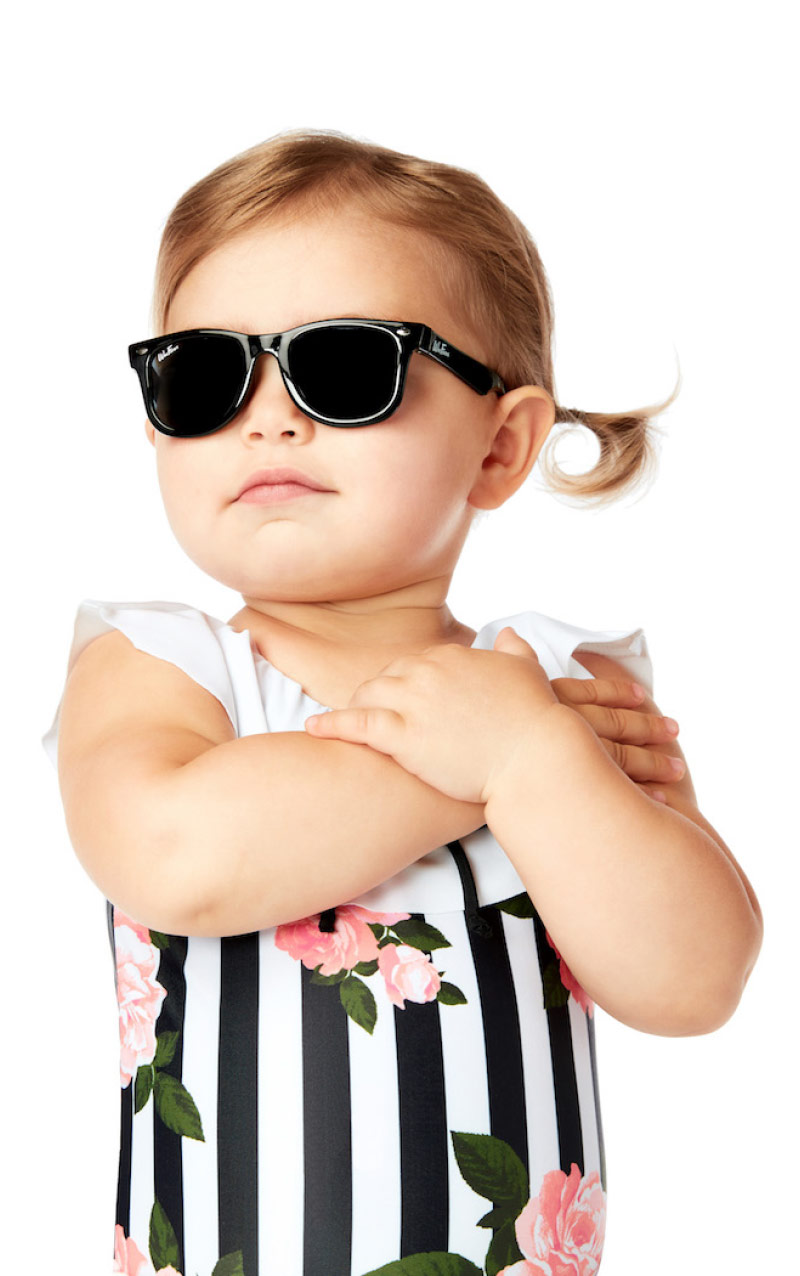 Partnering with her husband, an entrepreneur of his own digital agency, the mom of three and businesswoman, formerly specializing in retail real estate, started developing WeeFarers two years ago and  officially launched the sunglasses brand in April of 2019.
The spinoff of its adult muse offers durable, protective sunglasses in two sizes: 0-2 years and 2-4 years. The accessory is also FDA-approved with impact-resistant lenses that provide 100 percent UVA- and UVB-protection with the highest rating (UV 400). Each pair comes in a protective carrying pouch, which includes an adjustable strap that matches the glasses. What's more, the brand offers a polarized version that retails at a more affordable $35.
So far, so good as Dietrich reports WeeFarers is off to a blazing start. In fact, if not for the pandemic, the company would have had a much harder time keeping up with the influx of wholesale orders.
"As parents, we have the advantage of knowing what our customers need," Dietrich says. "We also take feedback very seriously, which has helped us provide a product that is stylish, durable and versatile."
Customers so far have touted WeeFarers' superiority, deeming the shades "practically indestructible" after accounts of being dropped, thrown across rooms and sat on. However, if by chance the sunglasses do break, the company guarantees a free replacement if lost or damaged within a year of purchasing. "We're not in the business to make a quick sale," Dietrich says. "We're here to build long-lasting customer relationships."
On that note, Weefarers will be expanding its size range up to 12 years for 2021, as well as adding new colors to the mix. But the co-founder assures expansion plans are within reason. "While we want to continue expanding, we're making sure to stay in control and not let excitement influence long-term decisions," Dietrich says, noting the brand refuses to add more silhouettes until the fit and style meets its high standards.
As the cooler months set in, WeeFarers reminds its retail partners that sunglasses aren't only a summer necessity. In fact, as the brand cites on its website, children receive three times more exposure to the sun's harmful ultraviolet rays than adults, regardless of the season. "Sun protection needs to be top-of-mind year-round," Dietrich says. "WeeFarers can help make that happen—in style."