Royalty Payments
Summer's high-powered new parents are poised to set off a sales bonanza for a few lucky kids' brands.
It's safe to say we're pretty excited about …
Summer's high-powered new parents are poised to set off a sales bonanza for a few lucky kids' brands.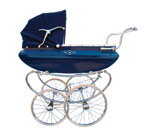 It's safe to say we're pretty excited about the arrival of the royal baby here at the Earnshaw's office. Two years ago, Fashion Editor Angela Velasquez feted the nuptials uniting Wills and Kate with scones and clotted cream at 4 a.m. This time, we're planning to celebrate with teacakes and tartlets—but hopefully at a more hospitable hour! In my humble opinion, we couldn't have picked a more perfect month for our first Party Issue. What better reason to celebrate than a new little prince or princess?
Alex Theophanous, the founder and CEO of British-based online boutique AlexandAlexa.com, stopped by the Earnshaw's office while in New York and very kindly took us Americans to task for being so obsessed with the soon-to-be heir. But can we really help it? With no royals of our own, is it really any wonder that we glamorize the august families across the pond?
Of course, if we are being perfectly honest, we have to admit that it's not just babies with regal pedigrees we're eager to meet. This summer also welcomed into the world a very American sort of heir—of the pop culture kingdom. Of course, we're talking about Kanye West and Kim Kardashian's baby girl. Say what you will about the controversial couple, there's no denying their little one will be dressed to the nines and photographed to the max. And if that baby happens to be wearing an eye-catching ensemble, just one photo equals exposure to millions of moms across the country after it's inevitably splashed across the pages of tabloid magazines and celebrity blogs.
That's just one reason why Alexia Panza, president of the newly-opened L'Officiel Enfant showroom, sends her brands' stylish wares out to an A-list roster of parents. In fact, it was a key part of the strategy for growing her boys' brand, Tom & Drew. Fresh out of college, Panza was savvy enough to realize that if she could get Angelina Jolie to outfit little Shiloh Pitt in one of the brands' jackets (as she did), the exposure for Tom & Drew would be almost unbeatable. (Panza discusses her journey from designer to showroom rep on p. 10.)
Similarly, Raegan Moya-Jones, the founder and CEO of Aden + Anais, got a big boost from A-list fans shortly after the brand's debut in 2006. Although the busy mom of four says she doesn't follow celebrity news and didn't set out to conquer Hollywood with her super-soft muslin swaddling blankets, stars flocked to the brand nonetheless. In this month's Q&A on p. 18, she recalls how Adam Sandler and his baby were spotted toting an Aden + Anais blanket just three short weeks after the product hit shelves in Los Angeles.
Jamara Ghalayini, owner of Pumpinkheads in Brentwood, CA, freely acknowledges that her celebrity clientele help boost the bottom line at her upscale children's clothing boutique. "People don't like to admit that drives a sale, but it does. It somehow validates a brand," she confirms in our new column, Stargazing, on p. 40. With all this talk about the power of celebrity parents to impact purchases, we knew we would be remiss if we didn't reveal the specific brands and products the stars are snapping up. After all, when Reese Witherspoon's son Tennessee was featured in People, UsWeekly and Life & Style wearing a Daily Threads tee purchased at Pumpkinheads, the shirt sold out in two weeks, Ghalayini says.
If that's the level of sales Reese Witherspoon can inspire, just imagine the shopping frenzy that will ensue when the Duke and Duchess of Cambridge finally step out with their little one in tow. Whatever brand the baby is sporting had better be ready for a sales bonanza!
That sounds like a reason to party to me.