Raegan Moya-Jones, the founder and CEO of Aden + Anais, turned her love of muslin blankets into a million-dollar children's brand, but the mom from Brooklyn by way of Australia is ready for round two. By Audrey Goodson Kingo t's a busy day in the Moya-Jones household—otherwise known as an ordinary day. With the family's […]
Raegan Moya-Jones
As the founder and CEO of Aden + Anais and a busy mom of four girls—Anais, 9, Lourdes, 7, Arin, 5, and Amelie Rose, 3— Raegan Moya-Jones rarely has a moment to relax in her lively Brooklyn abode.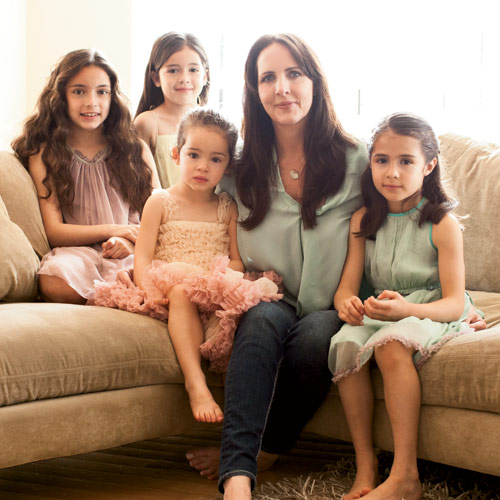 Raegan Moya-Jones, the founder and CEO of Aden + Anais, turned her love of muslin blankets into a million-dollar children's brand, but the mom from Brooklyn by way of Australia is ready for round two.
By Audrey Goodson Kingo
t's a busy day in the Moya-Jones household—otherwise known as an ordinary day. With the family's four girls all home from school, their apartment is full of laughter and light, spilling in from windows with a prime view of the Brooklyn Bridge. None of it seems to phase their mother, Raegan Moya-Jones, the founder and CEO of children's brand Aden + Anais. This is clearly a woman well versed in bringing order out of chaos.
It makes complete sense once you know her story—how she launched the brand by selling her beloved muslin swaddle blankets out of the back of a taxi in 2006, and how she carefully and thoughtfully expanded the product line to include everything from skincare ointments to toys and digital feeding devices. Now, Aden + Anais products are carried at 10,000 stores in 35 countries. But while the laid-back Australian native may make it look easy, the journey from selling swaddles in just two boutiques to mass distribution in big box stores like Target and BuyBuy Baby didn't come without its share of struggles, including hair loss, sleep deprivation and "my children calling me by the nanny's name," she confesses.
The tale begins when Moya-Jones moved to New York City 17 years ago with her now-husband, Markos. Like many a mompreneur, her light bulb moment came after she had her first child and began scouring the market for an item she couldn't seem to find: muslin swaddling blankets. "You do not have a baby in Australia without at least 10 muslins," she asserts. The lightweight, breathable fabric makes the material perfect for swaddling babies in the Australian heat, but Moya-Jones knew the textile would be ideal for American baby blankets, too. "I thought, every Australian mother can't be wrong." So she launched the brand in 2006, with her then-partner Claudia Schwartz. (Schwartz sold her shares in the company to Moya-Jones in 2009. The brand's name comes from the name of each of their eldest children.)
Her hunch about muslin was quickly corroborated: "Three weeks after we walked the product into the Pump Station in Los Angeles, a friend of mine called me and said, 'Raegan, go buy UsWeekly. There is a full-page photograph of Adam Sandler and his wife walking on Malibu beach with the baby draped in Aden + Anais,'" she recalls. It was just the beginning for a brand that would quickly garner an A-list following. But while grateful for celebrity support, Moya-Jones credits much of the early success to the boutiques that stocked the blankets rather than the stars that snapped them up. "It's the small, specialty stores who have helped me create this boutique brand," she notes. "They're everything to me."
Two short years after the brand's debut, Moya-Jones was approached by Target and asked to create a diffusion line of smaller, thinner muslin blankets at a more affordable price point. It was a risky proposition for the foundling company—a move that could have alienated its loyal boutique retailers and undermined the company's profits if shoppers flocked to the lower-priced product instead. In the end, she went for the deal. "I really did start the diffusion brand because I wanted to make sure everyone had access to muslin," she says. It proved to be a smart business move: The boutique sales weren't affected by the diffusion line (called Aden by Aden + Anais), and it's now carried at BuyBuy Baby and Babies "R" Us in addition to Target. To Moya-Jones, the diffusion line targets a totally different customer from the boutique brand. "Pink doesn't go into Target to buy her Aden + Anais muslin. She goes to Kitson. That's what gives us our boutique cachet," she points out.
With a dedicated fan following in both the boutique and mass-market tiers, many moms of four might have rested on their laurels. But Moya-Jones had other ideas. Specifically, to bring more Australian heritage products to U.S. parents, including a skincare line, Mum + Bub, based on Australia's native pawpaw fruit. Then came the Serenity Star, a multi-tasking electronic feeding and sleep system. Launched just last year, the device has already developed a near-fanatic following among bloggers. Next up is a merino-wool muslin blanket that promises to be the brand's most luxurious item yet, as well as several other exciting developments the company is currently keeping under wraps.
UPCLOSE
What's your favorite hometown memory? It would have to be hanging out at the beach. That's what we did in Australia. We went to school, then did our homework, then went to the beach.
What's your favorite way to spend a lazy afternoon? You don't really have them with four kids. I can't really tell you the last lazy afternoon I had. Sipping wine on the terrace with my closest friends and family and the kids running around having a good time—that's my ideal weekend.
What was the best book you read this year? Dorkishly, I read a lot of business books. The last book I read for fun was The Hunger Games, and I read it in a day and a half. I was absolutely engrossed.
How about the best movie? The Untouchables. It's a French film, based on a true story. Beyond that it's Wreck-It Ralph and The Little Mermaid. That's about the extent of my film experience.
"Luckily, I'm a bit of an insomniac," the busy mom admits, although thankfully for her family and friends, her pace has slowed a bit from those first few grueling years. In the beginning, she worked in sales at The Economist during the day while running the company at night. "I would go from my day job, be with my girls from 6 to 9, then work until 3 or 4 in the morning," she describes.
It was all worth it for a woman who isn't afraid of being called a muslin evangelist—a woman who has literally written the book, Swaddle Love, on the importance of swaddling, and who is currently trying to launch a nonprofit foundation aimed at encouraging swaddling and eliminating touch deprivation in orphanages in developing countries like Tanzania. Her company's latest philanthropic project is a partnership with Hayden's Heart, a foundation launched by a mother who lost her infant son to a congenital heart defect. The mother wrote a letter to Moya-Jones about how much her son loved his Aden + Anais blankets, so the company created a special Hayden's Heart print for its muslin swaddles, with proceeds of the blanket's sales to benefit the foundation.
"I get the most beautiful e-mails and letters from mothers. I literally burst into tears once a week," Moya-Jones says. "Some moms have even lost their babies and still find the time to write to me and say 'Your blankets brought them so much.'"
The letters are a touching and humbling unintended consequence of the little light bulb moment that launched it all, she says. "I didn't set out to do anything. I just wanted to start a business and sell some blankets. But based on the letters and e-mails I get, we've had an impact on people's lives, and that's a wonderful and very privileged place for me to have ended up. That's by far and away the best part of what I do."
What was the biggest challenge when launching the brand?
It was working capital—actually having money to do it. And to this day it still remains a challenge. I'm just now, nearly seven years later, getting over that hump where we can fund our own business. Starting the business at the beginning of the worst recession since the Great Depression was also not ideal timing because whereas I would have had access to capital prior to that, no one would even look at me. I spent the first five years begging and pleading friends and family for money to keep going. And there were many times where it was very touch and go. We were like, 'Do we buy stock or do we pay the four people who work for us?'
Why do you think parents still flocked to Aden + Anais, even in the midst of a recession?
I think that parents are always looking for quality and usefulness. That's what I try to make our brand stand for. If it's not a product I want to use in my home on my children, it's not something I would ever put the Aden + Anais stamp on. Every decision for this business gets made from the perspective of a mom rather than a business person.
How do you think that perspective as a mom helps?
Here's a good story: A company wanted to buy Aden + Anais a few years ago, and I ended up having discussions with them. I'm sitting in their board room with a bunch of men in their mid 40s—no disrespect to men—and they are selling me on what they do. One of them starts talking to me about a breast pump they are launching, and he says that it is super comfortable. And I said, 'Oh please, have you actually had a breast pump on your nipple?' And they all looked at me. I said, 'Seriously, have you? Then how can you tell me? There is no such thing as a comfortable breast pump. They hurt.' I really do think that's why a lot of businesses that are truly run by a mother stand out. We live it every single day. We're not sitting in some room somewhere coming up with products we think are going to make lots of money. We're coming up with products in our home because we want them for ourselves. We're a built-in test market.
It was a lot of work in the beginning. What made you so determined?
I believed in muslin. I can honestly say with my head and my heart I have never made a decision in this business for money. I've never gone, 'Oh that will make me a lot of money.' I believe that's a slippery slope and you make bad decisions because of it. I created the diffusion brand because people were writing to me about how wonderful and beautiful the product was, but how expensive it was. It's only $12 a blanket, but to a lot of people that's expensive. In fact, we are still expensive in that mass-market space. We are by far and away the most expensive product in that realm. But we're considered an aspirational brand. People are prepared to pay a bit more for Aden + Anais, because they want what you can buy in Harrods and what the celebrities are putting on their children. We've been extremely lucky with being able to have such success with both of the lines.
How did your experience at The Economist help you build the brand?
My background is sales. And at the end of the day, Aden + Anais is a sales and marketing organization. I think that designers who start businesses tend to struggle because they don't think the same way. I was so entrenched in a business culture and I understood profitability. That said, my husband worked as my pseudo-CFO until we could afford a real one, and he kept me in balance. The problem with a sales person is we tend to only think top-line revenue—it's just about bringing in the sales. But it's really not just about that. At the end of the day the bottom line is way more important than the top line.
Your sales background also helped you convince those first two retailers to sign up.
I was fearless. I just knocked on people's doors. It was so comfortable for me to walk into people's stores with a pile of Aden + Anais blankets, which is what we did for the first year. Some would take it and some wouldn't. And that was the other thing, too—when you've had 20 years of sales experience, rejection just rolls right off your back. I didn't care that people said no because I believed so much in the product and what I was doing. I knew it was no for now, but I also knew they would be back.
Your blankets were an immediate hit, due in part to the sophisticated prints. What inspired those?
I created Aden + Anais patterns based on my own taste. I know this seems ridiculous, but seven years ago it was still very much a chicken and duck world, or teddy bears, and it was still very limited in terms of the aesthetic that is so common now. That's why I did the vibrant colors and the bolder prints because that was my personal taste, and that's what I wanted for my children. Lucky for me that resonated with other people.
And now it's resonating with other brands, too! What do you think of all the companies jumping on the muslin bandwagon?
From the beginning, I understood it was a sprint because I knew that as soon as other people understood what muslin was about, I would be copied. I actually thought I would be copied by the big guys off the bat. What shocked me was that I was copied by the little guys. Even people who I sold to decided to rip me off! And when I say ripped me off, I mean verbatim. I've even had people use my Aden + Anais name to drive people to their own website where they sell copycat muslin.
Does it worry you?
No, they've just jumped on the muslin bandwagon because they've seen what we've accomplished in the space. It's not really the essence of what their business is, which is why they're never going to do it justice like we do. I've spent the last seven years living and breathing muslin, which is why we've perfected the quality—why ours doesn't shrink, doesn't pill and why it's as soft as it is. I'm definitely a type-A perfectionist. I'm always striving to make it better. Even to this day I'm still trying to perfect things. Plus, I've got a fairly big head start on everyone. They can't just go in and replicate the same quality muslin. And nine out of 10 have fallen by the wayside already. No one has had any impact. We are so, so lucky that for whatever reason we have such brand loyalty to our product. Stores have even said to us that our competitors have given them free stock. And they said it just sits there, because people really want our brand.
Where do you source your muslin?
It's all out of China. I've definitely tried to diversify. I don't like having all my eggs in the China basket for many reasons. But at the end of the day I've looked at many different countries and nobody does textiles like the Chinese, and nobody can compete with them on the price. I'd love to manufacture in Brooklyn. That would make my life so easy. But they can't do it. In fact, I tried to have our new merino wool muslin done in Italy, because I was going super high-end—think Bergdorf and linen boxes. But the Italians couldn't get it right. I ended up going back to my Chinese manufacturer because he created a more beautiful product, and the bonus was it was a quarter of the price.
Swaddling has earned a bit of a bad rap in the news lately, with some day cares banning the practice. What do you make of the brouhaha?
I think it's very sad because I can tell you without one element of doubt in my mind that swaddling was a huge help to me when I was having my babies. I just think it's sad that some people are trying to knock down this age-old, ancient practice because of a few idiots in day care centers. There's nothing wrong with swaddling when it's done properly. It's only about learning to do it the right way. I personally think it's a storm in a tea cup, and it will blow over. Something that's been around for thousands of years isn't going to be knocked over by some dope in a day care center.
What made you decide to branch into skincare with Mum + Bub?
That happened because just like the muslin you cannot go to a house in Australia and not see a tub of what's called Lucas' Pawpaw Ointment. It's been around since the 1800s in Australia, and it's basically the fresh, fermented pawpaw fruit in an ointment. We use it for everything—chapped lips and cheeks, as a diaper ointment, for eczema… Because I refuse to rip anyone off, I initially went to Lucas' and said, 'Can I work with you to repackage this?' But they weren't into that. Then I also found out that it had petroleum in it, and everyone is sort of down on petroleum now. So I just found a chemist and went about formulating my version of pawpaw without petroleum in it. Ours is beeswax based. And we're getting the same reaction to the pawpaw as we did the muslin. The people who have found it love it. Interestingly enough, the body wash and the lotion sells more than the ointment currently because Americans understand lotion and body wash. They don't understand pawpaw ointment yet, but I'm confident they will. They will get there eventually.
What advice would you give to other entrepreneurs looking to jump into the children's market?
I have always loved this quote by John Burroughs: "Leap and the net will appear." People ask me, 'What was different for you when so many people have these ideas?' The biggest difference is I actually did it. The thing that drove me the most was the thought of somebody else doing it and me sitting there and going, 'Damn, I had that idea!' My advice would be to just go for it. It's best that you don't know all the sordid details about what you are actually signing up for [laughs].