After three fruitful years as a one-stop online boutique, Peaches is opening its first brick-and-mortar store in Savannah, GA, this fall.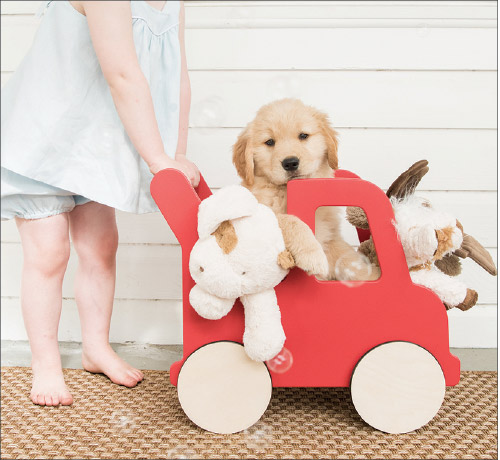 After three fruitful years as a one-stop online boutique, Peaches is opening its first brick-and-mortar store in Savannah, GA, this fall. Partnering with another independent, woman-owned business that specializes in fine linen, interiors and monogramming, Peaches owner Rebecca Bustinduy anticipates more sweet success.   
"We're not just selling clothing, toys and books," she says. "We're creating a beautiful lifestyle each customer can experience when they shop with us."
The bi-level retail space will include Peaches' well-curated assortment of high-end clothing and gifts from brands like Rachel Riley, Petit Bateau and Little English on the first floor that complement the selection of linens and home interiors upstairs. "This concept will provide a nice overlap between our brands, inspiring and satisfying customers whether they're shopping for clothing, customized gifts or children's interiors," Bustinduy says, adding that there will be many opportunities for personalizing product. "It's a great way to hold onto customers as long as possible."
Bustinduy has already tested the local market with a few holiday pop-ups. "The response was phenomenal," she reports. "I'm excited to not only reach more Savannah shoppers but tourists that can continue to shop with us online." Bustinduy adds, "We want to keep customers coming back for years to come!" —Aleda Johnson
How's business? It's going well. As the landscape grows more competitive, we've been putting a lot of effort into offering an exciting experience that keeps us ahead of the curve. For instance, we're completely overhauling our website. There was nothing necessarily wrong with it, but we saw room for improvement. For example, we're going to be rolling out a new feature where customers can shop by theme at a glance. Our custom monogram option is also quite popular online for an easy one-click shopping experience that customers love. It's just part of our constant effort to do better for our customers.
Who is the Peaches customer? We have a large local following, but the majority of our online sales come from major metropolitan areas like New York, Chicago, Dallas and San Francisco. Our core demographic is modern parents who shop at upmarket boutiques like Net-A-Porter. So we try to simulate that same luxurious experience when it comes to shopping for their kids.
What are some of your best-selling brands? Rachel Riley has done incredibly well because of the British royal family. Whatever Prince George and Princess Charlotte wears becomes instantly popular among parents. Lullaby Set is another tremendous asset. Even as an old-school brand that could've been wary of an online-only store, they've been nothing but supportive since day one. Little English is another top seller with moms regularly direct messaging us on Instagram looking for specific pieces. And when it comes to toys and plush, Bunnies By the Bay and Melissa & Doug have been killing it.
What are some popular trends of late? Anything that can be monogrammed. Not being from the South, I didn't realize how big monogramming was here. It creates an instant heirloom, adds a sense of significance and makes for a meaningful gift. For example, we do a lot of monogrammed blankets, and Lands Downunder makes the yummiest throws ever for nursery. A kid will have that blanket forever!
What are you looking to add to the mix? We're always looking for fresh, new brands—the kind that no one else carries. Colorful and beautiful giftables are always on my radar, but customers have also asked for easy, everyday outfits they can just throw in the wash. So it's really a balance between special items and reliable core pieces. 
What's the most important lesson you've learned since launching Peaches? You can't be everything to everybody. There will always be something someone else has that you don't—and that's okay! There will also be times you're disappointed with a decision you made. At the end of the day, it's important to remember everything happens for a reason, and you should always be proud of the brands you carry and the customers who continue to support you.
Any other advice for fellow retailers? Hire out what you're not good at. It's really hard as a small business owner because you're used to covering all the roles yourself, but there's just not enough time in the day. It's scary to relinquish control, but hiring out my weaknesses has been life-changing. We've found some fantastic people, and it's really helped grow the business more efficiently.
Where do you see Peaches in five years? To start, I'm really excited to see the reception we get this fall at the store. We're also planning on more traveling pop-ups up the coast, probably starting with an exciting summer series. Anything to get face time with our customers is of utmost importance.