Fusing her curiosity for retail with a passion for parenthood, Pamela DiCapo opened the doors of Lauren Alexandra in 1994.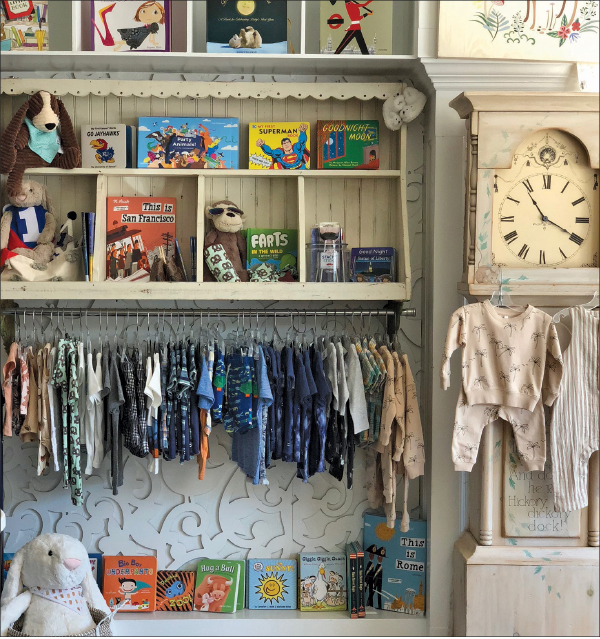 Fusing her curiosity for retail with a passion for parenthood, Pamela DiCapo opened the doors of Lauren Alexandra in 1994, naming the children's boutique after her daughters. Nestled in Kansas City's historic Brookside Shops, Lauren Alexandra started as a boutique for nursery and kids' room décor. But as DiCapo's experience as a mother grew, so did the store's selection of childrenswear. Nearly 25 years later, DiCapo, now a grandmother, has added jewelry designer and online retailer to her resumé. She remains driven to service her customers however they prefer to shop and wherever they reside.
"Our customers are as loyal as the day is long," DiCapo says, noting that the boutique is the city's go-to for baby shower gifts. Like any retailer worth their salt, she takes pride in knowing exactly what her customers need—often before they know it. DiCapo has fostered an intimate family-run experience that reflects the relaxed and social atmosphere of the shopping complex. The 840-square-foot space stocks everything from Catimini and Luna Luna dresses to Kickee Pants swaddles and Freshly Picked diaper bags. "From our inventory to our service, Lauren Alexandra is very 'ooh-ahh' driven," she says. Think themed gifts, pre-made baskets and wrapping services for items ranging from a $5 shirt up to a $500 teepee. "Sure, there are other avenues to sell, but nothing beats opening our door and walking over that threshold," DiCapo says. —Aleda Johnson
How's business? Good. We have such a loyal clientele from being here so long. But there are challenges, especially of late. You have to be driven to have a physical store in today's world because you can buy everything on Amazon. Along those lines, we've just updated our website and added a shoppable Instagram page. We want to serve all possible customers. My daughter, for example, is in fashion public relations in Los Angeles and her friends often contact me for baby gifts. While I'm all about the sale happening in my store, it's important to reach people who like to shop online. People come here from other parts of the country and are smitten with us, but once they leave we lose potential future sales.
How do you entice customers to shop on Instagram? We've invested in a photographer who gets our aesthetic. When you shop in a department store, everything is shoved on a rack with messy tags hanging off. We take a lot of time in presentation by fluffing and steaming items, and that spills into our presentation on Instagram.
Who is your core customer? Predominantly parents who have just found out they're pregnant. Many even come straight from the doctor. We also see lots of first-time moms who come with aunts, mother-in-laws and grandmothers. They don't want to go to big box stores or shop online. They come here for the experience because we're a lifestyle. 
What are your best-selling apparel brands? Kickee Pants and Magnetic Me sells best, but we also do well with Plum NYC and Catimini. Tocoto Vintage is a popular label, and more recently I've added Livie & Luca, Freshly Picked, Pink Chicken and Lil' Lemons. We also just picked up Ciao Bella Littles and Little Bohemian.
How about accessories? We have hair accessories out the wazoo. Baby Bling is the best-selling line in the whole store. The bows are stretchy, and the brand is always doing new designs and prints moms love. Maileg's plush toys are a personal favorite. They have the most beautiful dainty bunnies and mice decked out in princess dresses. We're also working with a local baker who launched a jewelry line that we sold out on the first order.
Anything special for moms? I just designed a funky jewelry line, The Penelope Grey Collection, named after my first grandchild. We didn't have anything for moms with pizazz, so I incorporated diamonds and charms in our jewelry that make great gifts. It's for moms who don't want what other moms have. So far it's been very well-received.
What's on your radar? I wish there were more tiny newborn sizes. People are looking for amazing bring-me-home outfits, and they're hard to find because nothing really fits a newborn. We're also the go-to store for photo op outfits like bloomers and dresses, so I'm always on the hunt for beautiful baby outfits. But it's harder to find fresh, unique lines. I actually found a few new designers on Instagram, like Five/Eleven.
Any buying taboos? Babies and children are fussy and have sensitive skin, so we don't sell anything stiff like tulle tutus. Luna Luna is my favorite line for that reason. She sells the most exquisite dresses and bloomers, and her fabrics are so soft.
Where do you envision Lauren Alexandra in five years? I hope we've established a thriving website and social media presence and we're selling nationwide. I admire ladies who start businesses in their homes and only sell online. You can wrap packages in your pajamas. A store takes a lot of physical effort to run every day. However, the satisfaction of greeting a customer in person will always win over an email exchange.