Determined to offer stylish yet sophisticated silhouettes in sizes 8 to 16, the ambitious momtreprenuer finally made the leap when Gypsy Girl Boutique went live at the beginning of 2016.  
Discovering how difficult it was to find age-appropriate styles for her tween daughters, Cheryl Vann became inspired to curate her own selection of trend-right looks for adolescent girls. Determined to offer stylish yet sophisticated silhouettes in sizes 8 to 16, the ambitious momtreprenuer finally made the leap when Gypsy Girl Boutique (www.shopgypsygirl.com) went live at the beginning of 2016.    
"Our mission is to help as many girls as we can gain confidence from an early age," Vann says, noting that she chose an e-commerce model over brick-and-mortar to appeal to today's busy moms and reach a broader demographic than just those near her Birmingham, AL, home. "Our selection allows girls to experiment and grow into their individual style," Vann says. "It's about encouraging them to be comfortable in their own skin by inspiring them with more mature looks that can't always be found in the average children's section."
Popular brands on Gypsy Girl include Mia New York, Kiddo, PPLA and Vintage Havana. Vann also does strong business in casual and special occasion dresses by Gigi Ri, Sally Miller and Miss Behave Girls. "Girls love being able to shop like stars their age," Vann says, adding that many of the brands she stocks have been worn by Disney Channel celebrities and popular tween bloggers. "I want to help girls gain confidence during this tricky stage with clothing and accessories that provide exceptional fit, style and value." —Aleda Johnson
How's business? Much better. It was a slow start, but we've picked up the pace. During the first year, I needed something to compete with online marketplaces like Amazon, so I started free shipping to most of the U.S. By the second year, I had gained many followers overseas through social media, so I began experimenting with international shipping. So far it's been quite successful.
Exactly how do you compete with Amazon? It's so important to have a good return policy because it's so easy to return to Amazon. You have to be comparable. For us, the return policy is easy to find in a drop-down menu of every product page. (However, I just shortened my policy to 15 days because if it's too long, customers take their time sending returns back.) Another advantage for us is Amazon and other major online retailers don't necessarily sell all of the new and leading designers for the tween age group—but we do. Gypsy Girl is concentrated on offering quality products at a fair price point that the tween girl—and her mom—will love.
What's the biggest challenge to selling tween fashion? Tweens want to look older, but they're in a middle stage where clothes still need to be more conservative. A Gypsy Girl tween is looking for the latest and the hottest trends of the season that are toned down to be age appropriate, proving to her that she doesn't necessarily need to wear a crop top to look cool and on trend.
How do you plan your buys? I draw a lot of inspiration from what's popular in women's fashion, which usually trickles down into tween. Not everything comes down the line, but several brands also have adult collections which their tween offerings mirror.
How much is your average order? A typical order is a little more than $100. The sweet spot for pricing is between $25 and $45 for tops and casual dresses, plus I sell a lot of special occasion dresses which go for $60 to $70.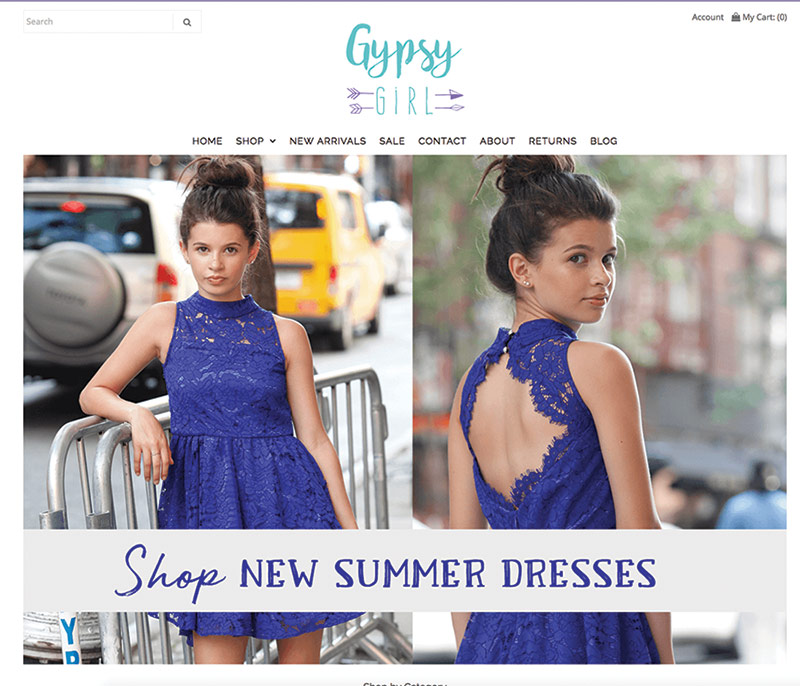 What's trending this spring? Denim skirts are really in right now, as are stripes and metallics across everything. Oh, and anything with unicorns. Gigi Ri dresses are very popular, which is a New York-based high-end tween dress line. For tops, Mia New York is doing well, especially its stripes and bright colors. I've also had PPLA since the business launched, which continues to be a crowd-pleaser.
Any new brands performing well? I did really well introducing Mother Trucker & Co. The company's hats feature bold colors and humorous sayings that customers adore. I'm looking to expand into more accessories as this category has been very beneficial for us.
How do you spread the word about your site? I use several influencers and local tween-age ambassadors. Last month I had a Disney star I sent a dress to post a picture wearing it. Girls went crazy! Pick influencers that go along with your mission, and girls will tell their parents which will have them clicking through your virtual racks in no time! I also sell through Facebook and Instagram. In fact, about 25 to 30 percent of my sales come from social media, particularly Instagram.
Do you ever partake in pop-up shops or other physical events? We have had some pop-up shops in different places, mainly in homes. We're doing lot of Christmas shows and junior league shows this year.