Running a boutique on America's last frontier demands more than just stylish duds: Function is key.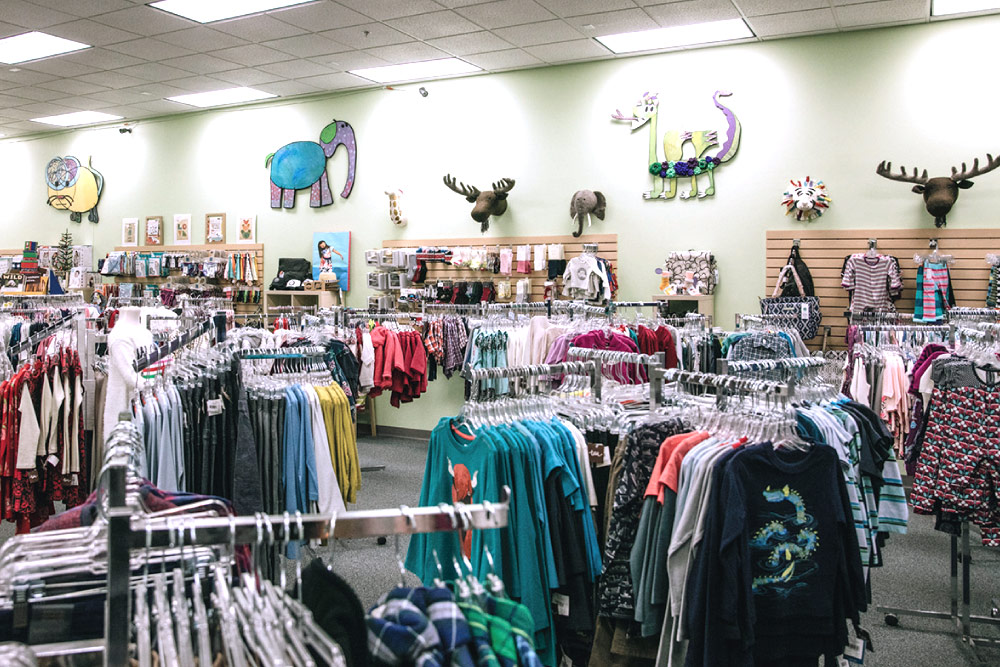 Running a boutique on America's last frontier demands more than just stylish duds. Function is key, according to Lauren Blanchett, owner of Tiny Ptarmigan. Opened in midtown Anchorage in 2014, the 1,700-square-foot children's boutique was originally built to corner the kids' outerwear market—the store's namesake is the Alaskan state game bird indigenous to tundra and subarctic regions. Along the way, it has become a one-stop shopping destination for essential juvenile gear and clothing that prioritizes safety, quality and style.
"There were stores in Anchorage for baby gifts, but nothing to carry you through the years besides big national chains," Blanchett says, noting how many local stores had closed and consequently provided an opportunity. "Today we serve the Alaskan family looking for products that are well-made and suit the native child's lifestyle," she adds.
With a typical winter day being short on sunlight (January sunrises to sunsets are a mere six hours or so) and temps averaging in the teens, outerwear, wool stockings, long underwear and boots are popular items at Tiny Ptarmigan. Even when Anchorage warms to the 70s during the summer, there's still a demand for cold-weather items as many families enjoy nearby camping where nighttime temperatures can dip into the 40s. In fact, Blanchett says her boutique is designed to emulate the warm, comforting nest of the ptarmigan. It holds a flock of cozy outerwear, mittens, boots and snow gear displays from heavyweights like Columbia, Mayoral and Stonz. Blanchett also carries several local labels, like handmade baby blankets and screen-printed one-pieces from Alaska Wild Child, as well as Sweet Cheeks, a popular brand with many of its designs featuring fish motifs such as the locally sourced halibut. "In Alaskan culture, fish cheeks are a delicacy," Blanchett says.
But it's more than exclusive items that keep parents and grandparents flocking back to Tiny Ptarmigan. Since opening, Blanchett has steadfastly taken suggestions from customers to constantly improve the shopping experience, service and selection—upward of 50 percent of the merchandise is customer-recommended. "Someone will tell us about this great line, and I try my best to bring it in within a couple of weeks," she says. "If one person asks, chances are there are 10 other people looking who don't say anything and walk out the door." —Aleda Johnson  
What are some of your top-selling brands? We sell a lot of Columbia. I like the technical innovations of their products, while still being affordable. Stonz is our primary outdoor footwear brand. In fact, I consider them our Canadian 'appendage company' because they make great boots and gloves. In terms of waterwear for the summer months, Tuffo's Muddy Buddy sells well. It's a great one-piece rain suit. We also do great with Swedish wool wear from Woolpower and Hocosa.
How about cold-weather accessories? I sell so many wool socks year-round from Woolpower and Hocosa because they're washable, and you can never have too many. Gloves, of course, are another popular category, but overall hats are the bane of my existence. There are so many tech products when it comes to feet and hands, but good headwear is hard to find.
How's business of late? Our market is unique. We've felt the pinch of online retail, but we're in an oil-based economy here, so we're in recession mode. Everyone is doing what they can to keep their customers happy. Our local focus, ability to listen to suggestions and provide product quickly is what keeps our business going. Although I hear how sales are down for many other retailers, I'm very thankful we continue to grow every year.
What is the biggest challenge facing your store right now? Shipping to Alaska is a constant battle. I have to specify how brands ship to us, and I don't carry some lines because the freight costs are ridiculous. I'm very involved in the logistics of how vendors provide us with goods, which is something retailers in the Lower 48 don't have to deal with. That's why it's always nice to sell local and Canadian brands to save costs.
What's the smartest business move you've made recently? I'm most proud of how I respond to customers. Every special order, every product recommendation, every comment on Facebook—I respond to everything. We have a reputation in town for being attentive. Everyone gets a call back.
Where do you hope to see Tiny Ptarmigan in five years? Open (laughs). I see us still around, and that makes me happy because there's a segment that appears in our local paper called "Open and Shut," which reports on new businesses and closings. I don't want to make that list. While it's been a tough ride sometimes, I try to hone in on what works best and enjoy any growth that follows.