Hatched nearly 15 years ago out of a small New York apartment, children's affordable-luxury label Egg by Susan Lazar is now sold in 250 boutiques nationwide…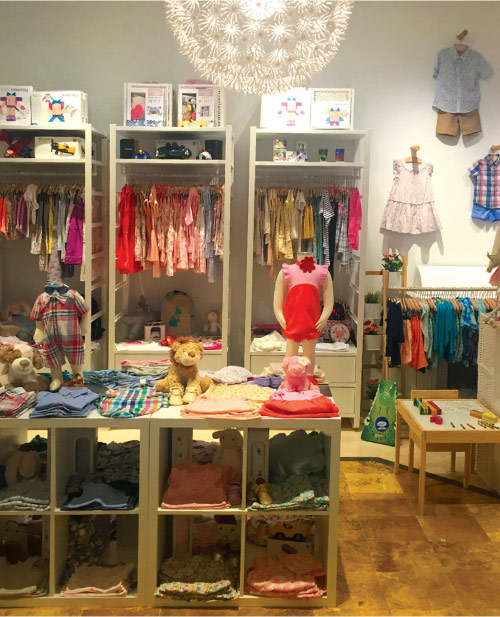 Hatched nearly 15 years ago out of a small New York apartment, children's affordable-luxury label Egg by Susan Lazar is now sold in 250 boutiques nationwide, major department stores including Nordstrom, Saks Fifth Avenue, Barneys New York and most recently Dillard's, along with additional dabbling in some international business.  The celebrity-recognized brand also holds seven of its own brick-and-mortar stores, starting with its original location in Dumbo, Brooklyn, and over the years expanding to other shops in Southampton and TriBeCa in New York City; Birmingham, Mich.; and Georgetown, D.C., all under the title Egg by Susan Lazar. However, this year, the brand launched a destination in the Boca Raton Resort and Club to be called Egg & Friends, introducing a new twist in the brand's business model. Egg & Friends offers the Egg by Susan Lazar label, of course, but also includes complementary pieces by other brands, such as great shoes by Native Shoes and Old Soles or adorable plush items by Jellycat. "This goes back to the idea that all of us in this business are here to serve the retail customer first and make sure they are thoughtfully taken care of," says Edward Harrison, CEO of Egg by Susan Lazar. In late April, the brand also launched another Egg & Friends location in Nantucket, Mass. "I think opening our Nantucket store is our greatest recent business decision," Harrison gleans. "We are really proud of how we have evolved and continue to develop the Egg by Susan Lazar brand, and it makes a great cornerstone for a wonderful children's boutique."
What was most important in launching Egg & Friends?
We realized that children are dynamic, and we cannot be everything to everybody. Finding and partnering with those brands that complement and sometimes compete with ours is the first formula of trying to achieve our goal to be the best children's boutique.
What is the advantage to having a store in a resort location?
The demographics are extraordinary. Someone who is staying at the Boca Raton Resort and Club, be it for work or vacation is most likely a very premium customer. In addition, every week there are hundreds, if not more, new faces coming by and being exposed to our brand. Finally, it is such a happy place and whether you are there with your children playing in the pool or attending a convention, the memories and the connectivity of those memories to our offering is priceless.
What's the biggest challenge facing the business right now?
Recognition. The market is vast. Not only are we affordable luxury, but we built ourselves to have understated elegance. The person who steps up isn't necessarily going to know that you spent discretionary dollars to dress your kid in a premium product, so that sometimes is a challenge. There are clearly some people that do nice things at a lower price point, but we don't think they have the quality that we do.
Do you think brick-and-mortar and e-commerce can cohabitate? 
I think the market in general is trying to figure out what the best distribution channel is, whether it's e-commerce or boutiques. We believe there's a place for both. There is a great segment of people who like to connect and to-date there is no better interaction or ability to receive style support than in person.  That said, we are agnostic and offer the customer the option to shop in the locale or venue best for them, be it e-commerce, a department store, their local boutique or one of our boutiques.
What sets you apart from the competition?
It's my understanding that we are the largest independent children's business that is vertically integrated with e-commerce retail and its own branded goods. I would like to think what differentiates our business further is that we put a heavy emphasis on the comfort and safety of our styles. In order: safety, comfort, fit, then style. We also have a severely broad appeal, which I think that pushes aside some of the other brands.
Any bestselling categories or ones you're looking to expand?
We continue to thoughtfully test the upper limits of where our brand will go. We are really an infant-to-8 business, and we've just introduced sizes 10 and 12 for the current season. As we see results, we will continue to roll that out conservatively. We've also made an incredible pant called the 'Perfect Pant' that wears like sweatpants but looks like khakis—a great compromise for mom and kid.  For 2018, the company  is contemplating many new categories including active apparel.
Any retail predictions for the next 10 years?
If service and presentation are commoditized and/or if the online experience continues to evolve, brick-and-mortar will reduce, but there will still be a meaningful street presence in 10 years. Department stores will shrink their children's offering due to economics and then you will see someone bring it back because it is a customer need/want. In the interim, boutiques will be more and more important in the children's sector.