Platypus Australia celebrates 20 years of swimwear.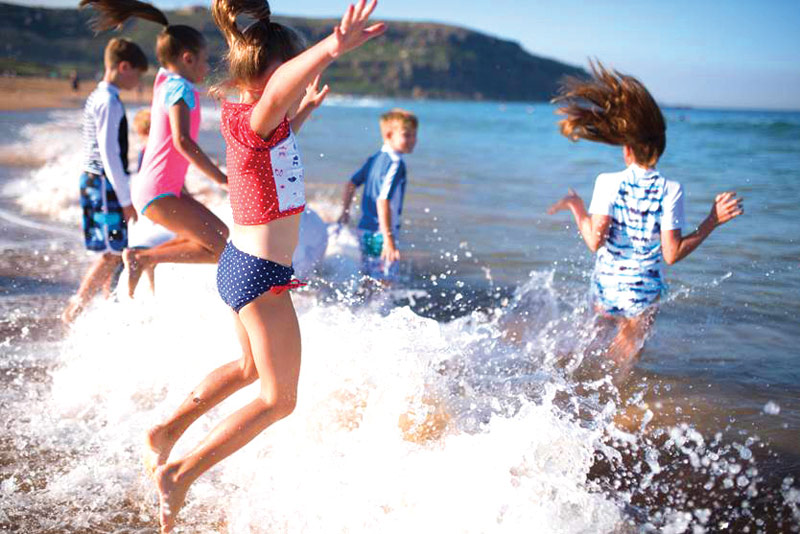 This has been a memorable year for Platypus Australia, celebrating its 20th birthday and having recently earned the KidStyleFile Australia Best Swimwear Award in all three age categories (0 to 3, 4 to 7 and 8 to 12). Reaching this point is a milestone for Founder and Designer Karen Wheen, who started the Sydney-based company with her friend Anne Flugstad Clarke (whom she bought out in 2007). The inspiration for the brand came when Wheen and her partner, both new moms, discovered for the first time that applying sunscreen to their on-the-move toddlers was like threading a needle. Enter Platypus Australia. 
The colorful line of UV-protective UPF 50+ swimwear (the highest rating bestowed by the strict criteria of the Australian Radiation Protection and Nuclear Safety Agency) renders the tortuous sunscreen ritual unnecessary. "I was in the rag trade as a fashion forecaster in department stores and product development at various brands, so I thought, 'why don't we try sun-protective clothing?'" Wheen remarks.
Today, Platypus Australia operates a global business with warehouses in the U.S., the U.K. and Hong Kong and caters to major international retailers like John Lewis, House of Fraser, Isetan and Takashimaya.
"We've maintained our customers, and we're growing and expanding," says Wheen. "We've been successful in the last year identifying and securing the right people in the right regions. It's very hard to do this long distance."
Although she travels extensively for business, Wheen says these strategic partnerships around the world have allowed her to produce more categories—she added a baby collection in 2009 which is one of the company's fastest-growing categories—and the core collection expands every year. (Because of its seasonal nature, which caters to summers around the globe, Platypus Australia produces only one collection per year.)
For Summer '17, the company unveiled its most diverse range to date, including cropped rashguards, capped-sleeve one-pieces and flounce bikinis for girls, along with a T-shirt rashguard with a pocket for boys. The line also features items for swimming lessons and pool training: high-neck athletic-style bikinis, keyhole one-pieces, printed jammers and athleisure leggings.
"You can edit the collection in a number of ways depending on your market," Wheen points out. "In the U.S. and Australia, buyers tend to focus on fashion pieces, but in Asia, buyers place emphasis on maximum coverage."
Wheen says she is always looking to develop new product, including a partnership with Neoprene as well as printed boardshort fabric, 58 percent of which is made from recycled plastic bottles: "We're always looking at new things and product extensions. We talk to consumers and retailers, and we incorporate that feedback into the next season to make a better product."
When asked what she enjoys the most about her job, Wheen says it's all about watching the product in action. "I love seeing all the kids enjoying the swimwear, feeling good and knowing that they're not only covered but also confident in how they look too," she says. "It's lovely to see that."