Global hit Aden + Anais makes a case for practical, simple designs that refuse to skimp on style.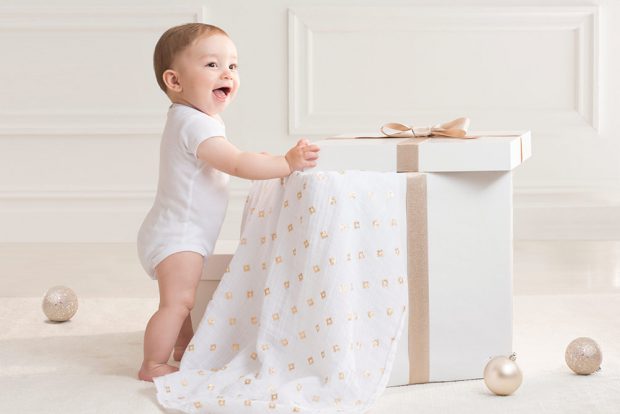 When Raegan Moya-Jones,  co-founder  and CEO at Aden + Anais, was pregnant with her first daughter, she was determined to pick up all of the right essentials for her new baby. "On that list was a big stack of muslin swaddles, something every Aussie mum has on hand," recounts the Sydney native, now living in Brooklyn. "But here I was in New York City—a place where you can find anything—and I couldn't find a single muslin swaddle anywhere." Convinced that if American parents were introduced to the simple cotton muslin swaddle "they'd fall in love with it," Moya-Jones launched Aden + Anais from her kitchen table in 2006.
Luckily for Moya-Jones, she was right. The brand has since expanded to include everything from blankets, crib skirts and washcloth sets to clothing, toys, skin care, and "burpy bibs"—essentially, anything a burgeoning little one might need. Fittingly, the brand has sold a whopping 25 million swaddles in more than 65 countries and is sold in almost 2,000 specialty boutiques and retailers across the country and even has formed a diffusion brand called Aden by Aden + Anais. The brand's aesthetic is simple and stylish, and Moya-Jones upholds that her team only makes things she herself would put on her daughters or would want to have in her own home. "We have stayed authentic to ourselves and our plan has never wavered: We want to keep making beautiful, simple,  quality products that make life easier for parents and caregivers," she offers.
As a result, the brand has been far ahead of its time—Moya-Jones affirms her team has designed it with parents' tastes in mind since the very beginning. Recent collections have included "reimagined muslins" with fun prints and shimmery metallics and a collaboration with Disney Baby including characters from Bambi, The Jungle Book, and Winnie the Pooh. For Spring '17, the team is launching another range under the Aden + Anais brand with a new aesthetic that will only be available in specialty boutique stores. Perhaps most impressive is what appears to be the brand's dedication to practicality. As Moya-Jones puts it: "[The brand] was really born of necessity, like all great ideas."