A favorite of tween stars walking the carpet at Nickelodeon's Kids' Choice Awards and Disney film premieres, Kiddo by Katie was started by President and Designer Katie Kim after her two tween-aged girls started to shop her own closet for fashionable finds. She procured her design experience working for her family's apparel business, but according […]
School of Rock
La Miniatura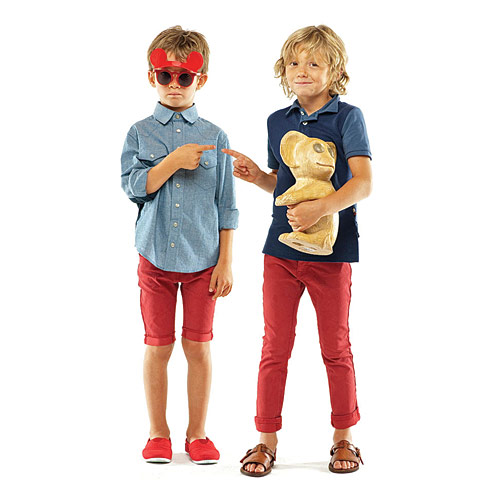 Tween Beat
Kiddo by Katie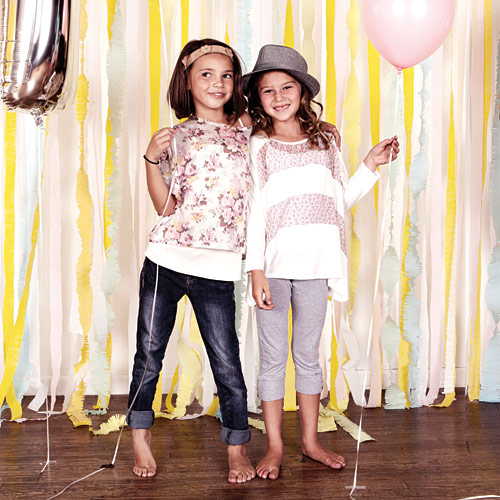 A favorite of tween stars walking the carpet at Nickelodeon's Kids' Choice Awards and Disney film premieres, Kiddo by Katie was started by President and Designer Katie Kim after her two tween-aged girls started to shop her own closet for fashionable finds. She procured her design experience working for her family's apparel business, but according to Kiddo Vice President Sam Pail, a family lineage in fashion isn't Kim's only advantage. "She has an awareness and understanding of what trendy, tech-savvy, pop culture-obsessed girls aspire to be," Pail explains. "This is the first generation that has used the Internet since they were born. They're more individualistic and aren't satisfied with simple designs. They're watching fashion shows online and following fashion blogs. Even the bloggers are starting younger," he adds.
With a finger on that pulse, Kiddo, which was established in 1992, has stayed fresh and relevant by evolving with the trends but never steering away from the brand's mission to find a balance between age appropriate silhouettes and fashionable designs. "We're not just sizing down women's fashion. We're reinterpreting contemporary bodies in a youthful way," Pail explains. For example, the brand makes a concerted effort to use more color than its adult counterparts. Spring calls for shades of pink, cobalt blue, pops of neon and all over coral.
And in a category saturated with graphic T-shirts and basics, Pail says Kiddo has made a statement with casual and party dresses. "Dresses are what we're known for and where we show our strength, in terms of trends," he says. Festive celebrations inspire the Spring '12 line of tiered chiffon dresses, striped maxi dresses and metallic frocks with bubble skirts. From there, trends are carried into more casual separates including dolman sleeve tops, ruched skirts, floral tunics, fringe and Aztec accents.
Even though tweens have strong opinions about what makes it into their closets, Pail says the company tries to connect with parents first. "We want them to know that we're okay to buy for their young daughter," he explains. By sponsoring local L.A. schools and providing retailers with high-quality lifestyle photography, Pail says Kiddo is able to distinguish its place in the market—a key to success in a category that is exploding. "There's a bigger demand for tween than ever and every brand is trying to get in, either by taking their size ranges up or down, but I believe we are setting the trend for this market."
School of Rock
La Miniatura's edgy and nostalgic designs shake up the boys' market.
Designer Jeffrey Sebelia has heard it all. "People say things like, 'Oh, kids grow out of clothes too fast.' Or, 'Kids get dirty.' Well, then why dress them at all? Why don't you just wrap them up in a blanket?" he asks in jest.
As father to 6-year-old Harrison, who loves fashion, fittings and being a muse for dad's post-punk La Miniatura line, Sebelia believes designers don't give kids enough credit. "In general, designs for children are formulaic. From the color palette to the fabric, the approach to children's apparel is a little lazy. It looks like adults are designing for children, not for developing adults," he explains.
"In my son's world, he's growing and figuring out his likes, dislikes and opinions," Sebelia says, adding that he remembers what he liked as a kid and it wasn't just toys and cartoons. With La Miniatura, and the line's nod to the late '70s and early '80s, from London's chic Savile Row to the swagger of Teddy Boys, Sebelia is spicing up the market with slim cuts, bright denim and a collection of plaid and velvet suits befitting a mini Jagger or Bowie. "It's a modern line, but looks back to things in history and in doing so, opens kids to culture," Sebelia adds. For spring, the designer added trucker jackets, western-inspired vests and shirts and super soft cords and cut-offs—staples in Sebelia's Californian childhood. The line also includes a light chambray suit, the designer's favorite piece. "It's my answer to seersucker," he says.
Sebelia won't take credit for conjuring up the idea for La Miniatura—people have been asking for a children's line for years—but he didn't feel confident about moving into another category. Advice from his trusted friend and now business partner Melissa Bochco helped edge him on. "And now I like everything about it. It's more fun, more light and the best part is that I get to work with my son," Sebelia says.
Still, despite his 10-plus years in women's and men's apparel and a memorable win on the third season of reality TV show Project Runway, Sebelia admits to learning on the job and having to adjust to the kids' market. First challenge? Ensuring fit while tackling the unpredictable nature of kids' growth spurts. "Adults stop growing, kids don't," he laughs. While the designer was adept at precise fit and tailoring in the adult market, not to mention having been critiqued on such details on national television, Sebelia says figuring out how a silhouette will translate well to different shapes within a single age group has been a new and agonizing experience.
Buyers' expectations and decision-making processes are major differences, too. Women rave about the collection, but in boys' fashion, Sebelia believes fathers often have the final say. "Our skinny jeans and cut-off bermudas look different from what dads are used to seeing their sons in," he admits. And a recent conversation with a U.K.-based distributor confirmed what Sebelia feared was the underlying reason why some buyers held back on the line's more fashion-forward look—homophobia. The designer recounts how the distributor loved the collection but said he couldn't imagine dressing his own son in it, using some other degrading terminology. "That's a lot of the problem," the designer says, "Adults are projecting all of their narrow-minded views and prejudices onto their children."
To counter, Sebelia says the line is merchandised well for a broad appeal, especially the denim, T-shirts designed by highbrow street artists and some jackets. Barneys New York and Fred Segal are on board for spring. From the beginning, Sebelia says there's been talk to add girls' to the mix (maybe in the next year), but for now the La Miniatura crew is focused on building the brand. "I grew up with brands like Levi's and The Gap. They were staples then as much as they are now, and that's what I'd like for La Miniatura to become—a necessity for boys." —Angela Velasquez