When economic calamity struck in the late 2000s, Jonathan Perl and Evan Hakalir, like many others, found themselves out of work. Granted the opportunity to start something entirely their own from scratch, the friends launched their first business, Andy & Evan Shirt Co. The custom-tailored shirts quickly garnered the attention of showbiz notables, including Alexa […]
Sensory Solutions
Soft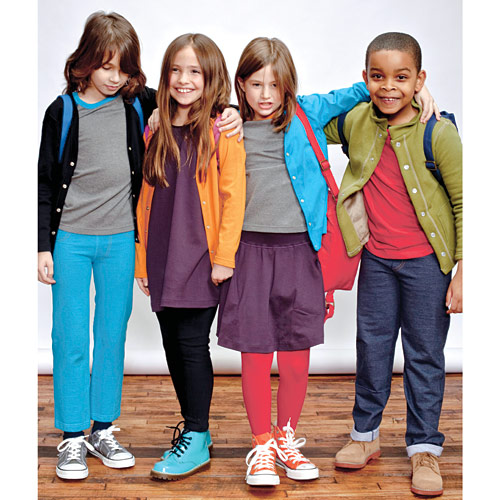 Dapper Dudes
Andy & Evan Shirt Co.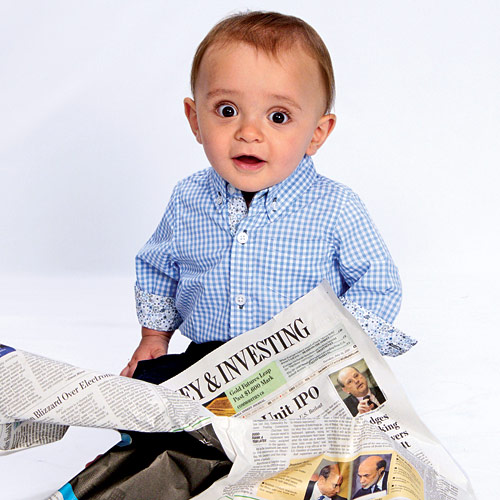 When economic calamity struck in the late 2000s, Jonathan Perl and Evan Hakalir, like many others, found themselves out of work. Granted the opportunity to start something entirely their own from scratch, the friends launched their first business, Andy & Evan Shirt Co. The custom-tailored shirts quickly garnered the attention of showbiz notables, including Alexa Ray Joel and the Fox News crew. Even Regis Philbin, who has a closet full of designer shirts, opts to wear Andy & Evan creations.
Last year, Perl and his wife had a son, and the focus soon shifted to smaller sizes. He wanted to have a few high-quality shirts made for the family's newest addition. "I started calling factories and saying, 'I want to make shirts for my boy,'" Perl recalls. "They'd say, 'It's too tough,' or, 'It's too little,' or, 'I don't know if we can make them that small,' and the more we got rejected, the more we wanted to figure out what would be a good way to make shirts for a baby. It was kind of like a puzzle."
Hakalir says they noticed a serious void for boys' shirts in the marketplace, too, and recognized that managing the fit of a little collared shirt was also a struggle. "There wasn't a collection out there that was compelling," he says. "And then, on the flip side of things, it was very difficult for [Jon] to keep his shirt tucked in. And that's how the shirtzie was born."
Made from the finest woven cotton, every part of the shirt is expertly crafted—from the 3mm buttons and terry cloth-lined collars to the notched cuffs and side seam slits. While designing, the pair aimed to avoid being "too matchy-matchy," and instead worked with dynamic prints and colors. The idea was to use the shirtzie as a launchpad, not just a novelty item. Twill pants, knit shorts, polos and reversible bucket hats with the same rigorous attention to detail give the collection a truly cohesive and complete feeling.
Prior to making their big debut at ENK Children's Club this past month, Perl fatefully ran into Project Runway host Tim Gunn on the New York City subway. "He was dressed to the nines and I told him that I was working with some people to launch a line of baby boys' clothing," Perl says. Gunn said he thought the idea was stellar and the two exchanged contact information. Perl forwarded him a lookbook, and 10 odd minutes later received a response from Gunn, which read: "I believe you have a PROFOUND HIT." "That gave us a bit of confidence heading into the show," Perl admits.
At ENK, things exceeded expectations and the duo was a little surprised by how much foot traffic their booth experienced. "It was like going on American Idol," Hakalir jokes, "We could've left the first round or we could've made it all the way to Hollywood. But there was just so much interest in the collection. People were actually thanking us."
Sensory Solutions
A Brooklyn-based teacher turned designer fills a void for children with sensory sensitivities with a fashion-forward line.
It started with a call from her lawyer. One afternoon in 2008, Suzy Kogen Friedman asked her counsel to contact Jessica Ralli, founder and creative director of Soft, a clothing line designed for children with sensory sensitivities. Friedman was suspicious that Ralli was part of a corporation with which she had shared her business concept, since Ralli's idea was so surprisingly similar. As they talked, it was evident that the designer was unaffiliated with any corporation and in fact was on the search for someone with Friedman's business expertise to help run the company. Within a few weeks, Ralli flew from NYC to Chicago to meet Friedman, after which they proceeded full speed ahead—as a team. The two found great minds really do think alike.
As a mother to a child with Autism and sensory sensitivities, Friedman knew daily dressing challenges well and could confirm what Ralli had found in two years of tireless market research conducted on web forums and parent surveys. "The recent research reports one in 20 children experience [sensory sensitivity] symptoms," Ralli explains. "For parents, it's a huge power struggle, and it can even prevent children from focusing in school." And with that they were sure there was a need for their product.
The point, though, was for the clothing to look stylish and not like any special consideration was taken, Ralli says. "A few companies out there were making clothes that looked very clinical," she explains. "There was no design concept behind them; they were just about comfort." So with the help of three of Ralli's closest friends, who designed for Calvin Klein, Michael Kors and Alexander Wang, the new business partners were able to produce a line that not only made children comfortable with flat seaming, tubular knits and out-facing seams, but that was also chic.
While Ralli says the goal was to create a core line of basics that provides parents with everything they need day to day, Spring '12 will bring some flashier duds, as well as an all-organic cotton collection. Gingham, floral and stripes dominate the upcoming range, and a special line inspired by surf will debut for the spring. "It's a very Australian collection," Ralli says. "I feel like it works very well for the change of seasons, with jean jackets, long-sleeve tunics, short shorts, rompers and mini skirts." Soft will also release a rain jacket for the first time—something Ralli says was difficult to design with sensory sensitivity in mind. Rather than using plastic, Ralli designed the slicker using waxed canvas. And looking forward to Fall '12, Soft gets luxe with faux shearling, a cape, a kimono and a full suit for little professionals, truly helping fulfill the company's mission: Dress up without the drama. —Meagan Walker