It was tough to overlook booth No. 8037 at ENK Children's Club in March. With a near ideal corner setup, the German line Roma e Toska made its first appearance on the U.S. tradeshow floor after a three-year hiatus from the circuit. Supported by her daughters who double as the line's in-house models, Countess Birgit […]
Class Act
Tom & Drew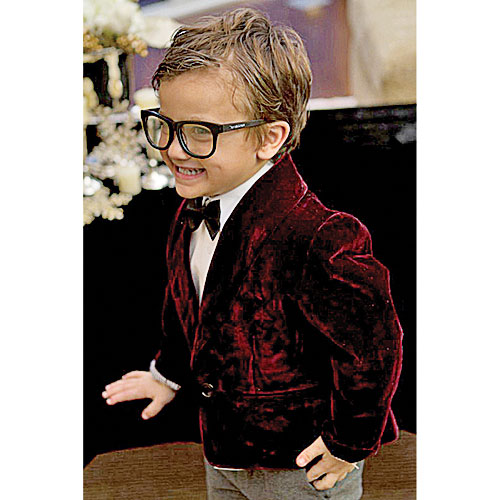 Artistically Inclined
Roma e Toska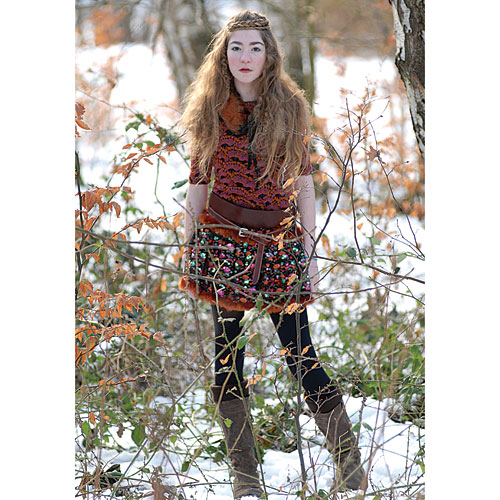 Class Act
Tom & Drew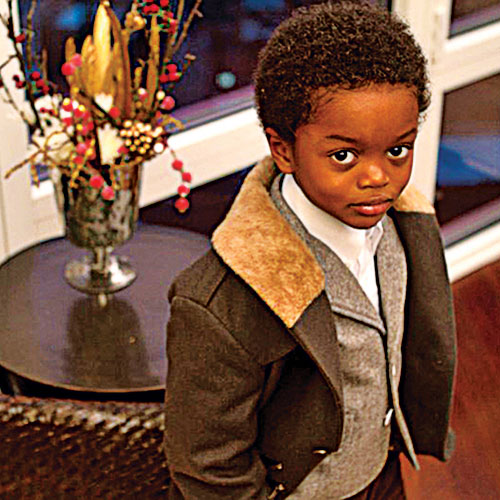 It was tough to overlook booth No. 8037 at ENK Children's Club in March. With a near ideal corner setup, the German line Roma e Toska made its first appearance on the U.S. tradeshow floor after a three-year hiatus from the circuit. Supported by her daughters who double as the line's in-house models, Countess Birgit Tyszkiewicz showed off her high-concept, circus-themed Spring/Summer '11 collection. The brand's rich fabrics, alluring prints and quality craftsmanship were apparent from across the aisle.
A doctoral art historian, Tyszkiewicz says she finds inspiration in almost everything, keeping in mind her father's advice: "Art history is about learning to see," she recalls. "That is learning to see the world around me, the flying landscape from the window of a train, my daughters, their friends." Couple that keen eye for detail with mixed fabrics like heavy wool and soft, floating silk, and you get themes that could potentially be too literal, but are executed with deft sophistication. "It's a big fight," says Tyszkiewicz. "I was very much afraid of becoming too theatrical. What helps is [having] a very intense dialogue with the best textile designers and working with exclusive materials and contrasts."
The Fall '11 collection was inspired by the medieval times of knights, maidens and majestic forests. The line is seeded in the first two verses of an epic poem, "The Song of the Nibelungs," which dates back to Middle High German times between the years 1050 and 1350. "Poems are like pieces of art," Tyszkiewicz says. "They capture the complexity of life and encourage your fantasy." The poem itself will be woven into fabric and accented with wool, silk, silver metallic and faux fur. Looking forward to Spring/Summer '12, Tyszkiewicz notes that she's taking cues from "the beauty of the ordinary" and magnifying the simple things in life.
Tyszkiewicz describes her customer
as label-averse, well educated, of good taste, open-minded and cosmopolitan. Unfortunately for U.S. consumers, Roma e Toska is available at only one shop stateside, the Grand Del Mar, a luxury hotel in San Diego, CA. Mary Beth Voss, the buyer for the hotel's boutique, was traveling in Germany when she came upon the brand. Voss, whose daughter was 12 at the time, was taken aback by the designs. "I couldn't believe what I was seeing," she says.
"I bought it [for my daughter] and she loved it. Every year I went back and bought more." Last year, much to Voss' disappointment, the German shop
was out of Roma e Toska. Determined, she contacted Tyszkiewicz and visited her design studio. Voss expressed her interest in bringing Roma into the Del Mar boutique and Tyszkiewicz agreed. The first shipment arrived last summer, and Voss says it's been a hit. "We've been selling quite a bit of it," she attests. "The last person who came in spent $4,000. You fall in love with it."
Class Act
A New York fashion student turns her classwork into a trendy boys' collection.
While some co-eds coast through college without a plan, Alexia Panza had a definite end-game in mind. She used her time at LIM College in New York City to propel herself straight into the world of children's fashion. Slated to graduate from LIM's Laboratory Institute of Merchandising this summer, the 23-year-old founder and CEO of Tom & Drew for Boys spun a class project into a line of boys' duds that's turning heads in the children's industry.
As part of her curriculum, Panza had to write a senior thesis, namely to formulate a business plan for a clothing line that addressed a void in the market. At the time, Panza found herself frustrated while shopping for her nephews, Tom, 2, and Andrew, 4. "I couldn't find outfits that were on-trend but kid-appropriate," she explains. "So I decided I wanted to start a line that had a kid feel but a grown-up aesthetic." Wasting no time, while in the midst of completing the program's requirements, Panza officially launched Tom & Drew in the Fall of 2010.
She made storyboards and chose color palettes, and then enlisted the help of two freelance designers to execute her vision. Panza takes a lot of her inspiration from menswear and what she calls a "grandpa aesthetic." Fabric is key, too. "Feeling is so important to me," she says. "I know kids want things that are soft, so we use prima modal."
The company's tagline, "For the sake of boys and bulldogs," underscores an intrinsic part of Panza's life. She grew up with bulldogs and most everyone in her family has a bulldog pup. She approached the Bulldog Rescue Network (www.rescuebulldogs.org) and expressed her interest in being an official sponsor. "I had nothing behind me at that point," she says, "But the people there were so lovely and thrilled about it." As a partner of the network, Panza makes bulldog T-shirts each season. Twenty percent of the T-shirt sales go to the mission, as well as 20 percent of accessory sales year-round.
Tom & Drew is now in a total of 76 stores, including 17 Neiman Marcus stores, small independent shops and international boutiques. The Fall 2011 collection boasts blazers and striped bowties ($32 to $42 and $14, respectively), but Panza admits that she's partial to the jeans ($38), which are made of soft Japanese denim. —Meagan Walker