As more brands move their manufacturing back to U.S. soil, now may be the time to perk up your selection with patriotic products. By Samantha Sciarrotta Belle & Beanzer is now made in the U.S. When Lisa Godown founded girls' clothing line Max & Dora in 2010, she knew she wanted the brand to signify […]
As more brands move their manufacturing back to U.S. soil, now may be the time to perk up your selection with patriotic products.
By Samantha Sciarrotta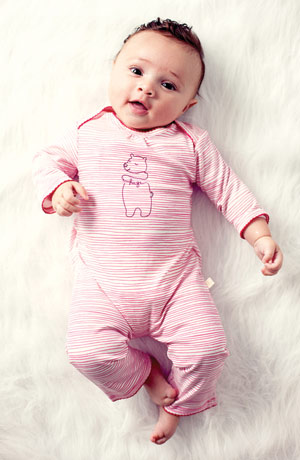 Belle & Beanzer is now made in the U.S.
When Lisa Godown founded girls' clothing line Max & Dora in 2010, she knew she wanted the brand to signify more than just fashion. Named after her great-grandparents who emigrated to the United States from Russia in the early 1900s, Godown wanted the line to reflect their desire to forge a more promising path for their descendants. "When I was trying to think of a name, it was not only important to me because I wouldn't have the opportunity to do what I'm doing without them, but also because their whole mission was about coming here," she remembers. "They came to America to make a better life for themselves." So, inspired by their pursuit of the American dream, Godown decided from the get-go to manufacture domestically—and she's not alone.
The number of kids' brands opting to keep production local has been growing steadily over the past decade, and some are even moving their manufacturing back home from overseas. In fact, one-third of U.S.-based companies that produce overseas thought about transferring to domestic manufacturing, according to a joint survey conducted by the M.I.T. Forum for Supply Chain Innovation and logistics publication Supply Chain Digest in 2012. And about 15 percent of the 340 responders were already planning on moving. Belle & Beanzer's Rebecca Lazaroff is one of those business owners. After recently re-shoring from Peru, she reports the benefits are endless for her line of baby clothing and accessories. "The people I work with here already know where I'm coming from communication-wise. It's real-time problem solving. And as far as turnaround times go, we went from six months to three. I can also visit my suppliers and factories and create deeper relationships and partnerships with them. It's amazing."
Consumers are feeling the local love, too: Sixty-eight percent of those surveyed noted that U.S.-made products were preferable—regardless of price—and 63 percent felt the quality was better. So why are shoppers increasingly seeking American-made products? "Consumers want to support the local economy," suggests Robyn Stylman, co-owner of Hiho Batik, the Brooklyn-based line of handmade garments and accessories for babies to adults. "If we're making things here, there are more jobs for people to do." Safety concerns regarding products crafted overseas, where quality standards are much less stringent, also play a role, as well as worries about working conditions in far-away factories, particularly in the wake of tragedies like the Rana Plaza collapse in Bangladesh last March. With items made in the U.S.A., Winter Water Factory's Stefanie Lynen notes, "Consumers can rest assured that their products are made to a high quality standard under safe and regulated conditions," she states. "Workers are paid fairly, and there is no child labor involved."
Retailers all over the country are noticing a spike in made-in-the-U.S.A. sales, too. Cynthia Herndon, owner of Cozy Cottage Boutique in Dallas, notes that customers specifically request American-made items several times a month, and some even lose interest in an item if they learn it's manufactured overseas. "I think they're really into supporting the workers and making sure jobs stay here," she points out. Carol Yenne of San Francisco's Small Frys agrees: "I think there's more consciousness about trying to support local businesses. The economy brought on that awareness," she adds.
Start Small
Looking to grow the American-made presence in your store? Start with homegrown businesses or local vendors. Kimberly Pierce, the buyer at Born Yesterday in Philadelphia, utilizes both. For Pierce, e-commerce site Etsy has become a go-to resource for finding unique made-in-the-U.S.A. items. Her latest find, accessories inspired by Disney's Frozen, are top sellers in her store. "I order from Etsy every day," she reveals. "It's how I find independent manufacturers and brands. I had no way of finding them before because a lot of them don't have the means to do big trade shows. It's a good outlet for them."
Local Philadelphia designers are also a major resource. "When we say something is made or designed in Philly, it creates a buzz," she points out. Some customer favorites include Philadelphia sports-themed apparel by Philly Phaithful, graphic tees and one-pieces by Duke and Winston and layettes and accessories by Sippy's Babes, made in nearby New Jersey. Yenne also recommends looking local, making sure to stock San Francisco-made (and themed) tees for her Bay Area shoppers.
And while domestically-made and Philly-specific products are popular with the bulk of Born Yesterday's regular customers, Pierce adds that they're a top draw for tourists, too. "They're coming from out of the country, and they specifically want made-in-the-U.S.A. merchandise," she says. "They want organic, U.S.-made products." And that goes for citizens of countries like China, too. "When the fastest growing market in China is American-made products because of safety issues, that's when you know there's a problem," Godown suggests. "They're not even buying their own products."
Make it Known
As many made-in-the-U.S.A. purists are wont to declare, domestically-produced clothing, while pricier, is generally more durable than products produced overseas. Customers can't deny the superior quality, so some brands recommend separating U.S.-made merchandise from the rest of the store's inventory. Knowing they have a choice between the two might make all the difference when it comes time for shoppers to make a purchase. "So much of today's marketing is about telling a story and showing the people behind the product, its history and its origins," says Lynen, whose Brooklyn-based line of organic clothing for baby, kids and women is known for its bright, whimsical prints. "Clearly marking anything that is made in the U.S.A. or creating a separate section in the store or on your site is also key so it's easy to find." If a year-round section dedicated to American-made brands isn't a good fit for your store, Lazaroff suggests setting aside space during beloved American holidays like Memorial Day and Fourth of July for extra oomph. "Whenever a retailer can educate consumers in a really supportive way, it's helpful in any aspect," she notes. And while Ellie Cassidy, owner of Seattle's Bootyland Kids, utilizes in-store signage to promote locally-made products, she takes it a step further and gets the word out through press releases, advertisements and social media posts. "We talk about it," she explains. "We want to get it out there. When people are shopping, we always let them know what's local. We're always trying to do more."
If a separate display isn't possible, simply educating customers about a brand's origins will work, too. Winter Water Factory has been American-made since its inception 12 years ago, so Lynen has watched the fervor for domestic products grow into the movement it is today. And, she suggests, it's all about education. Staying up to date on where your inventory comes from, knowing which parts of a product are made where and periodically checking in with brands can make all the difference. "A few years ago, it was just a nice bonus: 'Oh, how great! That makes me feel even better about buying it,'" she states. "Now, more and more people shop specifically for made-in-the-U.S.A.; it influences their buying decisions from the start."
Think Baby
As safety concerns regarding products manufactured overseas continue to manifest, it's no wonder that many customers prefer domestically-made clothing, especially for newborns, babies and toddlers. Parents and gift-givers want safe items for their little ones, and that's all but guaranteed with a tag that reads "Made in the U.S.A."
"The U.S. has one of the stricter sets of laws for quality control," notes Monica Lam of Sara Sara Neon, the latest venture by made-in-the U.S.A. girls' brand, Sara Sara. "Customers want to know what they're buying for their child is safe to wear." Pierce agrees, noting that her customers most often request American-made items for the smaller set. "They want all-natural dyed things for babies," she attests. "They don't want clothes that are made in China."
And with more and more American-made toys for infants and toddlers available, the success is not just limited to apparel. Retailers report that playthings are among their top-selling items in the American-made category. Brands like Green Toys and Imagination Kids are top sellers at Pierce's Philly store. Trinkets by Green Toys are also a big draw at Yenne's boutique—she has an entire section in her store dedicated to the items. "I think for so long, you could only find toys made outside of the country except for a few wooden toy companies, so now people are excited to find toys."
PINPOINT Your Market
When searching for a special item or gift, many customers often gravitate to domestic items. But who is that customer? Herndon suggests keeping an eye out for shoppers in their 20s and 30s, as well as grandparents, whose children, Herndon says, are advising them to go U.S.-made. "They like natural-fiber products," she reveals. "The people who are looking for organic materials are similar. They're more conscious about what they're putting on a child." Yenne notes that she sees an increase in made-in-the-U.S.A. sales around the holidays. "Sometimes it's more of a special purchase from the people who aren't buying routine, everyday items."
Of course, U.S.-made merchandise simply may not be the right fit for your store. "I think that if you're a cost-driven retailer, then you're probably going to have less success," Yenne offers. "But if you're a locally-owned business, you'll have better luck." Urban, city-based shops are more viable locations, Yenne suggests, while Herndon feels that small-town stores see more success. What they both agreed on, though, was that smaller retailers are a better fit. "That's where people expect to see more local items," Herndon acknowledges.
Sell the Value
Because of the higher price tag that often comes with domestically-made merchandise, customers are sometimes hesitant to cough up the cash. For consumers who may not know why they're paying a little extra, Sara Oh, who launched her girls' loungewear line Esme in 2001, says a little explanation goes a long way, so get ready to deliver a crash course if asked. "In the U.S., there are many regulations that need to be met," she says. "That quality only comes from products that are made in the U.S.A. Better fabrication, better dyes, better wear and better care. Consumers who care about quality will likely choose something that's made in the U.S.A." Chances are, the promise of safe, durable clothing will lure the shopper to spend more. "People have gotten used to owning to throw out," Godown points out. "Once people look at clothes like they're not disposable, like they should last longer and that they can pass them down from child to child, the value increases."