A chat with Stephanie Sala, owner of Five Little Monkeys, a San Francisco Bay Area toy retailer.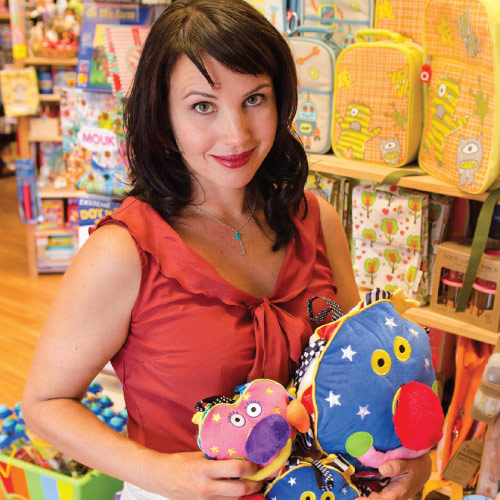 Stephanie Sala, owner of Five Little Monkeys, graduated from the University of California, Berkeley, with degrees in sociology and religious studies, but her plans for graduate school were put on hold after the 9/11 terrorist attacks. After the tremendous scare, Sala realized that being close to home was her No. 1 priority. The oldest of "five little monkeys," as she calls her siblings, she wanted to choose a career path that would play an active role in their lives. To her advantage, going the entrepreneurial route was no stranger to the Sala family. Her father Andre Sala is a toy designer most famous for the Whoozit line of infant development toys while her mother Anna Hobbet is the co-owner and founder of Sweet Potatoes, a childrenswear manufacturing company that won several Earnie Awards over the years. According to Sala, opening a specialty toy store seemed like a natural fit at the time (now having successfully expanded to four locations in California). Since its launch in 2001, Five Little Monkeys has won multiple awards and was even deemed the first green-certified toy store in the Bay Area. Each location carries leading toy brands like Hape, Valtech, Klutz, Lego and Tomy. "It is our goal to provide the community a unique selection of quality toys in a fun and friendly environment," Sala says. "We strive to give every customer exceptional customer service and encourage children of all ages to come and explore our toys first hand."
What makes Five Little Monkeys unique?  You are guaranteed a carefully curated selection of toys at all four locations. Other toy stores are organized by brand or by age, but we organize by theme. Fairies, pirates, mermaids and farm animals all have their own separate sections.
Do you specialize in a certain toy category? We try to focus on toys that help promote a healthy childhood through imaginative play. Things that force kids to think creatively and will give them skills to use later in life are what we hone in on. For example, I believe when kids play with dolls, they are preparing to become parents.
Does your inventory vary depending on location? The mix is pretty similar in each store, but there are some unique selling points to each location. We have a store in Novato where it's more rural, so it's easier to sell sports merchandise there. On the other hand, our location in Burlingame, on the peninsula between Silicon Valley and San Francisco, sells anything related to coding or programming really well.
What were the bestselling brands in 2016? International Playthings, Toysmith and Melissa & Doug were a shilling. In terms of specific product, we did really well with Blankie Tales, the kids' sleeping bag that makes the child look like she has a mermaid tail.  We also did well with the Rock and Roll It piano, a portable piano that is soft and pliable. Squishables also did great, especially the food pillows.
What's the biggest challenge facing your business in 2017? 
One of the biggest challenges in business today is learning how to compete with online sales. The Internet is taking a bigger and bigger portion of retail sales, so it's about determining how to capture those customers—how to make them spend money in stores rather than choosing to click a button and have the toy delivered to their doorstep by Amazon.
What are you doing to compete with the shifting market? Last year we revamped our website and launched it in November, just in time for the holiday season. This made it a lot easier for customers to place orders with us. We also use social media to stay relevant. I have a marketing coordinator who helps me generate ideas to stay on the forefront of customers' minds, even if it's just a little post to say 'hey, we're here!' It doesn't necessarily have to be an advertisement for a product. In fact, I think that turns people off from following stores online when it's 'buy this' all the time.
What is the most valuable advice you have for other retailers? I've gained a deeper understanding and realization that business is really a partnership between retailers, vendors, sales reps and customers. One of the best things I've done is learn to leverage that and have conversations with my partners on how to succeed together. If I'm successful, they're successful. We need to help each other out.