Project 6 NY Debuts 'Modest' Label for Teen Girls Frustrated with the adolescent market consisting of tight shirts and ripped jeans, Shaindy Backer, owner and designer of Project 6 NY and mother to a 13-year-old, has set out to fill a void in the market with a new line of modest clothing for teen girls […]
Project 6 NY Debuts 'Modest' Label for Teen Girls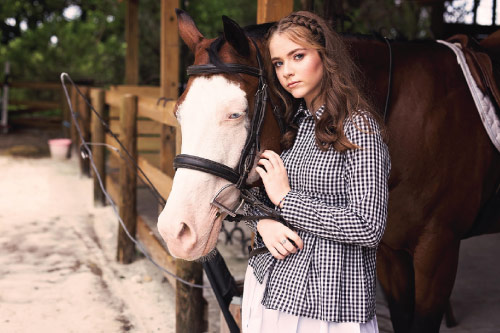 Frustrated with the adolescent market consisting of tight shirts and ripped jeans, Shaindy Backer, owner and designer of Project 6 NY and mother to a 13-year-old, has set out to fill a void in the market with a new line of modest clothing for teen girls called Project 6 Teen. The Spring/Summer 2018 debut emulates Project 6 NY's soft, sweet aesthetic from the women's collection with knee-length skirts, pussy-bow blouses and puffy Victorian sleeves while still maintaining the youthful personality of a children's collection with satin bows, gingham and striped prints.
"A lot of teenage clothing just shows too much, and that doesn't always send the most appropriate messages," Backer says, adding the new label is still versatile enough for teens to express their individual style. She believes that having it be a completely separate brand was also an important aspect to success, noting that older girls will instantly be deterred if styles are available to a kindergartener and a freshman. "I have a couple dresses like that, and my daughter won't wear them because she saw a little kid wearing them," Backer says.
The line wholesales from $40 to $60 and is available in sizes 12 to 18. Backer adds that while modesty is a guiding design principle, the styles flatter teen girls during those tricky "awkward" stages. "A teen can get away with wearing about 30 percent of women's clothing," she says. "But I felt the need for teen clothing that caters to this specific body type, where shoulders are still small and the waist and hips aren't defined yet."
Mayoral to Launch Shoes in the U.S.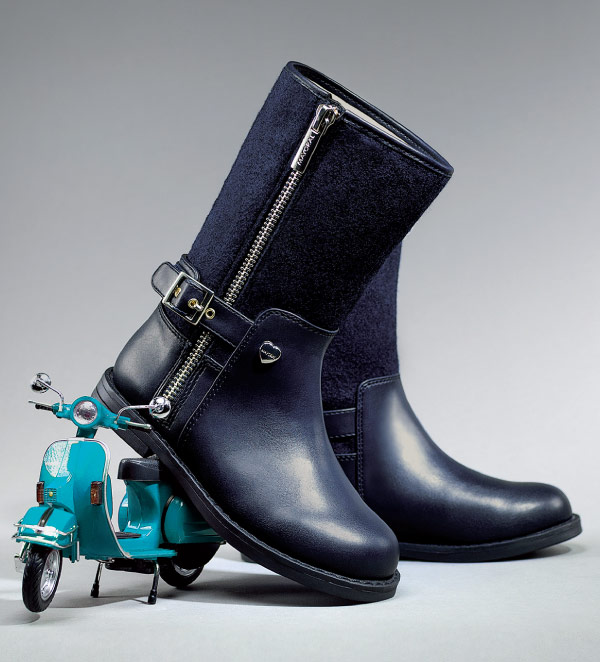 Mayoral's footwear line, originally launched in 2012 for the European market, is making the leap across the pond. The high demand from American customers wanting "the full look" was what ultimately convinced the brand to take the plunge for Spring '18.    
The collection is aesthetically split, channeling both classy and urban looks for girls, according to Adam Herman, U.S. director. "We remember the past to reinvent the future through contrasts between the natural and the technical," he says. "This gives the shoe a utilitarian look but sophisticated and personal at the same time." Color—lots of it—is another key ingredient. "We've immersed ourselves in the urban and street movement of the 1990s with the fusion of prints and contrasting colors that characterizes the models with a functional and street touch," Herman says.
The Mayoral collection spans classic riding boots to millennial pink Mary Jane's to shearling booties to gold hi-top sneakers. While the collection is designed to stand alone, many colors and prints are drawn from the clothing for coordinated buys. Available in size 3.5 to 5.5, it will be distributed to both apparel and shoe retailers. Wholesale prices range from $15 to $30.
American Exchange Apparel Group 

Inks New License
Geoffrey Beene, an American fashion designer known for formal wear, will be downsizing in a good way. The legendary label has signed a multi-year licensing deal with American Exchange Apparel Group to produce a line of tailored clothing, dress shirts, neckwear and footwear for boys', infant through size 20.
"With American Exchange's strong footprint in childrenswear, design capabilities and expertise in boys' apparel, we are confident that they will continue to enhance the Geoffrey Beene brand," says Tom Hutton, president and CEO.
Joey Allaham, vice president of American Exchange Apparel Group, says the line will be affordably priced (wholesale prices range from $45 to $89) and feature a contemporary twist. "What's going to differentiate the brand is a unique blend of fabrics and color palettes put together to create a bold and fun tailored collection, while maintaining the classic aesthetic of Geoffrey Beene," Allaham says, adding that the company will be contributing to the Geoffrey Beene Gives Back (GBGB) Program. The program gives 100 percent of the brand's net profits to fund the Geoffrey Beene Cancer Research Center at Memorial Sloan Kettering Cancer Center in New York. "It's a first-of-its-kind partnership with a brand that gives back to the consumer through medical funding," Allaham says. Funding to date combined with the Geoffrey Beene Foundation (supports causes like Alzheimer's, heart disease, women and children services, veteran support and educational scholarships) exceeds $160 million.