Sapling Child Teams with Kristin Cavallari, Little Belle Nightlights' Bright Idea, LÍLLÉbaby Introduces Minnie Mouse.
Sapling Child Teams with Kristin Cavallari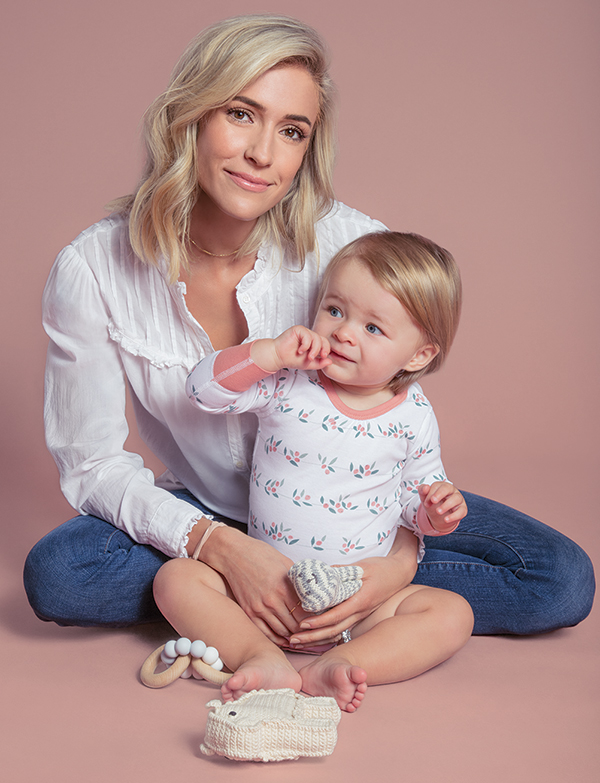 Sapling Child is releasing a capsule collection in collaboration with author, TV host, designer and mother Kristin Cavallari. The new offerings will be 100 percent organic cotton and printed with organic water-based dyes, free from toxic chemicals and heavy metals. "Kristin was a stand out choice for us," says Peta Stinson, creative director for Sapling. "Some of our best prints have come out under Kristin's tutelage."
Cavallari discovered Sapling after the birth of her son, Jaxon, and fell in love with its soft fabrics, sweet prints and commitment to organic cotton. "Our family does our best to make a positive impact for the environment, so joining the Sapling team was a perfect fit—both creatively and environmentally," Cavallari says, adding that Millennials care about where products come from and what they stand for. "People are starting to become hyperaware of where their clothing, food, you name it, is coming from, and I think that's a great thing—no more B.S."
Available in sizes newborn to 18 months and retailing from $9.95 to $32.95, the Kristin Cavallari x Sapling range launches this month at SaplingChild.com and select retailers internationally. The organic baby apparel company is expanding rapidly, with offices now in Australia, Canada and the U.S.
Little Belle Nightlights' Bright Idea
Little Belle Nightlights of New Zealand is coming to the U.S. market for the first time. Debuting at the August edition of NY Now, the fairytale-inspired collection of porcelain nightlights are designed to comfort and reassure children as they drift off to sleep or wake in the night. Powered by a lifelong LED bulb, each nightlight is ethically crafted and tested to meet U.S. safety standards. "Many hands are used to create each light and no two are alike," says Founder Laura Burbery. "Our nightlights are true keepsakes because they're just as much pleasure to give as they are to receive."
Burbery started Little Belle after discovering a gap in the market for quality children's nightlights, adding that her four-year-old daughter was the inspiration behind the design. "She loved stories about fairies as she drifted off to sleep, and I wanted a quality light that I could leave on for her all night," Burbery says. "I wanted our little fairy, toadstool and elfin houses to provide an opportunity for parents and children to snuggle up and bond with bedtime stories—those are the special moments you never want to forget."   
LÍLLÉbaby Introduces Minnie Mouse
LÍLLÉbaby has expanded its successful Disney Baby Collection with the launch of a new Minnie Mouse print. The collection includes a total of four styles and prints. The new "Minnie Classic" print is available in LÍLLÉbaby's award-winning Complete All Seasons carrier, Complete Airflow carrier and doll carrier, featuring iconic Minnie Mouse in a hand-sketched silhouette pattern on pink fabric.
The Complete All Seasons baby carrier offers six carrying positions, providing comfort with enhanced lumbar support from birth through toddlerhood, while the Complete Airflow features a lightweight, breathable 3-D mesh carrier, providing maximum breathability. Lastly, the Minnie doll carrier is designed for older siblings to carry their favorite stuffed animals or dolls.
LÍLLÉbaby 's Disney collection also features styles and prints of Mickey Mouse and characters from Disney Pixar's Incredibles 2. All products are available on LilleBaby.com, ShopDisney.com and select retailers. The Complete carriers retail from $150 to $190, while the doll carriers are $35. Additional Disney Baby Collection prints are expected to be released later this summer.