Piecing together show-stopping outfits is nothing new to our guest stylist. Not one to let a treasure chest of old dance costumes go to waste, Kori has a knack for tearing the tulle off of old dresses and refashioning them as hats, or turning wide leg dance pants into a snazzy top. As the daughter […]
Remix - Kori: East Orange, NJ
Angela Frost dress, Malibu Sugar crystal- embellished leggings, skimmers by LUV Footwear, Fore! N Birdie headband, Ruum cross body bag.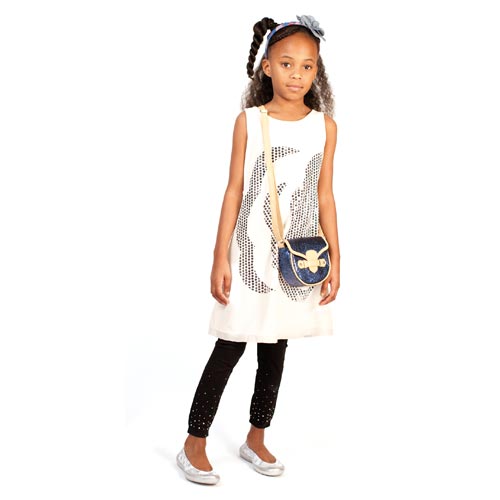 Remix - Kori: East Orange, NJ
Jumina striped blazer, Kickle by Alex and Alexa Chihuahua print T-shirt, Fore! N Birdie skirt.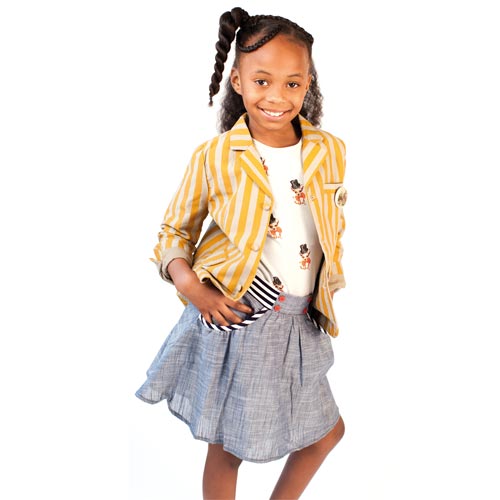 Remix - Kori: East Orange, NJ
Ruum sweater and belt, Malibu Sugar tie- dye tank, striped jeans by Diesel, Skechers socks, Nina Kids glitter sneakers, hat by Fore! N Birdie.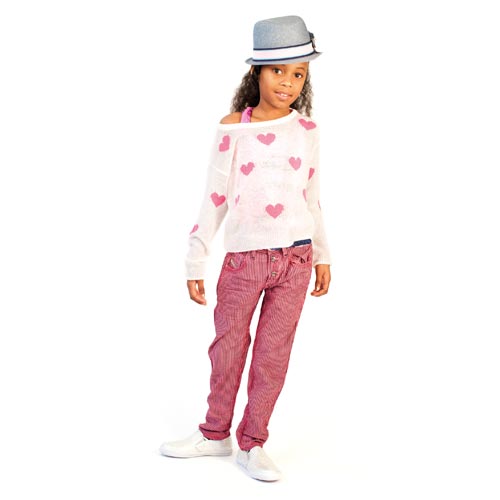 Piecing together show-stopping outfits is nothing new to our guest stylist. Not one to let a treasure chest of old dance costumes go to waste, Kori has a knack for tearing the tulle off of old dresses and refashioning them as hats, or turning wide leg dance pants into a snazzy top.
As the daughter of Style Mayvin blogger T. Strong, you might say Kori inherited a keen eye for trends that she applies to her everyday wardrobe. She pairs sequin-covered boots with her school uniform and on weekends she gallivants around in her favorite long"pink princess dresses" and black-and-burgundy tutu.
As the only girl in the family, which consists of two older brothers, Kori brings pizzazz to the dinner table with her must-have items like sequins and zebra print (both of which she wore to our office on the day of the shoot), and while she likes sports, there's no place quite like the mall. "My favorite store is The Children's Place," she says, adding that she can't wait to grow into tween haven Justice. In the meantime, she admires the store's cute accessories and frocks and finds inspiration for the children's line she would like to create one day.
—Angela Velasquez