After acquiring the rights to Robeez last year, David and Mark McCubbin began implementing big improvements to the beloved baby shoe brand—including an epic birthday bash this month in honor of its 20th anniversary and much more to come next year. David McCubbin may be a soft-spoken Midwesterner, but he knows that sometimes you need […]
After acquiring
the rights to Robeez last year, David and Mark McCubbin began implementing big improvements to the beloved baby shoe brand—including an epic birthday bash this month in honor of its 20th anniversary and much more to come next year.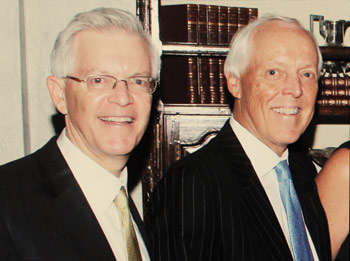 David McCubbin may be a soft-spoken Midwesterner, but he knows that sometimes you need to be loud. Think Jumbotron-in-Times Square loud.
Then again, it's not every day that a cherished children's footwear brand turns 20, especially in today's turbulent market. So when Robeez reaches its second decade in business this month, McCubbin has quite the celebration in mind, including a party starring Melissa Rycroft of The Bachelor, and yes, that very big ad in the heart of the Big Apple.
It all makes sense when he explains the long journey that led to his company's ownership of the storied brand. As the 32-year president of McCubbin Hosiery, which produces socks and tights for the likes of Keds and Stride Rite, the industry vet is certainly no stranger to working with iconic brands. Even so, it took him more than 10 years to acquire the coveted rights to Robeez' footwear.
In 2004, McCubbin made his first foray into trying to purchase the business, by meeting with then-owner and founder, Sandra Wilson. The partnership didn't work out at the time, but he didn't give up. He knew that Robeez, known for making the first soft-sole infant pre-walkers, would fit perfectly into his company's portfolio of legendary brands. So when Stride Rite acquired Robeez in 2007, he made his pitch again to Stride Rite's president. It earned McCubbin the rights to make hosiery for Robeez in 2010, and in 2013, his persistence at last paid off, when the company took over the Robeez brand.
But McCubbin's journey actually goes back far more than a decade—to his childhood days sweeping floors, putting up stock and packing and selling orders for McCubbin Hosiery, the company his grandfather, Chester F. McCubbin, incorporated in 1952 in Oklahoma City, OK. Along with his brother, Mark, the company's current CEO, McCubbin learned the ins and outs of the hosiery business. "I worked summers through high school, doing anything from warehouse distribution to sales," he recalls. "In the summer months in college, I was on the road selling socks."
Originally, McCubbin didn't plan to join the family business after graduating from college in 1980. But when his grandfather passed away in 1976, and his grandmother became ill, he knew his help was needed. So in 1982, after his grandmother passed away, he and his brother took ownership—at the ages of 24 and 25. At the time, the company had less than 20 employees and earned less than $20 million in sales a year—50 percent of those sales with one customer, C.R. Anthony Co., a chain of independent department stores that went bankrupt in 1986.
The master of measured understatement, McCubbin admits it wasn't "an ideal situation" for two twentysomethings still learning the ropes. Yet, as a testament to the brothers' savvy, they began to make moves that helped propel the company to its current success, which includes more than $70 million in sales annually to a wide range of specialty and department stores. First, sensing the decline of American manufacturing, they moved production offshore in the mid-'90s. Second, they began to focus exclusively on the children's market, earning a reputation for quality, affordable kids' socks and tights—a reputation that attracted companies like Stride Rite, Keds, Absorba and eventually Robeez.
It didn't take long for the McCubbin brothers to prove why they're the perfect people to lead Robeez: Before the deal was even announced, they were busy refreshing the product with an array of new designs—an improvement that has already led to a double-digit increase in sales. And McCubbin hints there's much more in the pipeline, including accessories and possibly apparel. Here, he discusses how his team is revamping Robeez and why he believes its big 2-0 is only the beginning of exciting things to come.
What makes brands like Stride Rite and Robeez gravitate toward McCubbin for hosiery?
I think we have four things that really make our company stand out: First, we have a great front-end sales team. Second, our design team is second to none. Third, our licensed brands are iconic. And I would say our sourcing is the fourth. We've been sourcing offshore since the mid-'90s, while most of our competitors were manufacturing in America up until the early '00s. I think it's helped us have the best quality product at the best prices.
You acquired the Robeez footwear license last year. Was it a challenge to tackle a new market?
It's not exactly a new arena for us—McCubbin was a soft-sole footwear company prior to the Robeez license. We picked up the Stride Rite slipper license in 2004, and we have been making pre-walkers for other customers, most of it private label. I think the Robeez brand just gave us a great vehicle to demonstrate our talents.
How did you convince Robeez to hand over the reins?
That's one of my favorite stories. I flew to Vancouver in 2004 to meet Sandra Wilson, who at that time was the owner and founder of Robeez. I was hoping to get the license to make socks for the brand, but it didn't work out. I think they were concerned about coordinating the market strategy between their reps and our reps. In 2007, Robeez sold the brand to Stride Rite, and I still happened to have the same proposal I had given Sandra in 2004. I had it on the president's desk on the very same day! It took three more years to finally get the hosiery license, in 2010. And in 2013, we were very excited to get the exclusive rights over everything—especially since I have loved the brand and have been pursuing it for so long. The whole company is excited, because they've been listening to me obsess about it for 10 years. [Laughs.]
Your persistence paid off! What made you so determined to buy the Robeez brand?
We're all about iconic brands, and I think it just fits really well within our portfolio. It's the original soft-sole shoe. Just look at our other brands: Stride Rite dates back to 1919 and Keds was founded in 1916. Similar to those brands, Robeez is all about fit and quality. It's about making products that moms and babies love. It simply fits what we like to do.
Did McCubbin make any changes to the brand after taking over in 2013?
Starting out, it was all about product. The brand needed a freshie, as we say. It was getting a little stale, no question about it. The consumer needed a new reason to look at it and buy it. One of the best decisions I made was listening to our new brand manager, who said the most important thing we could do is spend money up front on improving the product. We worked on enhancing the design and tweaking the packaging for several months before we officially took over, so we could hit the ground running with a fabulous product.
UPCLOSE with David McCubbin
What's your favorite hometown memory?
I would probably say attending the school where my dad was a teacher. I was very fond of the school and having my dad up there was fun. My brother and I like to say we have education and socks in our blood.
What's your favorite way to spend a free afternoon?
I have four daughters in their 20s and early 30s—one lives in Boston, one lives in New York City and two live in Oklahoma City. It's tough getting everybody together, so I love our family dinners. We have a great time. I basically just cook on the grill, open the wine and get entertained.
What are you reading right now?
I just finished George F. Will's book on Chicago and Wrigley Field, A Nice Little Place on the North Side: Wrigley Field at One Hundred.
What three things could you never live without?
My iPad, my phone and a glass of red wine.
How about the brand's marketing strategy? Any big changes?
Product was our first priority, but marketing was second—that's what we're working on this year. We have a big 20th anniversary bash this month, in New York City. Sandra Wilson, the founder, will be attending, as well as Melissa Rycroft from The Bachelor, along with her baby. We've even rented a Jumbotron in Times Square.
Do the new plans include any forays into the social media sphere?
Absolutely. Robeez had not been active in the social media space previously, so we re-launched the brand on Facebook and Twitter and created an Instagram presence.
Do you think it's a key way to market to moms?
I think it's absolutely essential. Today's mom is connected. She uses social media to engage with the brands that are meaningful to her. And social media has really become a dominant means of educating the consumer, engaging the consumer and promoting your product. We want to be relevant to today's young mom, and we know that she's looking to brands like Aden + Anais, Skip Hop and KicKee Pants, who have a strong online presence through social media, so it's natural that we would build our following that way.
Where is Robeez carried at retail?
It's carried at specialty stores throughout the U.S., Canada and Europe, as well as select department stores like Nordstrom and Von Maur. It's also at Fred Segal, as well as online at Amazon and Zappos. And we're also direct to consumer through the Robeez website—our first foray into direct to consumer for McCubbin—and it's been fantastic. We're up by double digits this year over last. It's been a great way to talk directly to the consumer and show off our brand.
Do you have any plans to change the retail strategy?
I can see us going for more global penetration in the next few years, but you won't see Robeez at the mass level. We will continue to focus on the specialty market, as well as increasing our penetration at the department store level and with the dot-coms.
What's the biggest challenge for Robeez right now?
Our biggest challenge is that the consumer is 2-years-old—so we constantly need to catch the attention of the new mom and educate her about the brand. It's also a challenge to stay on trend and appeal to the shifting tastes of the modern mom. Plus, with an iconic brand like Robeez, you've got to please the traditional mom, who loves the Robeez that everyone knows, and you've got to please the new modern mom, who wants something a little different. Then the question becomes: How big of a line do you want to have?
And you have to stay true to your brand identity, too.
Exactly. Robeez has traditionally been known for a leather upper, and that's still the hallmark of the brand. But we've been experimenting with some canvas uppers that really take their cue from what moms and dads are wearing in the spring and summer months. That mini-me look has definitely resonated with our customers. The modern mom is style savvy, and the mini-me looks that we've put forward—whether it's a high-top sneaker in boys or our take on a ballet flat for girls—is just another way she can translate adult looks down to her child.
Do you find that any particular styles resonate more in specific geographic areas?
Boots and causal looks do really well in Canada, but other than that it's dependent on the individual stores. What Nordstrom sells, Von Maur may not. Our new camo-print slip-on, for example, has been a huge hit with Nordstrom. And if you think of Nordstrom as a destination retailer for that modern mom, it makes sense.
How were sales this year?
This is our second year with the pre-walkers, and we've seen a double-digit increase at wholesale as well as direct to consumer. We're extremely pleased with that kind of growth in this economy, and we see no reason why it won't continue. And we're excited about re-launching the Disney collection this fall. Thanks to that and our 20th anniversary celebration this month, we're seeing a lot of brand awareness right now.
Definitely! Tell me more about the Disney collection.
Disney and Robeez had a co-branding relationship prior to us taking over the license, and Disney was really excited when we approached them about revisiting the collection. We're using classic Disney icons, like Mickey, Minnie and Winnie the Pooh, and merging them with our Robeez functionality and our design sensibilities. It's really fun, and we've gotten a great response from Amazon, Zappos and Diapers.com.
So you've got a new Disney collection and a big anniversary bash in 2014. How does next year look?
It looks great. We're working on brand extensions for Robeez, including accessories and possibly some clothes for the brand. And increasing our global penetration is important, too. Asia intrigues us as an untapped market. We have a lot of Asian customers who buy direct to consumer, or on the West Coast, so we know that's a market we can explore.
Are you looking to add more brands to the McCubbin portfolio?
We're always looking for iconic brands that would sit well within our portfolio. Our next hosiery license will probably be in the adult market. I just love working with licensed brands. I love the relationships we have with everyone from Stride Rite to Keds, from the presidents of those companies down to the design teams.