Founder and Owner Roxana Castillo celebrates Kissy Kissy's super sweet birthday by revealing how her retail background helped her build a multimillion dollar layette line that propelled the rise of Peruvian pima cotton. By Audrey Goodson Kingo When Kissy Kissy owner Roxana Castillo moved to the U.S. from Peru at the age of 20, she […]
Founder and Owner Roxana Castillo celebrates Kissy Kissy's super sweet birthday by revealing how her retail background helped her build a multimillion dollar layette line that propelled the rise of Peruvian pima cotton.
By Audrey Goodson Kingo
When Kissy Kissy owner Roxana Castillo moved to the U.S. from Peru at the age of 20, she confesses with a laugh: "I had dreams of conquering the world. Instead, the world conquered me."
But sitting in the Kissy Kissy showroom, surrounded by the hundreds of styles that make up the brand's Spring '14 collection, it's easy to see that the modest owner and founder has in reality done a fair share of conquering, especially when it comes to cornering the market on super-soft pima cotton layette sets. Now sold in more than 2,000 stores, including shops in Europe, Australia, Asia, Central America, Northern Africa and the Middle East, Kissy Kissy is celebrating its 16th birthday this month—but don't expect Castillo to wax nostalgic about the mark her brand has made in the children's industry. That's not because it hasn't, but because the interview-shy owner owns a fair dose of an increasingly uncommon trait in the age of me-centered social media: good, old-fashioned humility.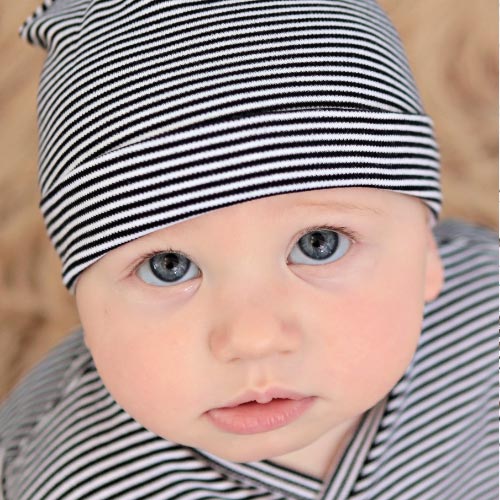 "Kissy Kissy is not just me; it's the team," she counters, when commended on the brand's accomplishments. You won't hear Castillo rattle them off herself, but the list includes distribution in pretty much every high-end department store in the U.S., no fewer than five Earnie Awards for Best Infants' Collection (including this year's award) and a roster of celebrity fans that include the likes of Katie Holmes, Nicole Kidman and Celine Dion, just to name a few.
When complimented, Castillo is quick to divert credit to her team, including everyone from the women in Peru who hand embroider the brand's intricate designs to the artists who produce Kissy Kissy's popular prints. She's especially grateful for the help from long-time friends like Gail Wagner, former owner of Baby Boom in Montclair, NJ, who provided retail expertise to help shape the brand's very first collection and who continue to help by monitoring the brand's department store merchandising. "It's a combined effort from the team in the office, the reps, our stores, plus our manufacturers," she adds. "You take out one of those pieces, and we cease to exist."
That may be true, but certainly a fair share of the credit for the brand's success goes to Castillo herself, first for recognizing that Peruvian-produced pima cotton layette sets would be a hit with parents across the globe. It's hard to imagine in today's children's industry, now packed with Peruvian-produced apparel, but the country's high-quality pima cotton was still relatively unknown when Castillo began selling it, as a retailer, in 1995.
Inspiration struck after Castillo gave her stepdaughter, a new mother, a pima cotton layette set she picked up on a trip to Lima. "She had never touched anything so soft," Castillo recalls. Together, the two decided to open a kiosk at a nearby mall to sell Peruvian baby apparel, but they were offered an entire store space instead. Less than a year later, they moved the store to a beautiful boutique space in a stately old home in Chatham, NJ. The pima cotton products were a hit, and a second store soon followed.
Listening to customer feedback, Castillo noticed another quirk about the layette brands on the market at the time: None of them seemed to offer a full collection. "If someone wanted a gift, and wanted all the elements to go with it—the bib, the hats and the booties—we couldn't find a line that offered all of that," she remembers. "There were lines that offered cute layette apparel and some that offered cute layette gifts, but none that offered the whole package." So in 1997 she launched Kissy Kissy.
Sixteen years later, the beloved brand features a variety of labels offering everything from christening gowns to cardigans in sizes preemie to 4T. But from the beginning, Kissy Kissy offered everything eager-to-please gift givers would want to include in a baby shower or birthday basket: bibs, booties, blankets, hats, converters, footies, playsuits and one-pieces, all manufactured in Peru—no easy feat at the time. "The analogy I use is we started with our little machetes and went into the forest and opened our way through the vegetation and the trees," she says with a laugh. "And then the road was paved, and everybody came afterword with the trucks and cars."
It's an apt analogy, looking at the growing number of newcomers making Peruvian cotton children's apparel. And while the now-ubiquitous awareness regarding the perks of pima cotton certainly can't hurt, the increased competition has its challenges. As more brands begin manufacturing in the country, costs have rapidly increased, particularly for delicate hand embroideries and smocking, a signature of Kissy Kissy's sophisticated, timeless designs.
While it may be a challenge, Castillo still sees her job as a privilege, and a chance to help her native country. "Another reason why we thought of bringing in pima cotton from Peru was to give back to our country," she explains. "For me, that is actually one of the things that makes this business worthwhile. Our hand embroiderers are all mothers who work from home, and they are able to work and take care of their families at the same time. And when you see the people working in the factories, the fact that you're providing for them makes all of the problems of the world worth it."
What did you learn as a retailer that helped you design the first Kissy Kissy collection?
First of all, we realized our customers loved the softness of pima cotton, and the quality. And they wanted to have items that were easy to use with the baby—like converter gowns, for example—and clothes with snaps instead of buttons. We also noticed that shoppers, especially grandmothers, liked buying special gifts, which brought about a lot of Kissy's hand embroideries. And we also realized shoppers liked having a complete collection. Where is the hat? Do you have a blanket that goes with it? How about the bib? Shoppers wanted to be able to put together gifts that were either small and meaningful or large baskets full of coordinating items.
Do you think it's changed?
Not really. However, I do think people are now used to good quality. Before they were totally surprised, and they couldn't believe something could be so soft, but now they kind of expect it. Today I also think you see a little bit more practical purchases. We're not selling as many accessories as we used to. I think mothers are a little more careful as to how they are spending their dollars. If a hat is not necessary, moms won't buy it, if it means being able to get another item that's a little bit more practical. The sales of hand embroidered items and more expensive items—the grandmotherly purchases—have definitely gone down a little bit. People are spending their money a little more frugally. But in terms of making it easier for moms to dress their babies and change diapers, that hasn't changed at all—our converter gowns are still one of our bestselling items.
Was it difficult to manufacture in Peru initially?
In the beginning, we had to go knocking on every possible door, getting information along the lines, of 'So-and-so told me so-and-so does baby clothing.' Yes, you found a lot of manufacturers in Peru at the time, but not all of them specialized in baby clothing—and you have to specialize. You can't turn an adult manufacturer into a baby manufacturer. They have to already know what they are doing. We were extremely small and weren't anywhere close to meeting the minimums at certain factories, or there were no manufacturers that met our criteria. It was very hard, and we were very lucky to find the factories that we did.
Now, of course, Peru is an extremely popular spot for sourcing.
Now the competition is such that everybody goes knocking on our factories' doors, because they produce for Kissy Kissy. In fact, now you have institutions in Peru that promote exports and provide all that information on a platter—and point you in the right direction, too. There are track records of who exports how much and when. Everything is laid out on a platter, whereas it was something we really had to really investigate. In that sense, Lima has changed tremendously. The unfortunate part is because of the competition that now exists, prices have gone up.
And I'm sure shoppers don't want to see a price increase on the finished product.
No, but I also believe there's a limit to how much baby clothing should go for—there's only so much you can pay for baby layette. Even though we have seen constant price increases from manufacturing in Peru—because the price of pima cotton went up, the local currency is stronger and labor is more expensive—we have not really passed those increases along to our retailers the way those cost increases have been passed on to us. We can't price ourselves out of the market. I think value is very important, and I think we need to work hand in hand with our retailers to make it possible for them to sell the product. There's no point in my pricing something at its true price if it's not going to move.
Aside from price, are their any other challenges to increased competition from brands made in Peru?
I think right now there is an oversaturation of the product in the market. There's a little bit too much of the same. Another brand will come in with a better price, and say, 'Oh it's also pima, and it's cheaper.' So it makes it a little bit harder to sell to the stores.
How do you stand out?
First of all, I think our quality is still the best. And I think people appreciate that and know the difference with Kissy—that they can trust Kissy's quality. We also try to stay a step ahead of everybody else, while staying true to our core, which is offering high quality, excellent customer service and a large diversity of product. We have collections that we sell throughout the year, so people can always order Kissy whenever they need it. If a store is opening and they need product right away, we will have it for them. If a store didn't order enough, we'll have product for them.
In what other ways do you work together with your retailers?
We provide them an excellent customer service. I believe that the customer comes first, second and third. We don't do any specific programs, but we do listen to what they need and what they want—from prices to quality to prints. Obviously, we can't do everything that's requested of us, because you can't please everyone, but we try. And that is how we put the line together, too, by listening to the retailers, our clients and our reps.
That old-fashioned approach to customer service is a bit rare these days.
We're extremely loyal to our clients, to our mom-and-pop boutiques, and to our department stores. We will do anything and everything to protect them. We try very hard not to sell to offprice wholesalers. We try to keep the line as clean as possible, so they are able to have good sales with the product. I think that's our core business and to remain in business we need them, so we'll protect them. We will do whatever is necessary to work with them, because they in turn will keep us in business.
Your retail background must have inspired your emphasis on customer service.
We realized just how difficult it is for a store to conduct business if a brand isn't working with them—if it ships incomplete or ships late. Often, we would get damaged merchandise, or we would buy a set and get the booties but not the outfit, and no one would answer the phone or respond. That's why we make sure that we provide excellent customer service. For us, the client will always be right no matter what. We have to enable them to be able to truly sell the product. We can't make it difficult. I found that many lines and wholesalers out there don't do that. They don't answer the calls. They don't seem to care. That was a very important lesson that I learned from having a retail store.
Within the season, Kissy Kissy ships every 15 days. Do you think that's another service your retailers appreciate?
Yes, because they constantly can get new Kissy collections coming to their store and they can constantly refresh their look. That's why I have white hair. [Laughs.]
Newness seems to be a big draw for a lot of shoppers.
But I also think shoppers want the service that comes with buying from a brick-and-mortar boutique. And I think they also want to see and touch. Moms want to have that one-on-one experience with whatever they are buying, especially for their babies. I don't think stores will ever stop being relevant.
Kissy Kissy now has a store in almost every continent. How did you begin selling internationally?
The third year of the business, we started with England by going to the Premier Kids show in Birmingham, just to see what happened. I'll never forget the first store that placed an order with us was Fortnum & Mason in London. That, for me, was an incredible experience. I was flabbergasted because I knew the name, but I didn't realize they sold baby products. I found out they had a very small baby department. At the time, they wanted exclusivity, and I was almost considering it until someone opened my eyes and said, 'No, they're very small—you don't want exclusivity.' Then we started showing at Pitti Bimbo and we found reps in Europe, and they opened up the European market for us.
There are so many differences to keep in mind when designing for international clients, right?
It's an entirely different market. We include items in our collection that are specifically geared for international buyers, by listening to what our stores want. In Japan, they won't buy items that are open in the back, so I have to make sure if we present a footie that it opens in the front. Some Italian stores won't buy an item that doesn't have a collar. And some European buyers want bolder colors, so we've tried to introduce that with our Qt-Qt line. Other European stores want very traditional hand-smocking and hand-embroideries, which we always try to keep in the line for them.
Sixteen years later, what moments make you proudest?
For me, it's amazing to see a wall of Kissy Kissy in stores across the world. It's incredible. And when I get expressions of appreciation from the factory workers, that fulfills me in a way I can't describe. Also, Kissy Kissy has been more visible online recently with social media, and it's always special when moms post pictures and are proud to show their babies in Kissy. It's great because it gives all of these moms who are very excited about the product a place to come together as a community.
So Kissy Kissy is ramping up its social media presence. Any plans to branch into e-commerce?
No. That goes in line with opening a store. For me, you concentrate on one area of the business or you concentrate on another. I know a lot wholesale lines have their own stores, but my philosophy is as much as we can prevent it, we won't do that. I consider that competing with your clients, and I wouldn't be able to do that to them.
On your website, you note that Kissy Kissy is owned and managed by women. Do you think that female perspective makes a big difference?
Yes. In my case, I've had a baby, I've dressed a baby and I've had to be practical with a baby. I think that when you talk to mothers, being a woman, they will open up more and tell you more about their needs and frustrations. There's also more empathy and understanding about what moms might need to make their lives easier. I think men tend to be more business-oriented—they tend to think more of the practical issues of the business. I'm not saying women don't do that, too, but we'll always keep in the back of our minds what mothers really want. Really and truly, no matter how much society has changed, usually it's the mother who takes care of the baby—and works! You have to consider all of this in how you make this woman's life a little bit smoother. So give her good product—she can wash Kissy 1,000 times, and it will still come out as close to new as possible—and give her something that is easy and her baby is comfortable in. Give her something she doesn't have to worry about.