Leading a luxury kids' brand through a rocky recession is no easy task, but Bill LaRossa, president of Primigi USA, shares his secret weapon: Gina, his business partner and wife of 25 years. Here, he reveals the recipe for their success, and why 2014 will be the brand's best year yet. By Audrey Goodson Kingo […]
Leading a luxury kids' brand through a rocky recession is no easy task, but Bill LaRossa, president of Primigi USA, shares his secret weapon: Gina, his business partner and wife of 25 years. Here, he reveals the recipe for their success, and why 2014 will be the brand's best year yet.
By Audrey Goodson Kingo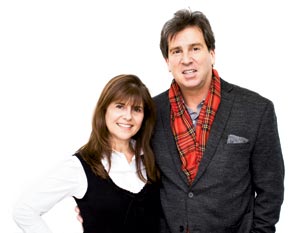 When Bill and Gina LaRossa met in college, little did they know that fateful day would lead to a 25-year marriage and a 15-year working partnership, helming the American arm of one of the biggest children's footwear brands in the world.
But that's exactly what happened. Gina, just a freshman at the time, met Bill, a junior, and the two immediately became good friends. Though the pair didn't begin dating until years later, Gina says, "From the beginning, we enjoyed a lot of the same interests and kept in close touch after he graduated."
That mutual sense of admiration and friendship has served the couple well throughout the years, enabling them to work side-by-side for more than a decade to help design, distribute, sell and market one of the most respected kids' footwear brands in the industry. Though Gina, the director of marketing, primarily handles marketing, design and public relations, and Bill, the president, takes on the task of selling, as with any entrepreneurial family, they never hesitate to pitch in where needed. "We both crossover when necessary and as a small company we both do many other tasks," Gina says. The couple also receives a fair share of help from their daughter Olivia, now 16, who grew up attending design meetings in Italy and modeling the high-end footwear both at school and even on the runway. "She works the trade shows and writes orders with some of the same customers who have seen her go from a toddler to a teen," Gina shares. "It's been great doing what we love and keeping our daughter involved on every level. She's quite savvy when it comes to fashion, and I imagine it will somehow be a part of her future," she adds.
That deep appreciation for family is exactly what drew Bill and Gina to Primigi when the opportunity to take over the U.S. distribution popped up in 1998. "Primigi started out as a family business, and even though it's grown tremendously in Italy since 1976, it's still run like a family business," Bill notes. Not to mention that a respect for Italian footwear is embedded in the couple's DNA: "My family is Italian, and my wife's family is Italian," Bill explains. "All of our roots are there."
The couple couldn't resist the chance to introduce the Italian heritage brand to an American market flooded with low-quality footwear from the East. Europeans, Bill believes, tend to stay one step ahead of Americans when it comes to appreciating and producing quality footwear, but he's hopeful that U.S. shoppers are coming around, particularly as prices continue to rise on shoes manufactured in China. "As the price of low quality has risen in the last few years from product in the Far East, our product looks a lot better, and I think that's really what's going to drive our business," he notes.
That's not to say Primigi doesn't already have a devoted fan base in the U.S.: Available online, at better department stores and in more than 275 independent retailers across the U.S, the brand's high-quality construction and comfortable fit has garnered many devotees through the years, including celebrity parents like Heidi Klum and Madonna. The best part about the brand's celebrity fans, Bill notes, is that they are totally unsolicited, much like Primigi's many 5-star online reviews. "Our product really does a lot of our advertising for us," he explains. "People love our quality, and we hear that constantly, so every season we just try to live up to that and be better than the season before."
That unwavering commitment to quality, he points out, is what helped the brand survive the tough recession, and what he believes will propel it forward in the future, particularly in a market where "quality" and "children's shoes" don't often go hand in hand. Of course, European-crafted footwear comes at a premium, and Primigi's price point, at an average of $38 wholesale, places the brand squarely in the luxury realm for some shoppers. But it's a price Bill believes many parents are willing to pay for shoes that actually last. And, based on Primigi's 2013 sales, it looks like he's right: The brand's highest-priced offerings, its girls' fashion boots and Gore-Tex licensed products, were the bestselling items in the line. (Primigi is the only children's brand with the Gore-Tex license.)
It's just one reason why he believes 2014 will be the brand's best in years, a refreshingly optimistic outlook in a retail industry often beset by bad news. But, as the no-nonsense president notes, he has many reasons to be happy: After 15 years of hard work, Primigi's name has become synonymous with high-quality children's footwear in the U.S., and the brand's strong Fall '13 sell-through suggests even bigger sales this year. Plus, he still has a savvy, supportive partner by his side, for 25 years and counting. Here, he reveals how Primigi has cornered the luxury kids' footwear market, and how he plans to capitalize on what may be one of the brand's best years yet.
Where is Primigi's biggest area of distribution?
The New York and New Jersey area is our biggest, but we have a really good representation in Los Angeles, Chicago and the middle of the country, too. Of course we're more focused on major metropolitan areas where a children's luxury brand would be more likely to have more sales. But I think with some of our prices being fairly moderate and with a lot of the prices on Far East products rising higher and closer to meet ours—but without the quality—we have a chance to expand our reach even more.
We've noticed that many children's apparel stores are increasing their shoe selection. Have you seen that?
Definitely. That's been growing for us even during the recession, for the last five or six years. And we've done really well in some of them, who have become really good partners. They're knowledgeable, but they want to learn more about us, because they want to have good add-ons in their store.
UPCLOSE with Bill LaROSSA
What are you reading?

I am re-reading The Four Agreements by Don Miguel Ruiz. It's about positive ways to think about things and live your life. I'm also reading a book about Vince Lombardi, When Pride Still Mattered by David Maraniss. It's a great book.
What's your favorite way to spend a free afternoon?
With my girls, Gina and Olivia, just kicking around in Boston. And a Boston sporting event is always good.
What super power would you love to have?
Atmokinesis, the ability to change the weather with your mind—especially in Boston.
What three things could you never live without?
It wouldn't be things, it would be family members. And it would be hard to pick three without getting in trouble—with my mother and father and nieces and nephews, it's definitely more than three. We have a very close-knit family.
What do you think is the biggest challenge for independent retailers right now?
I think it's just a matter of regaining confidence. I think the good independents we deal with are trying really hard. A lot of them are really innovative and have upped their game in the face of the challenges around them. I love our online partners, and they are certainly smart and fast and adapt quickly, but with some of our product, I think feeling it and touching it is so important. I don't think the brick-and-mortar experience is going to go away. I'm just not a believer in that. I know some people are, but I think there's still room for brick-and-mortar stores. And I think the ones that have taken up the challenge are doing a really good job.
During the recession, Primigi USA launched a lower-priced line. How has it fared?
It's not a huge part of our offering, but we've done really well with it. The line was launched in response to the fact that the global economy hasn't been great for the past couple of years in any business, and a lot of people have been out of work and struggling. We realize that some of our price points aren't for everybody, so we've tried to take some of the hallmarks of our upper-end line and extend them to a nicely-made, moderately-priced line, and we're really very happy with it. The price point is a little bit higher than some of the other stuff in the market made in the Far East and Asia, but it's also better quality. Customers can count on it; it's not going to fall apart, and it's going to be something they're happy to own.
So Primigi managed to stay one step ahead of the rocky economy.
We never really lost our footing. We know what our identity is and what our product represents. In the deepest throes of the recession, it was hard to sell. People just weren't buying two pairs any more. They weren't buying as freely in any business. But we didn't change much about Primigi because we didn't think that a lot needed changing.
It seems like shoppers are seeking a return to quality products.
I think so. I think that mindset comes back when the economy is better, and for a lot of people it never leaves. Conversely, there will always be people who can afford a better price point but they still have the mindset of quantity over quality. And then there are people who find it hard to think about paying money for extras when the economy is really bad. We definitely keep that in mind—we don't try to be all things to all people. We just try to offer really good value for the money and let our product be a strong part of our advertising campaign.
Do you see more customers coming back to Primigi as a result?
I never saw them leave. The market simply wasn't as maniacal as it was in the past. But you see that across the board—people are just more careful, no matter if they are buying for their children or themselves. I definitely didn't see Primigi customers leave for lesser brands. They just didn't buy as much as they did in the past, and thought a little bit more carefully about their purchases. All you have to do is watch the news to see things haven't been easy, not only here but also in Europe. Globally, business hasn't been great, and that's definitely a fact. Other than a few trends and a few items, generally it has been a tough stretch for many companies, especially with unemployment remaining so high. But that also means shoppers want quality. You learn [to appreciate quality] pretty quickly when you pay $15 less for children's shoes and they only last a couple of months and don't look good after a couple of weeks. Especially when you look at a brand like Primigi, and the shoes still look new six months later. They hold their shape and they don't wear out easily. We hear that over and over again from our customers, and that certainly sticks in people's minds when they're making their buying decisions. We're definitely seeing an uptick in business that we're very happy about.
Do you think there's still a strong middle market looking for luxury products?
You hear a lot about how there's no middle anymore. But quite honestly if that's really true, the entire country is in trouble. We all need the middle class to come back—many in that market are worried that even if they still have their jobs, they might be next [to get laid off]. We need consumer sentiment to become a little stronger to really have meaningful growth. I'm hoping from what we've seen that that's going to play out in 2014. And I think it will. Even for our independent merchants, with slightly lower price points, their sell-outs were really strong in 2013. There certainly is a middle class left in the U.S., and they need some help. If it's just the very rich, very high-end and the mass-market, very low price—I don't care what business you're in, that mindset is dangerous. And it's certainly not the way we're thinking. We're thinking that people love our product, and they're passionate about it, and we've done pretty well even during a tough recession.
What's your secret to survival?
Over the years I've seen a lot of my competitors disappear from the American market, and I think in some respects that's helped. But I think a lot of them disappeared because they changed their focus. They shipped their production to the Far East and made the product much, much cheaper. And people look at that and say, 'Hey, this brand name doesn't fit with this price point.' You can't fool people for a long time. We've definitely tried to make some moderately priced offerings, and we think people have been really happy with them, but oddly enough our best sell-throughs this season were with our higher-priced fashion boots for girls from ages 6 to 12, and our Gore-Tex boots, our most expensive products. Categorically it was some of the bestselling product in our line. That gives me hope for the near future.
There also seems to be a bit of a growing backlash against products produced in China.
Quite honestly, I think there has been a backlash against a lot of product on the market. A lot of our merchants and a lot of our customers tell us there are a lot of plastic shoes out there. They aren't good quality, and they hurt the child's feet and fall apart easily, and that's the antithesis of what we're about. I'd be lying to you if I said there weren't people who walk into our booth and say, 'Where is it made?' There's definitely good product made in the Far East, but by and large that's not the rule. It's the exception.
And rising manufacturing costs have increased prices on those products, too.
Exactly. And if someone gets something that's really poor quality and they pay a lot more than they're used to paying for it, there will certainly be a backlash. We work really hard to turn out a really good product. So when I see stuff on the market that's pretty close to our price, and those shoes are plastic and almost unwearable in my opinion, I think it's crazy of us not to point out the difference. It's one thing when the price is really low for a pair of throw-away shoes, when a pair is half the price of Primigi. But when it's 75 or 80 percent of the price of a pair of Primigis, and it doesn't last, that's when it's a problem. And that's why a lot of people are loyal to our brand. It's hard to instill loyalty with a throw-away product.
Do you think your customers appreciate that difference?
Absolutely. And that's where our growth will come from: people who understand quality and understand how much effort we put into our shoes. Our Gore-Tex products and our fashion boots are some of the best shoes you can buy for children. You can't get better shoes.
Do you think today's parents, particularly Millienials, understand the importance of quality?
I think it's more of an educational process. I think that some of them do. It's kind of a sweeping generalization, but I think younger parents have seen more poor quality than previous generations, so it's more incumbent on companies like ours to tell our story. It's more necessary than ever. No matter who you are, you get sick of poor quality after a while, so in addition to turning out good product, I think that education is a huge part of our responsibility.
Would you say that is one of your biggest challenges?
It's a challenge, for sure, to get our message out and convey it to a younger population that has more choices than ever before. It's a challenge to get people to understand quality, and that it's not just about what a product looks like, it's also about what it feels like and how long it lasts. But the biggest challenge of all is that we're going to need some outside help. Along with everyone who runs a newspaper or restaurant or shoe store, we're going to need the economy to improve a little bit, and for there to be a little bit better news on television. To me, that's the biggest challenge, because it's kind of been this endless cycle of bad news about how we're in two wars, and unemployment is high and the politicians don't get along and don't speak to each other. I would say that's what I've seen change the most in the past four or five years; it's not that one part of the business has replaced another, it's that good news is in short supply. We're going to need a little good news and for people to be a little more positive.
Speaking of good news, it looks like 2014 will be a good year for Primigi.
I think we're definitely seeing some good signs this season. Our pre-book so far for fall looks good—we're up already with some of our key accounts, including online, department stores and independents, particularly because we've already had our samples for three weeks now, ahead of most of our competition. It's a very good indicator for the season.
And the frigid weather must help sell those winter boots!
Yes, it certainly helps when people are thinking about how cold it is this winter when they're starting to look at fall shoes again. Also, the sell-through for Primigi last fall and winter was quite good, especially for our fashion boots and our Gore-Tex boots, and it's fresh in retailers' minds that we have really good sell-throughs. And that's something that hasn't been common in the business for the last couple of years. I think 2014 is going to be the best year for us in many years. And I hope it is for the rest of the market, too. 'A rising tide lifts all ships' is an expression that certainly pertains to the shoe business.
In that case, do you think increased competition from luxury brands like Michael Kors and Ralph Lauren is a good thing?
Those are great names, and I do think that is a good thing because it brings more awareness to the category. But I've seen a lot of big names come in and not turn out the best product, and that's where the history of our company really means something. We're an Italian company, and it's well known that Italians are passionate about footwear—I truly believe the Italians and Europeans are a little bit ahead of us in that respect. I have only seen a small handful of companies turn out the same quality year in and year out that we do. That's why Primigi has been a leader in the Italian market for 40 years, and why we have such a strong name in the U.S.
ou've worked together with your wife Gina for 15 years. What's your recipe for success?
We complement each other, and we really enjoy being together. And she's razor sharp. There's no one else I'd rather have next to me to go through the day with. But everyone always asks us, 'How do you sit next to each other all day?' It does get loud once in a while—we are Italian. [Laughs.]