With 30 years of experience in children's fashion, including a stint at Tommy Hilfiger, industry veteran Barry Kottler of BAK Apparel has mastered the art of survival in an ever-shifting retail landscape, establishing a reputation for quality and building a legacy that will last as the next generation steps up to the plate. By Audrey […]
With 30 years of experience in children's fashion, including a stint at Tommy Hilfiger, industry veteran Barry Kottler of BAK Apparel has mastered the art of survival in an ever-shifting retail landscape, establishing a reputation for quality and building a legacy that will last as the next generation steps up to the plate.
By Audrey Goodson Kingo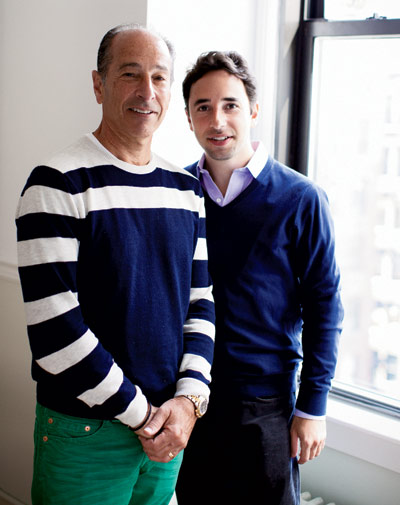 It's no secret that retail is undergoing a revolution. From the rapid rise of fast fashion to a steady surge in online purchases, the definition of shopping itself continues to shift. Add the advent of social media to the mix, where consumers can share their favorite brands with the click of a button, and it's easy to understand why many retailers and brand executives are bewildered by such a complex, constantly-evolving landscape.
What's easy to forget when faced with the myriad challenges of today's retail scene is that the fashion industry has never been one to maintain the status quo—and savvy manufacturers have always needed to adapt to survive. There's no better example than Barry Kottler, president of BAK Apparel. Charting the course of Kottler's career is akin to reading the CliffsNotes on the garment industry's many evolutions in the last few decades. It's also a primer on the importance of shifting to meet the market's demands, while staying true to your core competency.
Kottler landed his first gig in the industry through a family friend in 1978, when he began working as a sales associate for a kids' apparel company called Jackhammers. The brand manufactured boys' bottoms in Puerto Rico and sold to Kmart and J.C. Penney—during a time that could arguably be called the zenith for both merchants. After learning the ropes, Kottler moved to Trifind, a boys' pant brand manufactured in Scranton, PA, along with a wave of other apparel companies that moved their production to the area after the rise of unions made manufacturing in New York City cost prohibitive for many brands. But Scranton's heydey as a manufacturing mecca quickly faded in the '90s, after President Clinton signed NAFTA, and the cost of manufacturing in the Caribbean and other South American countries became ideal. As a result, Kottler worked at a couple different companies at that time that manufactured in the Dominican Republic.
Aside from the production shifts that impacted the children's industry in those days—including the rise of China as a low cost manufacturing mainstay—it was also a time when many American heritage brands began branching into the kids category. As the director of sales, Kottler helped expand Tommy Hilfiger's kids division, and as the divisional president for the now-defunct company Happy Kids, he oversaw the launch of Izod for kids. (Izod is now manufactured by Cutie Pie Baby.) All in all, it was a time when costs were low, sales were solid, and as Kottler jokingly notes, Al Gore hadn't yet invented the Internet.
Oh, how times have changed.
The first major difference? "China is no longer the world's low-cost manufacturing country," Kottler points out. "It doesn't want to be. Every country grows up. Now people are going to Bangladesh and India. But every worker in the world sees what's going on in China. They know there's upward mobility, and they know they want more money. So these countries that are taking over for China right now will get to the point in the next five or 10 years where they'll be too expensive." It's a revolving production scene that may actually land back in the U.S. at some point, he posits.
In addition to to the challenge of increasing costs, the price of kids' apparel has largely flatlined, he adds, particularly since the average consumer is still reeling from the recession. While the economy may be slowly growing—particularly the stock market—it's a recovery that's gone mostly unnoticed by the bulk of the American middle class. "They're paying more for health insurance, gasoline, rent and food, and they're not taking home any more money," Kottler observes.
With all that gloomy news, it wouldn't have been surprising for the industry vet to rest on his laurels and enjoy a relaxing retirement. Instead, the self-described workaholic launched BAK Apparel four years ago. Specializing in boys' and girls' special occasion wear, the brand is sold under various labels (Princess Faith and KatieM. for girls, Jeffrey Banks, BAK and Andrew Fezza for boys) at an array of top retailers, including Nordstrom, Lord & Taylor, Burlington Coat Factory, Ross, Kohl's, Von Maur, Cookie's and K&G Fashion Superstore, as well as The Bay and Winners in Canada. Three months ago, the company acquired Samara, a girls' casual dress line that Kottler believes will help make BAK more of a year-round business.
While it can be easy to be blue about the industry's recent challenges, a few things keep Kottler optimistic for the future. First are practical observations: Unlike adult fashion, "The one thing we have in kids' is planned obsolescence. The kid is going to outgrow the garment at some point," he notes. In other words, moms need to return to the store every year to outfit their growing brood. The second bright spot is his faith in the BAK brands, as well as the Samara brand, all of which offer a great deal of quality and detail—think sequin appliques and rhinestone brooches—at a reasonable price point. (The special occasion wear wholesales for $6 to $20, while the girls' casual dresses wholesale for $5 to $8.) The third and most important ray of hope, however, comes in the form of his new vice president—his son, Mark Kottler.
It's Mark who convinced his father to look into creating an interactive website for the brand, a prospect they both believe has a lot of potential to streamline business operations. "The websites that we see out there are quite generic at best. What we'd like to create is a virtual showroom where we can fine-tune presentations for any retailer," Kottler describes. For Mark, it simply makes sense: "You can have a virtual look into the showroom with someone a half a world away," he points out. "Another reason why the virtual showroom would be really good is that a lot of our special occasion wear is completely cut to order, so we have a lot of customization options with patterns and colors. There are a lot of different things we can show [in a virtual showroom] that we can't just dump in a massive e-mail file. Hopefully it will cut down on back and forth e-mails to have it all in one central spot."
For Mark, a former journalist, the differences between the media and garment industries haven't been as pronounced as he expected. "Journalism has become such an instant, multi-platform industry, and clothing changes just as quickly as the news does," he points out. "They're both unpredictable. We don't know what the next trend will be, just like I don't know who the next politician will be to be arrested. So you can either sit around and await, or you can be proactive in scouring and finding resources."
UP CLOSE with BARRY AND MARK KOTTLER

What's your favorite movie?
Barry: Pretty Woman. That, and White Men Can't Jump. Real deep movies. [Laughs.] I like to go to a movie and walk out smiling.
Mark: I love any 1970s movie shot in New York City. My favorite is The Taking of Pelham 123 with Walter Matthau and Robert Shaw. That movie really tells the story of New York.
What's your favorite way to spend a free afternoon?
Barry: In the summer, golf and working out. In the winter, I love Saturday afternoon naps.
Mark: In the summer, I'm on the tennis courts every weekend. When I'm not on the tennis courts, I love exploring the city. I'm curious by nature.
What superpower would you love to have?
Barry: I'd like to know what tomorrow is going to bring.
Mark: Teleporting, because I'm really afraid of flying.
What three things could you never live without?
Barry: Gatorade, pizza and work. I couldn't live without work.
Mark: My family, camera and passport… but oatmeal raisin cookies are a close fourth.
That sense of energy and enthusiasm is exactly why Barry is excited to show Mark the ropes. Yet while the elder Kottler certainly has a trove of industry knowledge to impart to his new VP, he admits that he's just as eager to learn as he is to teach. "He brings a different mindset to the company," Barry says of Mark. "As we all get older we become creatures of habit, and he challenges me."
What's the biggest change you've seen in the industry through the years?
If the price of children's apparel has moved at all in the last 30 years, it's actually gone down. Costs have gone up, but retail prices have not. There's tremendous pressure because the consumer is not willing to pay a higher price, so the retailer is squeezing the manufacturers harder to get costs down and the factory is in turn squeezing their suppliers. There's a downward pressure on everything.
And manufacturing costs in China continue to increase.
Yes, but I'm a creature of habit, so I'm staying in China. It's not the cheapest place in the world to manufacture anymore, but I feel very confident that the people I work with are going to deliver my product on time and the quality is going to be there. And my customers have become accustomed to that quality. If I go into another country, I can buy it cheaper, but will I deliver it on time? What will the quality be like? I could win the battle and lose the war.
How do you respond to these challenges?
One thing we refuse to do is alter the quality of our product. We will not cut corners. Instead, we're working with lower margins, so we have to do more volume. That's why I feel there will be fewer retailers and manufacturers five years from now. Fortunately, we're considered a niche player. And if you continue to do what you do best and don't try to be all things to all people, then you have a pretty good chance of succeeding.
Do you think the market is oversaturated?
I think it's been oversaturated for quite a long time. There's too much retail. I spoke to my factory yesterday, and there's a lot of retail that's performing really horribly right now, at all levels. The consumer simply isn't spending. They're buying only what's necessary. And that's because people who were previously making $35 to $50 an hour at their jobs are now taking jobs for $10 an hour. Our middle class has gotten destroyed. That's really made those big box discounters more important.
So the rocky economy has led in part to the rise of the off-price retail segment?
Yes. And it's hurting Macy's, Dillard's, Belk and Bloomingdale's—the true department stores. Those buyers are really getting pressured because the off-price stores are getting the same labels. But the off-price guys are simply selling cheaper, and there's no loyalty amongst the consumer. What's happening in a lot of cases is the consumer is shopping the department store for the trends and then they're going to T.J. Maxx and buying clothes at a fraction of the cost. And do they care if the fabric is a little lighter? All they know is one thing: It's got the Ralph Lauren polo player or the Nautica sailboat. Brand recognition is important.
But at the same time, people want to look fashionable.
Price is important, but people also want more for less. With today's younger parents and grandparents, there's a real push for fashion, whether it's color, fabric or design. I also think it's a byproduct of the fact that there's no sales help in the stores—the product really has to sell itself. And here comes H&M and Zara, who make disposable clothes. I always say that they give you the sizzle, but they don't give you the steak. They're going to give you spot-on trends, but don't look for them to give you quality.
Do you think the average consumer can spot quality?
They can, but they kind of close their eyes to it—especially in kids. We live vicariously through our kids. When a mother takes her child to a party, that logo is status. She buys it is so her friends can see it and say, 'Things must be okay at the Jones family, because little Johnny is wearing Polo.' Nobody knows or cares where it was bought. Nobody is going over and saying, 'Oh, that's thinner than the polo that's being sold for double the price at the department stores.'
Aside from brand name, what makes a garment stand out at retail?
People want more details. Without the rhinestone and brooch details on a Princess Faith dress, it would be a plain dress. But with those details, the consumer loves it. Those little added touches make the difference. Same goes for our Samara line, where we're doing lots of appliqués. Of course, everything you add to the garment adds cost. It's tricky because a retailer comes in to our showroom and they have a perception that those dresses should be $9.99, and you say, 'Wow, maybe we're putting too much into our garment.' But you have to create a niche for yourself. You have to have a reason to exist. So we give more [detail on the garments], and we work a little closer on the margins. The problem is, once you create a price, it's next to impossible to increase it. And in the retail world today, as you get more and more space with the department stores, your requirements on margin assistance—markdown money—become bigger. That's also part of the reason why the big boxes have gotten bigger.
The big box stores don't ask for margin assistance?
When you deal with T.J. Maxx or Ross, for example, they hit you hard up front [on pricing], and you're basically done. There's no backside assistance needed, unless there's a complete disaster and the product just doesn't sell. Then, when they come back for margin assistance, you say, 'You really bought it at a close-out price upfront. There's no room.' So people have gravitated toward [off-price retailers], because it's easier. I was talking to a department store buyer yesterday who was in the market looking for first-quarter margin assistance, and the store is getting about 40 percent of its request. And it's not really a request; it's a demand. If you don't support them, you're going to lose your position [in the store]. So, the question becomes, do you work at a higher margin up front with department stores, never quite knowing what your margin is actually going to be until the end? Or, you go to the big guys with the best possible price up front? That's the million dollar question.
How does a brand survive in that environment?
I think at the end of the day it's all about product. You have to give the consumer a good product at a fair value when they're ready to buy. Then you have a good chance of doing business. If you're not giving them quality product, and you're not priced right and they're not in the market to buy, then your product is not going to sell. Case in point: January and February of this year. There was no business. People just weren't in the stores. They had no appetite for spring.
Do you think it would help if the retail calendar shifted?
When I went to school, you bought your entire wardrobe in August, and you were done. It wasn't about what the cool kids were wearing; we didn't go to school in shorts in September. Today, kids are going to school wearing the shorts they wore all summer. Even for schools with uniforms, moms used to go out and buy five pair of pants and five knit shirts—one for every day of the week. Now, they buy two or three, and when those fall apart, they'll replace it. In the end they may buy more, but up front, they're not doing it. But the retailer has to be ready Aug. 1, because what if that strategy changes? You have to be prepared. Another problem is that Macy's, for example, has 800 stores nationwide. After they take inventory in January, they have to either be rid of the fall/winter merchandise to make room for spring, or they're going to send it back. They're not putting it in the back room anymore. So, there has to be a cut off. Is it later? Perhaps. There's no easy answer.
What advice would you offer retailers looking to stay competitive?
I often see retailers take product from the smaller stores that aren't performing and put it into their bigger doors. Unfortunately, all they are doing is buying more of the same for those big doors, rather than changing their assortment. In my conversations with the Macy's and Dillard's of the world, I tell them to bring in an additional, different assortment for those top doors. The customer is coming in constantly, and they don't want to see the same product and more of it—they want to see more of an assortment.
Right. I often hear that retail buyers should be braver about trying new brands.
Definitely. However, stepping out is a lot easier when business is good. You can take a lot of chances and you can bury a lot mistakes because you have something to offset it when you have a good business. When your tried and true garments aren't selling, and you're going to the market for margin assistance, it's very difficult to try new things. But in my opinion, that's the time to do things like that. Are you going to wait for things to be good? Then you will say, 'What I'm doing is working. Why change it?' When things aren't working, that's when you change your assortment and add new.
After 30 years in the industry, what's your favorite part of the job?
Invoicing. [Laughs.] Actually, I really love what I do. Every day is something different. Some days are good, some days are horrible, but you just hope that there's more of the former than the latter. I think that if you can do business in the apparel industry, you can do anything.