"When we bought the company, we thought some of the goods were undervalued and we wanted to lower the price points," explained division president Jeff Glick. By leveraging Mamiye's strength in sourcing, he reported that Little Me was able to decrease its retail prices by 15 to 20 percent without taking away from—and even ultimately […]
Little Me, Big Business
Division president Jeff Glick and design director Linda Cola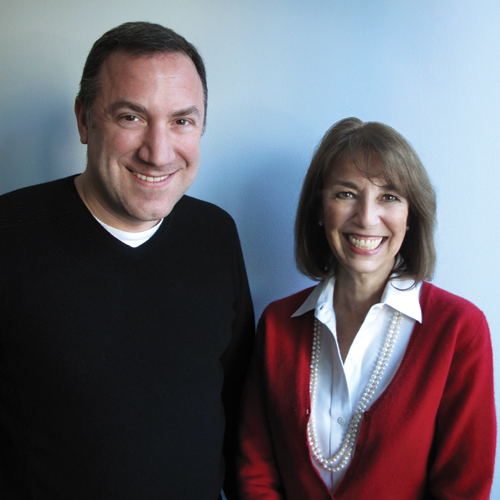 Fall Spotlight
Little Me differentiates its product tiers by adding in more embellishments, luxe fabrications and fashion silhouettes.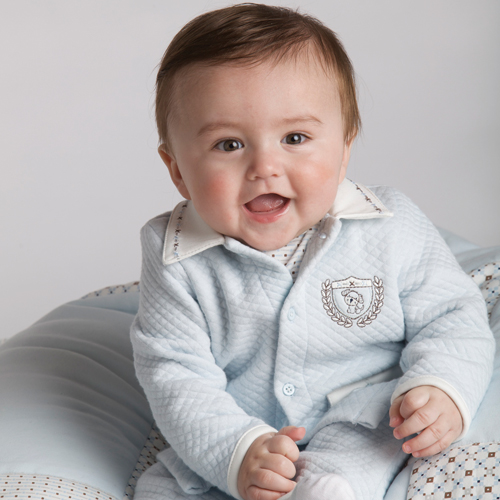 Fall Spotlight
Little Me differentiates its product tiers by adding in more embellishments, luxe fabrications and fashion silhouettes.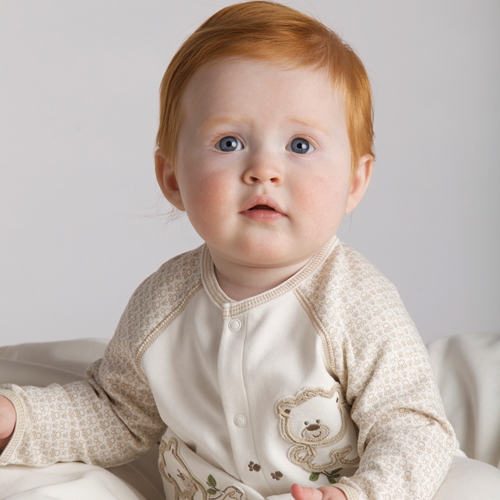 "When we bought the company, we thought some of the goods were undervalued and we wanted to lower the price points," explained division president Jeff Glick. By leveraging Mamiye's strength in sourcing, he reported that Little Me was able to decrease its retail prices by 15 to 20 percent without taking away from—and even ultimately adding to—its designs. Shortly thereafter, when the economy faltered and shoppers began clamoring for value-driven products, Little Me was at the ready, delivering a "good, better, best" product structure to accommodate varied budgets. (Basic footies in the company's entry-level program start at $15 retail; the premium products run up to $44.) "Our strategy was fortuitous in that it kind of dovetailed into what was happening with the economy," Glick said. "We embarked on the strategy about a year in advance of the recession, and it's obviously worked very well."
Now in its 40th year and under the direction of Linda Cola, vice president of design and merchandising, Little Me produces nearly 400 newborn and infant styles each season: take-me-home sets, footed sleepers, bodysuits, blankets, hats, bibs—every sleepwear and playwear staple a mother could need and a gift-giver could want for children 0 to 24 months. Though the line is known for its classic aesthetic, it is far from boring or staid. Rather, to appeal to the gift-givers who make up the bulk of the baby business, Little Me packs in plenty of ooh-and-aah extras. "Our competitors include anyone who sells anything that could be considered a gift for a newborn," Glick stated. "It doesn't have to be apparel. It could be a piggy bank, room décor—anything you'd buy." With that in mind, the team focuses on quality, novelty and hanger appeal.
The company supplies all major U.S. department stores, Glick reported, and it is simultaneously seeing healthy growth among independent specialty stores as well as retailers in Asia, the Middle East and South America. Perhaps this is due in part to the insight of Glick and Cola, who share years of experience in retail (both were children's merchandising executives at Federated Department Stores prior to joining Mamiye) and understand what retailers require. "It's all about satisfying the consumer's needs," Glick noted. "We have to work with the retailers to help manage their business and make sure it's profitable for them." But anticipating their needs is also vital, Cola said, adding that, "As former retailers, that's an easy thing for us to do."
Yet Glick believes it's the value quotient that is at the root of boutique buyers' renewed interest in Little Me. He said independents who stopped carrying the line five or six years ago, believing it had become overpriced, are coming back after seeing the brand's most recent collections at other stores. "They're saying, 'Wow, your product offers a really great value,'" Glick said. "I can't tell you how many people came to us at the ENK show in January and said just that."
What does Little Me represent to consumers and retailers?
JG: Our brand promises are quality, value, safety and functionality. In other words, easy care, easy wear and easy on/off, which of course is critical in newborn clothing. Because [Linda and I] have been in the baby business for such a long time, we're very cognizant of what parents are looking for in terms of functionality and try to incorporate that into all the products we design. We [view] some of the apparel out in department stores as "mini-me" designs—versions of adult lines that are taken down. The people who are designing and merchandising them aren't really mindful of the end user. We're the opposite of that. Little Me is all about babies being babies—what's easy and fun for babies to wear—and we create an emotional connection.
As a tween-focused company, was it a challenge to expand into the baby market?
JG: Between the talent Mamiye acquired with Little Me and the people brought in to enhance that talent, such as Linda, we had significant baby experience on board.
LC: It was exciting for me to get involved with Little Me because I saw so much opportunity. There aren't very many premier brands in the baby business, and Little Me has had a beautiful presence since 1970. To bring new life to it was really exciting, and I think that's what we did by reassessing and re-evaluating the product.
How has the brand evolved since the acquisition?
JG: We've structured Little Me as a good, better, best assortment and enhanced the value equation in all three areas—and in today's economic circumstances, delivering value is critical to being successful. We're also making it easy for the customer to see the differences between what good, better and best represent—they look different and are priced differently. When we took over the company, the merchandising strategy was a little more confusing. Before being purchased by Mamiye, Little Me had [company-owned] retail stores, and some of the collection was developed for them and some was for wholesale. Mamiye did not purchase the retail stores, so now we're able to focus our line for the wholesale customer, bringing clarity to the offering. The line is close to 400 SKUs each season, and you need clarity when you have 400 SKUs.
How are the products in the good, better and best categories differentiated?
LC: The good category, which we call Little Beginnings, consists of 100-percent cotton baby essentials that can be mixed and matched to build a gift. For Fall '10, the good selection has sweet pink designs for girls, baby blue stripes and cars for boys, and a neutral group with stars and bears in yellow. The entry-level product is still high quality, but you'll see more bodies and more elaborate details and treatments in the upper-tier groups.
With the better group, we start adding in additional silhouettes, like dress and leggings sets and convertible gowns; higher-end fabrics, such as textured knits and velours; fancier elements like bows, tulle ruffles and hand-embroidery; and more sophisticated prints and colors—for example, gray and lilac for girls. We also try to capitalize on fashion trends. For example, this season we incorporated tutu-inspired skirts for little girls and crest details for boys.
And finally, we have our best category, which has two segments: our organic collection, which is made of 100-percent organic cotton fibers, and a special-edition line—a limited release that comes out once per season. For spring we did a nautical group; for fall, this is our holiday collection, for which we're using touches of organza, silver and shine—elements you don't normally see in layette.
What is the brand's overall design philosophy?
LC: When we first started with this brand, we focused on finding the Little Me voice again. We asked ourselves, "Who is Little Me?" It's a traditional baby brand. But that's not to say it's boring.
JG: The word "traditional" has the connotation of being stodgy, so we prefer the term "classic." But we do represent a traditional lifestyle. I go back to the Little Me versus mini-me argument. It's about treating the baby like a baby.
What customer do you have in mind when you're designing?
JG: Little Me caters to an upper-moderate, gift-giving customer. In the layette and baby business, so much of department store sales are items purchased as gifts, so we cater to that shopper. But our product has to answer the needs of moms, too. The mom is about the safety, function and comfort. And moms will look for the thriftier solution versus the gift-giver, who might want something prettier and seeks that emotional connection. The gift-giver wants the recipient to be delighted when they open that box and put the item on the child.
LC: When we design, we have to feel that "wow" when we look at a garment. You need a smile factor. That's the emotional connection in baby clothes: You look at it and you just smile and you love it. As a designer, if it doesn't give you that, you start from the beginning. That connection is so important in baby.
JG: We spend a lot of time on hanger appeal. We ship a lot of multi-piece garments and sets. It might be a blanket and footie or a jacket and pant set—three or four pieces on a hanger—so it's about the positioning of all those. What's showing and what's visible to a customer when she's looking at it head-on is critical to how a garment sells through at retail.
Little Me does a lot of business in the majors, yet you mentioned growing interest among boutiques. What opportunity do you see in specialty stores?
JG: We've had nice growth in both. Obviously, when Mamiye bought the brand, we focused on our key accounts first. But as of today, we're focusing on both aspects of the business. The independent specialty store business for us has become healthier and healthier each season and we continue to have a very strong set of road sales representatives and we appear in all kinds of regional trade shows across the country. So we're strengthening that part of business, and we support both.
Do you offer different merchandise to department stores versus independents?
JG: Believe it or not, no. It's surprising. Some boutique buyers will order more of our better goods, but then you'll get a toy store that carries some baby gifts who wants our more basic products. It depends where the store is located. If someone has a boutique next to a Nordstrom or Bloomingdale's, they're probably not going to carry Little Me. But if they're in a more remote location or a smaller town where there aren't so many department stores, it's a very good business. We also sell a lot of hospital gift shops. We sell to several hundred hospital gift shops throughout the country, and obviously that's a huge newborn business. We sell a lot of take-me-homes to that channel, and a lot of our footed sleepers. It's really a matter of getting the brand to consumers in someplace that's convenient to them.
Between private labels and other competitors, real estate in majors is at a premium. How does Mamiye go about partnering with retailers to ensure the brand stays on the racks?
JG: It's all about the value—that's what drives our performance at retail. You can't buy rack space anymore. It's all about sales performance. Sales and turnover and margin all come hand in hand. As long as your performance metrics are good, the retailer keeps coming back to you. That's how to guarantee your rack space.
What are your thoughts on all of the contemporary lines on the market? Are they catering to a different customer?
JG: It's a good question, and it's actually one we're grappling with right now. I think it is a different customer, and we don't choose to address that customer with this brand. However, that doesn't mean we won't address that customer in another way. But as for Little Me—the customer has expectations of Little Me to be a certain thing. If we started doing something else, it would be confusing.
What staple items have shoppers come to expect from you, and how do you keep them fresh?
JG: The most important one for us is our footed sleepers. We sell millions of them. We ship them to most every major department store in the United States. And it's a 365-day-a-year replenishment business for us. Some of our styles have been in our line for many years. They're classics that just continue to perform because we have a new customer every day. Because babies grow so quickly, if the mom really liked it when the child was a newborn, she may buy it again at 6 and 12 months. If it's special to her, she will buy it in all the sizes.
— Leslie Shiers