In just four short years, organic brand Apple Park has become a baby shower staple for eco-conscious moms. Co-founder and President Angie Ting and Vice President of Sales and Marketing Susannah Searson reveal the company's plans to reap the rewards with lower-priced options for tots and by EXPANDING ACROSS THE GLOBE. By Audrey Goodson Kingo […]
In just four short years, organic brand Apple Park has become a baby shower staple for eco-conscious moms. Co-founder and President Angie Ting and Vice President of Sales and Marketing Susannah Searson reveal the company's plans to reap the rewards with lower-priced options for tots and by EXPANDING ACROSS THE GLOBE.
By Audrey Goodson Kingo
On a postcard-perfect day in July, right before the grueling summer trade show circuit begins, the executives at organic brand Apple Park are tucked away in Tahoe. While the location may be perfect for a few days of hard-won relaxation, it's actually a working vacation for the four women. Surrounded by the area's soaring pines and a canvas of blue sky overhead, it's the perfect place to pick up what Co-founder and President Angie Ting labels a little "eco-inspiration."
For a company whose motto is "beautifully green," Lake Tahoe's scenic outdoor vistas serve as the perfect reminder of why the brand's earth-friendly mission is so vital—although no reminder is needed for the brand's execs, which include Vice President of Sales and Marketing Susannah Searson, as well as Co-founders and Designers Susan and Chloe Pate. "As a mom of two, I'm really concerned about the safety of baby products and the environment that my children grow up in," says Ting, who adds that the entire Apple Park crew shares her eco-conscious mindset. "We are lucky to have a very good team, where we all love what we're doing and really believe in our mission of introducing high-quality, beautiful and green products to children around the world," she says.
Not surprisingly, Ting came up with the idea for Apple Park out of a desire to give parents and tots more all-natural, earth-friendly toy options. Fortunately, toy making was a subject she knew about first-hand, after years of helping her husband's family run their toy manufacturing company in Hong Kong. Aside from learning about the finer points of production and SKUs, she also realized precisely what the market was missing. "I saw an opportunity at the time, because there weren't many quality, green products in the children's industry," she points out.
While the green movement had gathered plenty of steam by then, not many brands had managed to combine an environmentally-friendly ethos with high-quality design, notes Susannah Searson. "In the early stages of organic toys, so many of the products ended up looking like oatmeal and cardboard. Angie realized there was no reason that organic products couldn't be appealing and modern and giftable, but still safe for children and the environment," she adds.
From the get-go, the little red boxes packed with the brand's adorable plush toys were a hit—especially with gift givers looking for the perfect baby shower present. Over time, Ting and her team began to realize they had more to offer the market than just toys. "When we initially started, we came out of the gates thinking we were a toy company, but in actuality we've learned we're more of a lifestyle brand," Searson explains. "And a lot of our business really comes more from the high-end gift market, as well as children's apparel and gear stores, in addition to the toy stores."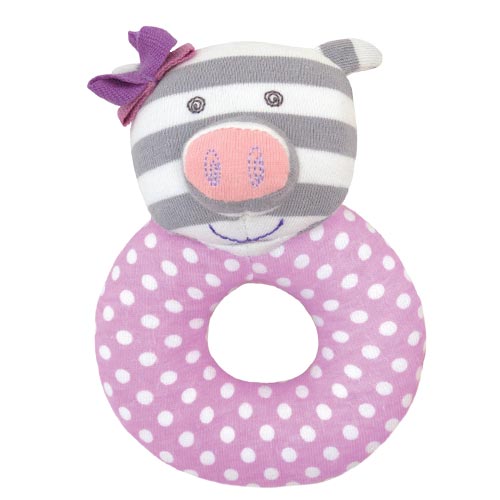 Since the launch, Apple Park's product assortment has expanded to include everything from blankets to a new book series, which the company sees as a way to "eco-educate" kids about concepts like trying new foods and discovering how food is produced. Apple Park has also been enormously successful this year with Organic Farm Buddies, a lower-priced diffusion brand that was picked up by both Whole Foods and Fred Segal. As for what's next, Ting is keeping an exciting announcement for 2014 under wraps, but in the meantime, she reveals the brand's plans to go global. "We're looking into expanding internationally, into Asia, Europe and Australia," she shares. In fact, this month marks Apple Park's official European debut, when the brand sets up shop at Kind+Jugend in Cologne. "I think our organic products will be loved by moms all around the world."
Apple Park launched right in the midst of the recession. What helped you survive?
Susannah: Even in the tough economic times that we've seen, people continue to spend money on their children. I think people are making more conscious decisions when they are purchasing as well. They'd rather have quality than just quantity. People are really, really looking for that special gift for children. And Apple Park really lends itself to gifting because our packaging is so incredible. It always makes us a standout gift at a baby shower. And the quality of the product really ensures that it will be an heirloom piece. That's our mission—to ensure that when a child receives a Picnic Pal or one of our beautiful stroller blankets that it's going to be an item they keep forever. Also, we've got a nod to classic toys, but with a modern twist, so we really appeal to grandparents, as well as young, hip moms. That's another advantage we have.
What was the biggest hurdle in the first year?
Angie: The biggest challenge was to source quality, organic fabric from around the globe. We spent a lot of time doing research, and we actually spent about a year sourcing all the material we needed. The organic fabric market wasn't very mature at the time and there weren't many vendors that could make quality fabric. So we actually source from several different countries to maintain the level of quality we expect of our materials.
It was also quite challenging when we first launched because a lot of people didn't understand organic fabric. They understood organic food and why it's good for your health, but they didn't understand why organic fabric and organic plushes are good for you—and conversely why polyester is not so good. So we spent a lot of time getting information from professionals and putting it on our website as well as crafting a mission statement to educate people about how organic fabric helps reduce allergens, and about how the lack of chemicals is good for both mom and baby.
How do you educate consumers about Apple Park's green mission?
Susannah: We really invest a lot in our packaging and concepting. Not only do our hang tags have a green message explaining how we are green and what that means, but we also include an abbreviated version of our story. We also have a lot of signage that explains the attributes of the product—why and how our product is organic and why it's a better choice. And our website has been another great resource center for people wanting to learn more about the importance of organic toys.
Education is key, but the look of the product always comes first, right?
Susannah: Absolutely. First and foremost, it's important that we have a beautiful product. And that's why we use the real silks and detailed fabrics. On a lot of our product, some of the detail work is sewn by hand. Then, the fact that we're also organic and safe for children and the planet is just the icing on the cake.
Angie: I agree. I think parents are first attracted to the design, and when they pick it up and realize it's actually good for the environment, it's just a bonus—and they're very happy to make the purchase.
Susannah: We also give planograms to our retailers to help them set up, and with every wholesale purchase we provide a miniature version of our apple tree and a gingham picnic blanket, so that retailers have an opportunity to make a nice story with the brand.
Nowadays, you also have to inform consumers that the all-natural claims made by many brands are misleading.
Susannah: A lot of the original pioneering organic brands on the market right now, that claim to be organic and safe for children, have reverted to filling their products with polyester. It's a little disheartening. Internally, we also say Apple Park is green to the core, because we only use organic cotton and sustainable corn husk fiber to fill our products.
Do you think parents are aware?
Angie: It's actually a big concern. We will continue to go with natural filling, because polyester dust has a lot of chemicals that aren't even good for adults, and especially not for babies. If you use organic fabric but the inside is polyester, it's still half and half. It's not the real thing. Even though the cost is higher and it's a little more difficult to make with natural filling, we will continue to do it because it fits our goals.
Susannah: So many studies show that polyester continues to emit toxins and compounds that are mutagenic after it's manufactured. And those materials are in toys that children are spending hours playing with, sleeping with and chewing on. We just really want to make sure there are no harmful substances in our children's cribs.
Do you think more parents are becoming interested in earth-friendly, all-natural products?
Angie: Absolutely. I think a lot of parents are becoming more educated. And there's been a lot of press in magazines and blogs talking about how organic products are good for the health of your children, and I think a lot of moms are becoming more aware of the benefits.
Susannah: If you look at organic food 10 years ago, it was a pretty niche market, and it seemed a little foreign. Now, it's quite commonplace and expected, and we're seeing the same trend with children's and baby products. I think in the future it will be expected that children's products are safe and healthy.
I think one surprise to both parents and retailers is how affordable organic has become.
Susannah: Yes! We just launched a new product line this year called Organic Farm Buddies, because we wanted to make safe, organic toys accessible to everyone, regardless of your socio-economic demographic. The line is made entirely from polyester-free, organic, sustainable materials, and everything retails for under $15. It's been very well received in the marketplace, getting us into retailers such as Whole Foods.
Has the lower price point allowed you to open more doors?
Susannah: We do have an extension into the natural grocery category and BuyBuy Baby with the line that we don't have with Apple Park—we protect the Apple Park brand a bit more distribution-wise. But what's interesting is that almost all of our high-end boutiques and existing Apple Park accounts, including Fred Segal and Sprout, have brought in the Organic Farm Buddies.
The growing number of organic brands on the market also makes it easier to source materials, right?
Angie: Yes and no. If you're talking about very simple fabrics, yes. But we want to be different, so we put a lot of details on the fabric, like prints on our organic cotton. There are a lot of organic cotton jerseys on the market that are plain in color, natural white or brown, so those are easy to source. But to find a nice print on a high-quality, environmentally-friendly fabric like we have on our Picnic Pals is still not quite as accessible. That level of quality is still not as easy to find in organics as it is in conventional cotton fabric.
Organic performs really well in the infant category. Do you see the market expanding to encompass products for older kids, too?
Susannah: Definitely. Toddlers are often putting things in their mouth, which makes it really hypercritical that we make sure these are safe products. And for our older children, we still want to make products that are not only good for them, but things that are also good for the environment. For example our backpacks aren't a product that the child is going to be chewing on or sleeping with, but we do want to ensure that they have a beautiful planet for their future.
Angie: We used all the same concepts when launching our backpack, to make sure it's eco-friendly. We used a really, really nice fabric made from recycled plastic bottles.
Susannah: The backpack saves 24 bottles from going into a landfill and the lunch box saves nine bottles from going into a landfill. It really gives the customer that hands-on experience of 'Wow, I'm making a difference with this purchase.'
How would you describe your average customer?
Susannah: We would say our average customer is an educated, active parent, who is concerned not only about the health of her children but the future of the planet, too. But she's also a stylish woman who appreciates and expects a beautiful product.
I suppose that describes Apple Park fans Sarah Jessica Parker and Jessica Alba!
Susannah: We've been really fortunate that people like Sarah Jessica Parker and Jessica Alba agree with the ethos of our brand and are choosing it for their own friends and family. We've been fortunate in that people have sought us out, because we're really the only people in the market doing what we're doing.
Aside from celebrity support, what else has been helpful in catapulting Apple Park to success?
Susannah: I would say it's a combination of several things. We have a pretty aggressive trade show plan. We participate in gift shows, toys shows and apparel shows, as well as some international shows. We're also fortunate that our product merchandises really well at point of sale. We have some spectacular retailers who have been really quintessential at helping us build our brand. In fact, one of our most exciting moments was in our first year, when Fred Segal came in and fell in love with our line and insisted on taking the tree from our trade show booth—we have a big tree sculpture—and putting it in both of their stores in Los Angeles. And every year since, we've done their entire Christmas display in their store. We outfitted 20 Christmas trees all in Apple Park animals. That was definitely one of our peak moments, when Fred Segal brought us in and just turned the store over to us.
You also have nearly 20,000 fans on Facebook. Any social media tips for other companies?
Susannah: We've found that photographs of children using our products in everyday life really get the most attention. That's been a wonderful way to communicate with moms, and for us it's very satisfying to see the end user in action with our product.
A lot of brands have struggled to succeed in the organic market. What was different for Apple Park?

Angie: We believed in our concept—that we were doing something really good for babies and the environment. We're all very happy working for Apple Park, and that's evident in the energy we bring to work everyday.
Susannah: We've been accused of having contagious enthusiasm.
Angie: I think passion is very important. If you have passion that comes from the heart—that you're doing something you really love and really believe in—then you will be good at it, as well as happy doing it every day.
What do you love most about your job?
Susannah: My boss.
Angie: Susannah. [Laughs.]
Susannah: We also feel very honored to help people find gifts to commemorate what is quite often the best day of someone's life, the birth of a child. It's a real privilege for us to take part in that with so many people across the world.