Emily Cohen, co-founder of Sunuva, on the value of patience, persistence and unwavering confidence.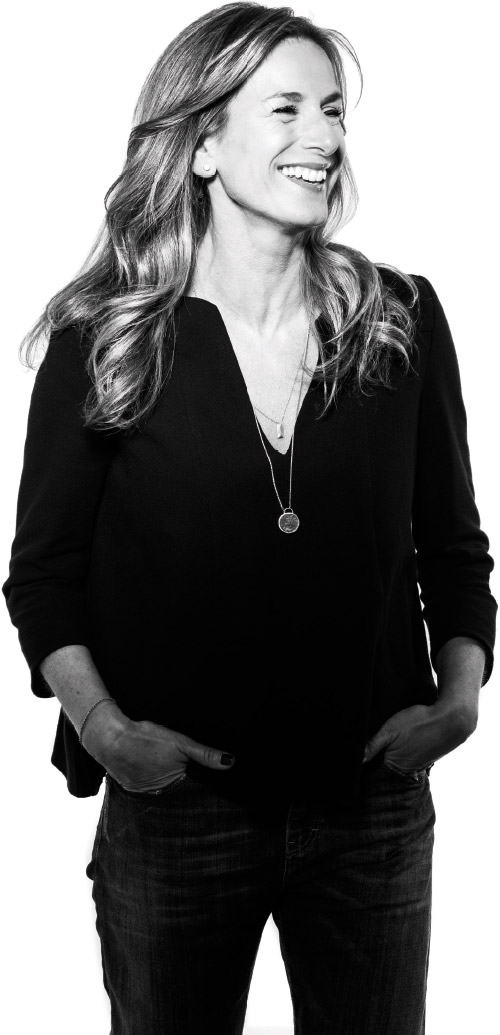 Innovative, intuitive and backed by an astounding resume, Emily Cohen has every reason by now to unapologetically rest on her laurels. But as long as she can spot a void in the market, this British business maven will never step away from the action.
Beginning her career with a star-studded stretch in public relations, Cohen ultimately caught the entrepreneurial itch in her late twenties. "PR is about making an idea 'famous,'" Cohen says. "Be it a water bottle, pop star or lipstick, I learned to create a brand around anything, which ultimately inspired me to try building brands of my own."
Today, Cohen is at the helm of her second multimillion-dollar business—sun-protective swimwear label Sunuva. For more than a decade, Sunuva has steadily expanded from its U.K. roots, where it initially earned credibility through an endorsement by the British Skincare Foundation. Soon thereafter, Sunuva moved into global markets and augmented its offerings from exclusively childrenswear to sun-safe options for the whole family. What's more, it all comes from a casual conversation Cohen had by the kiddie pool.
Small Talk
What's the last book you read?
Little Fires Everywhere by Celeste Ng. It's about life in suburban America with a really big twist.
What's the last movie you watched?
An incredible film called A Private War.
What was your first paying job?
At 18, I worked for Frank Usher—an inexpensive eveningwear label that was really big in England during the '80s.
What was the smartest decision you ever made?
Coming up with Pout! It's how I got to where I am today.
If you could hire anyone?
Natalie Massenet of Net-A-Porter—I'd put her on my e-commerce team immediately.
Who's your most coveted dinner guest?
I'd say my closest friends over any celebrity. It's rare we all get to laugh and enjoy together.
What is your favorite childhood memory?
My entire childhood is just the most glorious memory. I grew up in beautiful Petersham, which is in Richmond—a big park just outside central London. It was a lovely, non-urban existence.
What do you do with a free afternoon?
I love poodling around the garden.
Even  on vacation in Israel, Cohen was scanning the market for her next project. As is often the case, a bit of luck and serendipity led to the concept. While at the pool, Cohen introduced herself to a fellow mother, whose toddler was splashing around with her two-year-old son. Realizing the boys knew each other from nursery school, the moms started chatting and ultimately Cohen commented on the horrid design of sun-protective swimwear for kids. "I consider myself a relatively stylish person, and at that time, I had no choice but to dress my son in some sort of dreadful all-in-one, zip-up piece with Bob the Builder and Mickey Mouse splattered all over the front," Cohen says, mentioning what an eyesore it was for holiday photos. So, taking her usual no-time-like-the-present approach, Cohen hatched a plan on the spot for a swimwear company with her new friend, Sabrina Naggar, now co-founder of Sunuva.
A chartered accountant for PricewaterhouseCoopers (PwC) who transitioned into designing and supplying costume jewelry for the high street, Naggar brought significant expertise to Sunuva—not to mention her perspective as a mom of four. "Together, we have so much passion for the product and can find ways to meet any challenge," Cohen says, adding that the children's swimwear industry is nothing like her former entrepreneurial endeavors.
When Sunuva launched in 2009, Cohen had already made a name for herself in the cosmetics industry—twice. Just a few years earlier, the thirty-something-year-old and her two female business partners were featured on the cover of The Sunday Times' business section after selling Pout—a ground-breaking makeup line Cohen created during her time in public relations. The execution was so exceptional, it attracted the attention of L Brands CEO Les Wexner, who recognized it as a fit for Victoria's Secret. He made an offer to purchase Pout in 2007, shaking on $24 million. "The timing was perfect—right before the market crashed," Cohen says. "With my husband working at Goldman Sachs, I think he saw the writing on the walls and suggested we take the deal."
Following the buyout, her business partners took some well-deserved time off. However, Cohen refused to sit still. Less than a month later, the entrepreneur answered a call from billionaire retail tycoon Sir Philip Green to consult on Topshop's first makeup line. "I couldn't just lay around and do nothing," Cohen says, adding that it was much easier the second time having access to factories and contacts in the cosmetics industry. "I had no interest in being on payroll. I just wanted to help get them rolling and then I'd be on to the next thing."
That "next thing" was Sunuva. Starting the brand without knowledge or contacts in the swimwear market, Cohen and Naggar relied on their curiosity and confidence to learn the ropes. They weathered their share of challenges, but focus and optimism ultimately led to success for Sunuva.
Looking ahead, Cohen sees significant growth potential for the brand. "Every three to five years you hit a milestone in a business where you think, 'Okay, what now?'" Cohen says. "We're at that point again where we're making decisions whether to move right or left." Cohen hints at expanding the men's and women's swim categories, leading to a wider variety of mini me looks. She also expects to tap into her cosmetics background for a line of skincare add-ons in the near future. "We're always looking for new product categories to develop," Cohen says, noting last year's addition of its young teen line (targeting ages 10-16 years). Cohen also looks forward to expanding Sunuva's presence in the U.S. with a pop-up strategy next year. According to Cohen, the U.S. is the brand's second largest market, and notably the most important growth market. Sunuva most recently opened a U.S. fulfillment house in New Jersey, which will allow for more efficient service to the online American market, including next-day delivery and free returns. The brand is also looking into doing more exclusives with retail partners. "Let's just say we'll be quite busy over the next 18 months," Cohen adds with a laugh.
Even so, Cohen admits this past year was particularly tough. "Anyone who says this hasn't been a challenging year is lying," she says, adding that Sunuva is still up by 35 percent. Cohen cites particularly aggressive forecasts and budgets. "I keep very high expectations, so what we think of as a good year is often considered a great year by others," she says. "This strategy has kept Sunuva growing during even the most turbulent times."
Despite the pressures of developing and cultivating a business, the duo behind Sunuva stays grounded. "I've learned to keep things in perspective. We're not coming up with a cure for cancer, so there's never going to be a massive disaster," Cohen says. "You just have to roll with the punches and look at every failure as a lesson."
What makes a startup successful?
Every entrepreneur needs two things: a whole-hearted belief in what they're doing—and nerves of steel. It's a relentless process, and you have to know how to persevere. That means sticking to your mission, and never ever losing sight of it. The minute you start thinking, 'Oh my God, was this a good idea?', it's over. If you don't believe in yourself, then why should others believe in you?
How do you stay inspired?
Just by looking around! There are so many new, interesting brands popping up. I've most recently been looking to Tony's Chocolonely—a Dutch confectionary company focused on producing and selling chocolate with fair trade practices. The company strongly opposes slavery and child labor by partnering with trading companies in Ghana and Ivory Coast to buy cocoa beans directly from the farmers. I'm really inspired by their journey and growth. Gandys is another brand on my radar, founded by two brothers who lost their parents in a tsunami. Now they support projects to help orphans.
Does Sunuva participate in corporate social responsibility programs?
While it's not part of our mission statement, Sabrina and I are very focused on sustainability of late. We're trying to incorporate more of that into our company. For example, our rash vests are made of Econyl, which is a fabric made from recycled fishing nets found in the ocean. Sustainable practices affect around 50 percent of our product, but I'd like to be around 80 percent by the end of next year. The world is changing, and we all have a responsibility to recycle and use the right factories and suppliers. However, that doesn't mean you have to scream about it. I think that can come off as a bit contrived. It should just be a natural progression for all of us—moving with the times and fine-tuning. That's how you grow the right way.   
How else have you tweaked your business strategy for the current market?
For years, we've talked about opening a retail space. So this year, we did our first-ever pop-up shop in Notting Hill in London. The reaction was phenomenal, and we absolutely plan on rolling out a pop-up strategy for future seasons. Next summer could be a pop-up in the Hamptons, a pop-up in Ibiza, a pop-up in Mykonos, a couple of pop-ups in London—anywhere we can create a colorful energy for four to six weeks in a relevant location. We're really looking forward to that.      
Any other marketing tools you've found successful?
I think wholesale is really important. Many customers will discover us at Barneys or Harrods. It's always best when someone's never heard of a brand to be able to see it and feel it. That's how a customer can really understand the sizing and quality. And once a customer makes that love-at-first-sight connection in a store, they're much more likely to seek the brand out later online! We also started about a year and a half ago with a catalog business where we produce a brochure that looks more like a Condé Nast Traveler magazine. It's really a selling tool to drive people to our website, which has been tremendous for us! Sunuva will most likely add a catalog in the U.S. soon.
What appeals about the U.S.?
I think retail is very exciting in the States—more exciting than the U.K.! You guys have all these really amazing independent, multi-brand stores. Some of those boutiques in New York are so innovative with so many great brands under one roof! The pop-up scene is also very strong in the States. I'm always inspired by all the stuff that goes on in the Hamptons each year. A horse show or polo match fused with retail? Such fantastic ideas!
There seems to be an almost frenzied upswing in creativity today. What do you think is the driving force?
Sadly, that's because it's getting tougher and tougher to survive. People are really pulling out the stops creatively to come up with great ways of selling product—like selling swim shorts out of an ice cream van parked on the beach. Anything goes! As I mentioned, the States do it really well, and I think Australia is another frontrunner in creativity.
What's your biggest challenge of late?
Cash flow. When you've got a business, whether it's in fashion or cosmetics, you're paying for product months before you get anything back. You have to pay your factories for your stock. You then show your collection to stores. You order it in four to six months' time because the retailers order it in June for spring/summer delivery. That can bring about some big cash flow challenges. I think anyone would agree with that.
What can a brand do to help relieve that constant struggle?
There are more things you can do as you get bigger. The bigger you are and the bigger your volumes, the quicker you can demand your production. Rather than waiting three months for your production timing, you can throw it together in four to six weeks, which is what the Zaras and the Topshops of this world do. For me, it's a lot of planning to minimize risks. That means spreading our buys. I may have four or five buys a year, so rather than ordering all of the stock in one go from factories, I spread it out. This requires a good relationship with your factory, of course. For instance, if there's a bikini and I anticipate selling 2,000, instead of buying 2,000 at once, I'll buy 500 in one month, and then two months later I'll buy another 1,000 of them, and two months later I may order the rest. That coupled with having a good facility from the bank, like an invoice discounting facility, is how I've best minimized risk.
Any other recent adjustments to your strategy?
Besides minimizing risk in how we buy product, we've been even more careful about not putting all our eggs in one basket. For example, if a retailer puts in a massive order but they've never worked with us before, I'd rather give them a slightly smaller order and make sure they come back next year. Don't bite off more than you can chew! Do what you can, and do it well. We've definitely made that mistake along the way. A situation comes along when somebody places a fantastic order, and you're thinking, "Oh, great! So-and-so has placed a £50,000 order!" But then they don't come back next season because they've got stock left over. You learn that it's better to have them place a £25,000 order and be able to help them out through the season.
How does Sunuva maintain its reputation as a reliable retail partner?
We never short-ship and never deliver late. We also offer stock swaps if retailers need them. We're always there on hand to help our partners maximize the fact that they're getting great sell-throughs with us. For a brand, it should never be about getting into one Barneys store; your goal should be to make it in all 10! The only way to do that is to have great sell-throughs, and that comes with providing great service.
Why should retailers consider your Spring '20 collection?
Because it's our best collection yet! We've really fine-tuned what works, what people want and what merchandises well together. We've eliminated that ego stuff you put in just because you love it as a designer, but it doesn't always sell. We've got a particularly strong baby collection this season with specific baby prints and products. The main lines for kids work very well together, chosen with my 'either/or approach.' If we hold up two pairs of shorts and it's an 'either/or' then something's got to go. Nothing can be either/or. It should be you buy both!   
Any other business goals in the pipeline?
We're always looking at new product categories to develop. Last year, we launched a young teen line, targeting 10- to 16-year-olds. That's been really amazing, so we plan on expanding that. For our women's category, we look forward to offering more matchy-matchy caftans. Of course, the pop-up strategy for next year will be exciting and more growth in the States. And with the U.S. being our second-largest market, we've recently opened a fulfillment house in New Jersey to more quickly and effectively service the online American market. That means next-day delivery and free returns! More opportunities for exclusives are also on our radar.
How do you envision the childrenswear market in five years?
At retail, it's all going to be multi-brand. Big price jumps will also be important, so you can buy your $200 dress or your $25 flip-flops at the same location. Because as a mom, however much money you may or may not have, you're always going to want to buy something for your little one—be it for a party, camp season or both! And isn't it great to have it all under one roof?
What about Sunuva's future specifically?
With sun protection only becoming more popular, we are positioned for great growth! People were not nearly this educated when we started, so now everyone is looking for the best rash vest, accessories and SPF lotions. So we plan to continue serving that demand with our above-and-beyond product. There's a lot more fun in the sun to come!