With 13 years of executive experience in the children's industry, Ergobaby's new CEO Margaret Hardin is ready to shoulder the responsibility of the brand's latest ventures in babywearing and beyond. By Audrey Goodson Kingo Talk about good timing: When Margaret Hardin took over Ergobaby in May, little did the new CEO know that the company […]
The Ergobaby 4 Position 360 Carrier, set to debut next year, is the brand's first outward-facing carrer.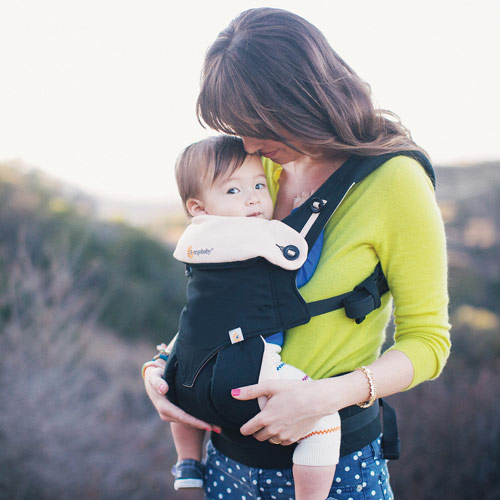 The Ergobaby Swaddler, which debuted last year, represented the brand's first foray outside the carrier category.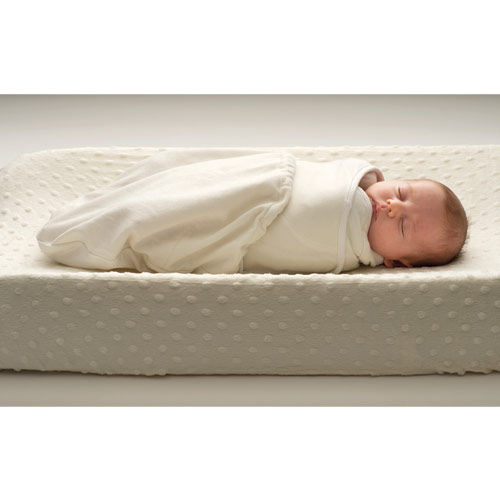 Ergobaby introduces its first wrap in 2014.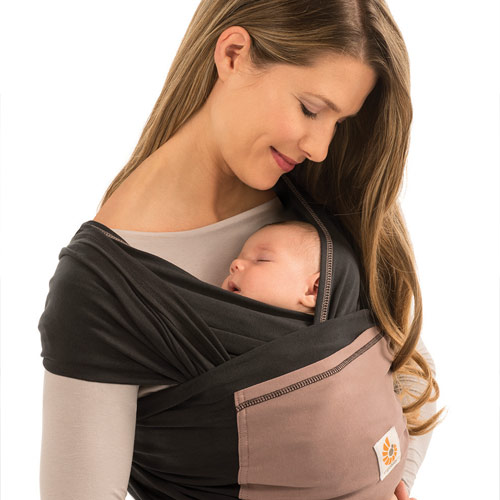 With 13 years of executive experience in the children's industry, Ergobaby's new CEO Margaret Hardin is ready to shoulder the responsibility of
the brand's latest ventures in babywearing and beyond.
By Audrey Goodson Kingo
Talk about good timing: When Margaret Hardin took over Ergobaby in May, little did the new CEO know that the company was headed into one of its most exciting years yet. Aside from making plans to celebrate its 10-year anniversary in October, the Ergobaby team was also putting the finishing touches on several new products set to debut at the ABC Kids Expo in the very same month. "It was an amazing time to come in to the company," Hardin recalls. "A lot of the items we were debuting at ABC were in their final stages so I got to come in, look at them, make a couple tweaks, and say, 'Okay, we gotta go.'"
That buzz was certainly evident at the brand's booth in Las Vegas, which was flooded with visits from bloggers and buyers alike, all eager to check out Ergobaby's new offerings, namely a wrap carrier available for the first time in the U.S., and the brand's first carrier with a forward outward-facing position option. Dubbed the Ergobaby 4 Position 360 Carrier, it allows baby to sit in four positions: inward-facing on mom's back, front and hip, and outward-facing on mom's front. On paper, a baby carrier company offering a new type of carrier may not seem all that exciting, but as the babywearing community can attest, it was a Big Deal.
This is where it helps to have a little company background: Ergobaby was founded in 2003 by Karin Frost, with the idea that inward-facing carriers (where baby faces mom or dad) offer better ergonomic support for little bodies. To this day, many babywearers are split regarding the safety of carrying baby outward, with some arguing the position runs the risk of overstimulating baby and even increases the chance of hip dysplasia. On the other hand, many parents love that the position allows little ones to explore the world around them.
For the Ergobaby team, the solution was clear: Create a carrier that allows babies to sit outward, but offers the same ergonomic support as the company's classic design. "It's all about the feet," Hardin explains. "We created a structured bucket seat, so that when the child is in an outward position, they have nice support. They're able to sit down and the knees are slightly raised, which is the recommended positioning inside a carrier. So we're able to achieve almost the same ergonomics in a forward outward-facing position as we are in a forward inward-facing position," she says.
Hardin has high hopes parents will embrace the 360, based on the enthusiastic response from retailers at the ABC show, and also thanks to Ergobaby's 10-year legacy of creating products parents love. "We really were the first to have the ergonomic soft-structure carrier, and we're known for that, so when we say we have an ergonomic forward-facing position, I believe moms trust that about us," she adds.
If overseeing the debut of several new products seems like a lot to manage on top of learning the ropes at a global children's brand, leave it to Hardin to handle it with aplomb. In fact, it's what the highly capable CEO did on a daily basis for 13 years at Munchkin, first as CFO, then as COO and finally president. Hardin jumped into the world of juvenile products in 2000 after working in finance for four years at Procter & Gamble, and it was a natural fit for her entrepreneurial spirit and love of consumer research.
"She has a deep knowledge of the consumer and the importance of creating a sustained flow of safe, innovative products," says Andrew Keimach, who took over as president at Munchkin after Hardin. In fact, the two worked together at both P&G and Munchkin. "Margaret is one of the brightest and smartest people that I have ever worked with," he adds. "When Munchkin was searching for a CFO, she was the first person that I thought of for that role. Not only did she do a great job as CFO, she demonstrated terrific ability to understand the drivers of our business and was a key member of the team that helped Munchkin sustain leadership growth and a continuous stream of product innovation."
Hardin will certainly have a chance to put those product innovation chops to use at Ergobaby. In 2011, the company acquired stroller brand Orbit Baby. And early last year, Ergobaby branched into new territory with the launch of the Ergobaby Swaddler, a swaddle blanket that promises the same healthy hip positioning as the brand's carriers. "That was our first product launch into a category outside of babywearing," Hardin notes. "It has been extremely well received, and it has given us confidence to continue looking into other categories for opportunities to bring our ergonomic design to products on the market."
Clearly this is a company eager to conquer new categories, and with a presence in 2,500 retail doors across the U.S. and in 30 countries worldwide, Ergobaby is perfectly positioned to expand. Still, even with all of the exciting opportunities on the horizon—and the consumer launch for the wrap and 360 carrier set for next year—Hardin's favorite part of her job is still connecting with the customers who make it all meaningful. "I could talk to moms and consumers all day long," she shares.
You began your career at Munchkin. What was that like?
I left Procter & Gamble to join Munchkin when it was really a start-up. The founder was just creating his management team, so a lot of us came in at the same time, and it was like growing up together. We had a company that was extremely new and extremely young and a very passionate and dynamic founder. We had a whiteboard in front of us, and we basically said, 'Where do we want to take this thing?' I was there for almost 13 years, and I think we looked at that whiteboard every year. When I left it was a nice mid-sized company in this space, so I had a fabulous career there.
It must have been a big change to go from P&G to the world of children's products.
It was definitely different than selling toothpaste [laughs], which is what I was doing at P&G.
What were some of the biggest differences you noticed?
P&G was very much about customer retention. We get you started on Crest and you use Crest throughout your life. But in the children's space, our consumer is constantly leaving us. You might keep them for four years if you're really lucky, but then they're gone. So that's a very different proposition where instead of being focused on retaining a single customer, you're really trying to create a customer chain. You're trying to get your current consumer to love your product so much that they're going to tell all their friends. That word of mouth is so critical in the children's market. We have to have it to pass along our brand reputation.
What drew you to Ergobaby?
I think one of the things that attracted me to Ergobaby is the similarity in the growth profile [to Munchkin]. Ergobaby has an amazing baby carrier designed by Karin Frost that's been on the market for 10 years. The question is: Where does Ergobaby want to go from here? It's a little bit of an opportunity to get a new whiteboard and figure out where we want to go. But Ergobaby is a bit different in that it is much more international than my first company, so I'm learning new things along the way too, which is very personally rewarding for me.
Would you say that learning the international market is one of the biggest challenges of the new job?
Absolutely. I was in a very lucky spot—there was very little that needed to be changed. It's a great company with great products and great people, so I have an easy job. But we're very complex by being so international, and the needs of our Asia market are very different from the needs of our German market, for example. The challenge is how we gather all that feedback in a way we can respond to it without spinning in circles. I'm really focused on creating the appropriate feedback cycle so we can learn about the different markets and make the right products for them.
Any regional quirks that surprised you?
I love that our Korea market, which is absolutely fabulous, is a fashion-oriented market. They absolutely are looking at what prints and fabrics we're choosing. Then you take a market like Germany, and it is 100 percent about the ergonomics—are you supporting the child in the right way and is it appropriate for a newborn with the infant insert? There are definitely regional differences, and those are exciting and exhausting at the same time.
I've noticed that a lot of carrier brands are using photos of dads in their ads lately. Are men finally jumping on the babywearing
bandwagon?
I would say probably just in the last couple of years more dads are seeing babywearing as a great way to bond with their children and also to lead an active lifestyle. We have a performance carrier that is geared more for hiking, because it's made of a lighter fabric, and dads absolutely love it. I think the number of dads doing babywearing is growing every single day.
Is that why Ergobaby launched the 360 Carrier, since many dads seem to prefer outward-facing carriers?
It was one of the reasons, but it wasn't the only one, since outward-facing carriers have been on the market for a while. Obviously Ergo has not participated in that because we believe we have to create an ergonomic solution, and we didn't think it was on the market. When we began creating the 360, it was actually because moms were asking for it. But we do see dads being very excited about it, so I do think they are an opportunity, but they weren't the primary market.
What were moms looking for?
What we hear from moms is that they absolutely love our carriers, but in certain situations, like at the zoo or the museum, where the child wants to explore the world around them, doing it in an inward-facing position is slightly difficult. So mom wanted an option specifically from Ergobaby to go into outward-facing position for a short period of time. And then obviously when the child has had enough stimulation or is starting to get tired, you can easily move her back into our forward inward-facing position.
How does Ergobaby stand out from brands like BabyBjörn, which is also introducing a front-and-back carrier next year?
For us, we view it as the more people we can get babywearing, the better the world would be. The market is continuing to grow, but it's still very small inside the U.S. So while BabyBjörn is a competitor, we absolutely believe the market is large enough for both of us. And how does Ergo stand out? We really were the first to have the ergonomic soft-structure carrier, and we're known for that. So when we say we have an ergonomic forward-facing position, I believe moms trust that about us, and I believe that's how we'll stand out at the shelf.
How about the wrap—what was the inspiration behind that launch?
That product started inside our European office, where wraps are much more prevalent than they are in the U.S. Based on their urging, we took a look at it, and we said, 'You're right, we can make a great wrap.' We expected it to be a pretty European product, but when we debuted it at the ABC Expo, we were pleasantly surprised. We hope the consumers will react as positively as our retail partners did when it hits the market in February.
Who is the target audience for wraps in the U.S.?
What we're seeing inside the U.S. is that some moms who know they want to babywear from day one are choosing the wrap for the first couple of months and then they're moving into a carrier. So while we offer the infant insert for our carrier, and we believe you can use it from day one, we know there are moms who like to start with the wrap. So we said, if they're going to start with the wrap, they should start with the Ergobaby wrap.
With brands like Boba and Moby on the market, how does the wrap stand out at retail?
The Ergobaby wrap is a premium positioned product where our unique fixture is our material. We're using an innovative 4-D stretch material, so the fabric flexes in four directions, providing a perfect fit for parent and baby. It allows mom to wear the wrap nearly all day without having to readjust or worry about the fabric sagging. We believe there is room for multiple options on the market, and we think our product has a unique benefit with the fabric, and we're looking forward to mom's response.
Education is such an important part of teaching parents about the benefits of babywearing. How does Ergobaby help in that regard?
Education is hugely important to us, and it's something we work on every day. We participate in industry conferences, like MommyCon, which promote the benefits of babywearing, and we support groups like Babywearing International, which helps local organizations inside cities teach moms about the benefits of babywearing and bonding with your child and quite frankly the comfort of just having your hands free again as you try and do simple chores around the house. We also work with medical experts when we look inside new categories. And we attended the American Pediatrics conference that was recently held down in Florida. Ergobaby also has a YouTube channel, and it has a lot of instructions about how you would specifically wear an Ergobaby product, but it is also an educational resource for mom.
UPCLOSE
What's your favorite way to spend a lazy day?
I am really lucky to be in Los Angeles so I would have to say hiking in the Santa Monica Mountains.
What are you reading?
I just finished A Game of Thrones. I watched the show first, and I enjoyed it so much I had to go back and see how closely it followed the book because you know they never do. And it was amazing—the show is so closely aligned to the book. It was really a nice appreciation of the original author.
If you could have any superpower, what would it be?
I would love to be able to fly. You have to understand why: I hate flying. I actually really, really hate it. So if I could fly on my own, I figure it's got to be better.
What three things could you never live without?
Coffee, my iPhone and my passport.
Do you help educate retailers about the product, too?
Yes. We offer staff training for our retailers to help them understand the benefits of our products. When you go inside a retailer's store, we have education kits, and a lot of times we have a demo sample so parents can try on a carrier before purchasing it. And we offer materials just to help the retail staff help mom understand the benefits of babywearing
Are specialty retailers an important part of that effort?
One hundred percent yes. There is no other channel that can provide education like a specialty store. They still have incredibly trained, dedicated and motivated staff. The specialty channel is a huge supporter of babywearing—they allow us to go in and train and partner with them. For me, it's a very symbiotic relationship.
Who else helps get the word out about Ergobaby products?
Facebook and bloggers are pretty critical for us during any U.S. launch, and our activity in the social media world is absolutely insane. We also have a full-time blogger on our staff who is a passionate babywearer herself, so our employees are using our products every day, and they are out there talking in the social media world about the product. I think that is something that we're doing slightly differently than other children's companies, and I think that's part of the reason why we have such a great fan base. You would also be amazed at how rapidly our Pinterest page is growing.
Social media is such a crucial way to reach moms these days.
I recently overheard some moms say they trust their friends on Facebook more than their
doctor for recommendations on children's products. That's absolutely game changing. The importance of social media has never been higher and I only see that growing in the future.
How about e-commerce? Is that a big part of your web strategy?
Our online presence is really geared towards communication. We have links up to our Facebook, Pinterest and Instagram accounts, as well as our blog, and those sites link back to the website. The goal is if mom wants to find out why she should use an Ergobaby product, she will find that on our site. The online sale is a very secondary goal for us. If mom is searching and doesn't have access to a local specialty store, she can complete that purchase on our website.
Ergobaby's branding is always very consistent. Is that a priority?
It's hugely, hugely important. Even inside our industry, I've seen a lot of brands create multiple versions of the same product and adapt it for a specific retail channel, and while there are definitely pros to that, the con is consumer confusion. Our brand is consistent because every carrier that we make delivers comfort through ergonomics. Moms know what they're getting when they buy our products.
Ergobaby is carried everywhere from small specialty stores to BuyBuy Baby. Are there any challenges to being in so many doors?
Sometimes yes, because I think retailers still feel the squeeze of the last five years and they want uniqueness inside their doors, so that's a challenge. On the flip side, we have more than 30 carriers inside our offering, so we are able to customize orders to a retailer's specific needs and their specific consumers.
Any other challenges you've noticed since taking over?
For us, the challenge is that the product lifecycle on the carrier has gotten shorter. Retailers want freshness in the design. They are looking to us to continue to innovate the category—and we happily accept that challenge. Those really are the main challenges: staying ahead of the competition and keeping our designs fresh.
Keeping products affordable also seems to be tricky these days, since many shoppers are motivated by price. What do you think?
When you take it back to the children's product market, parents care about safety and trust more than any of those other things. So while price is always a factor, it's not the dominant factor in this industry—which is probably another reason why I love it [laughs]. When consumers are searching for baby carriers in particular, they're not looking for the lowest price. They're looking for the one that is comfortable for them, that they believe is comfortable for the baby, and they're looking for one they can trust, that their friend recommends. It's a great industry to be in for those reasons.
Have you spied any new trends in the babywearing community lately?
What I'm seeing right now, and I think this is a great thing, is that moms are starting to wear their babies longer, meaning more into the toddler age, and we are seeing an increased demand for toddler carriers. (We don't have one specifically for toddlers, although our carriers are good through 4 years old.)
What's your favorite part of your job?
I fell into consumer products very early, but it's a perfect spot for me because I love consumer research. Every mom you talk to is an individual and you always learn something new. It's never boring. That is absolutely my favorite part of the job.