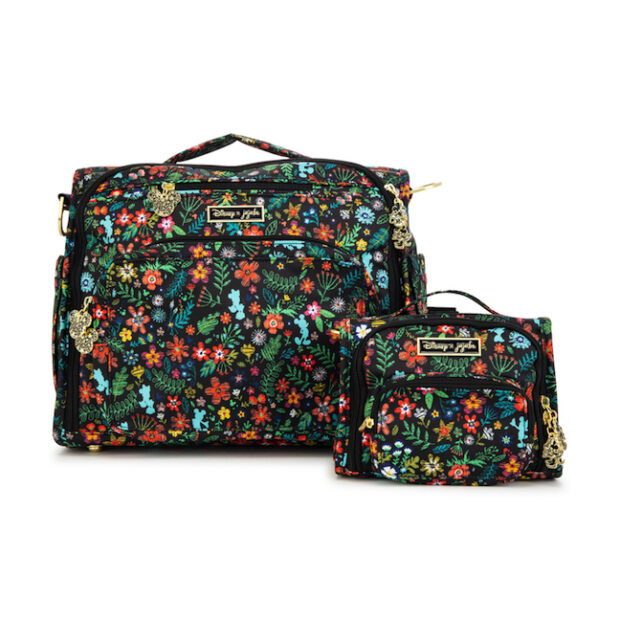 JuJuBe will release its first Disney collaboration – Amour des Fleurs – next Thursday, September 24, 2020 at 4:00pm PT.  The floral print is featured on JuJuBe's diaper bags, backpacks, totes, organizing cubes, pacifier pods, and much more. Consumers can learn more by clicking here.
Love is in the air with our NEW Disney x JuJuBe collaboration! Get ready to fall in love with Amour des Fleurs! Iconic JuJuBe florals combined with Disney's favorite couple make Amour des Fleurs the print of your dreams! Search for hidden Mickeys (large and small) frolicking amidst the flowering forest. Think you've found them all? Look again! The illusion of embroidered flowers and foliage delicately decorate the classic black background. "Hand-stitched" petals in coral, yellow, pink, aqua, indi- go, and white create a colorful bouquet! Inside you'll discover a soft mint lining adorned with wildflowers arranged as Mickey, reminiscent of a manicured garden. Brushed gold metal hardware adds a sense of wonder and elegance. Three unique zipper pulls adorn every bag … raised gold flowers upon a black Mickey head plus nostalgic Mickey and Minnie with hands shaped as 1⁄2 a heart. Join their hands together to form one timeless heart expressing their adoration for each other and this magical print! Each detail delights with Amour des Fleurs!
About Ju-Ju-Be
JuJuBe was started by the dynamic duo of diaper bags. Despite the great fashion (and evensome great features) of the other brands, there were still some things lacking. No one had put to use the latest in technology. No one had successfully acted on the idea that fashion and function are not mutually exclusive. No one else had delved into the deep realm of microbes and anti-stick coatings. Everyone else said that diaper bags aren't rocket science.JuJuBe thinks they can be. Along with being a lot of fun! JuJuBe has donated more than $100,000 to various foundations that are committed to raising breast cancer awareness.  JuJuBe bags are available at premium boutiques everywhere including Nordstrom, Buy BuyBaby and www.jujube.com.