Face Covering and Temperature Checks to Continue; New Measures Include Expanding Capacity to 100% and Optional On-site COVID Testing Service.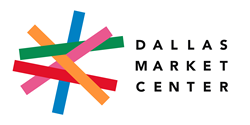 DALLAS – March 3, 2021 – Dallas Market Center, following more than nine months of successful trade events serving loyal and new buyers from 49 states, has announced updated health and safety guidelines for upcoming March markets including Apparel & Accessories Market, Total Home & Gift Market, Lightovation, and KidsWorld — all taking place March 23-26.
Continuing health & safety efforts will include mandatory face coverings and a temperature check for everyone entering the marketplace. New measures include expanding capacity to 100% across campus and concierge COVID-19 testing available on-site. The updated Plan Ahead, Safely guidelines are available via the front page of the Dallas Market Center website.
The expansion of capacity across campus comes under new orders from the Governor of Texas that take effect March 10. The Governor also rescinded the statewide mask order—leaving it up to each businesses to make their own decision on guidelines.
"At this time we think it's critically important to maintain what's working so well in Dallas and that means continuing our support for the care and comfort of all customers, many of whom are traveling from out of state or are choosing to do business here for the first time," said Cindy Morris, president and CEO. "As local case counts steeply decline we are remaining vigilant and exceeding the recommendations and mandates from national and local health officials. Our efforts and experience have created the safest possible environment among all market centers and trade events."
The announcement by Dallas Market Center follows a sharp and sustained decline in local COVID-19 cases, which for Dallas County are at their lowest level since October 2020. At the same time, vaccinations statewide continue to expand and are on track to reach 1 million per week.
In addition to expanded capacity for visitors, on-site testing for COVID-19 will be available via Kai Medical Laboratory. The testing is optional and fee-based. The testing is a PCR test with results in 24 hours–the type of test most often required for travelers. The location is WTC 170, on the first floor of the World Trade Center, and testing hours are 7:30 a.m. to 5:00 p.m.
Dallas Market Center's comprehensive guidelines cover facility operations, registration, food and beverage service, shuttles, employee screening, and other important topics. Along with these new measures, there are safety features that are part of the natural design of the marketplace: open parking, large entryways, quick registration in multiple areas, wide hallways, multiple escalators to every floor, and showrooms with controlled access to allow for the appropriate distance between customers.
Showrooms will communicate their own procedures for social distancing and hospitality. Gatherings including special events and receptions will not take place. Instead socially-distanced hospitality including roving carts and grab-and-go happy hours will occur. Food service at market will include multiple outlets open every day. Seated dining and take-away options will be available. Check the market pages on the DMC website or the DMC app for complete details for upcoming shows. Complete Health & Safety details are available via a link on the front page of dallasmarketcenter.com.
Only Dallas Market Center presents the most complete collection of new and best-selling products across multiple categories including gift, home décor, lighting, holiday and floral, housewares, gourmet, apparel & accessories, artisan products, and more. The marketplace includes the largest residential lighting trade events in North America; the largest and most successful open-daily design center; dominant trade events for gift, home décor, holiday and floral; and the nation's most comprehensive apparel and accessories marketplace featuring the latest styles from East Coast and West Coast designers.
Special travel deals are still available for the upcoming shows. To make plans visit the Dallas Market Center website and download the Dallas Market Center App. Also, keep up-to-date on all information by visiting Dallas Market Center on Facebook, Twitter, Instagram, and the DMC Blog.