Las Vegas is set to become even more family-friendly as the 8th annual ABC Kids Expo rolls into town. The latest in children's wear, baby gear, nursery décor, toys, gifts and more will be on display at the Las Vegas Convention Center from Oct. 10–13, and president and show director Larry Schur said there will […]
Present Moment
Wry Baby's Super Snapsuits! collection.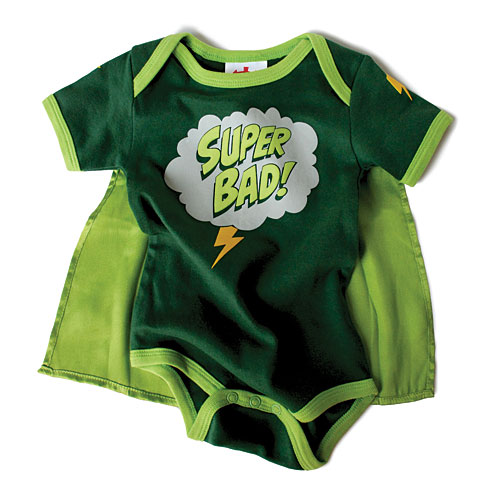 Present Moment
Halo Innovations' Safe and Sound Sleep gift set.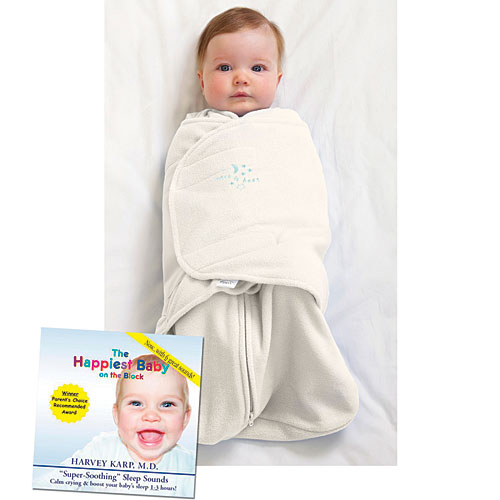 Present Moment
Baby Aspen's woodland-themed "My Little Night Owl" gift set.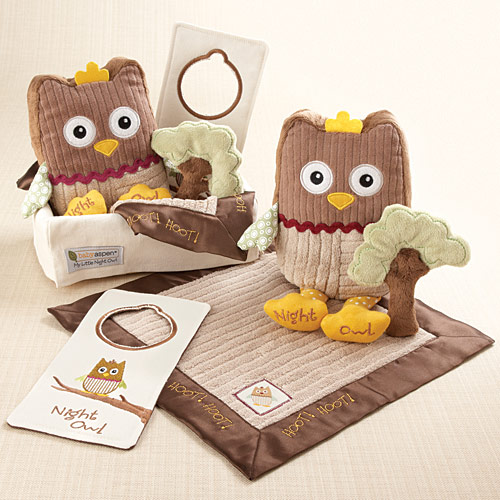 Cuddly & Captivating
Haba USA multi-texture rattles.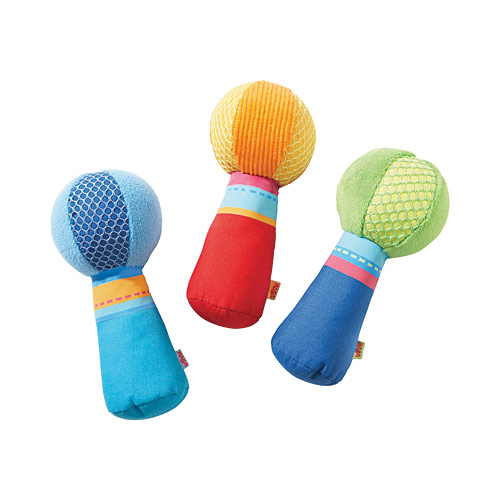 Cuddly & Captivating
Family Ties shag blanket.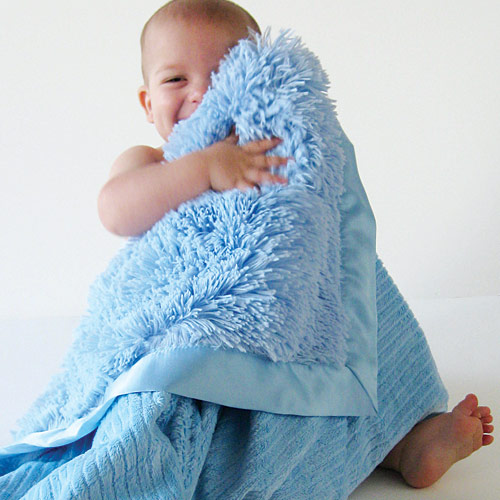 Parental Necessities
Baby K'tan Breeze sling/carrier hybrid.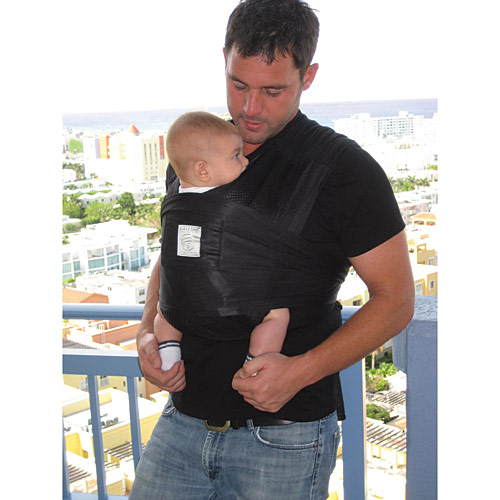 Fresh Threads
The latest from Pink Axle.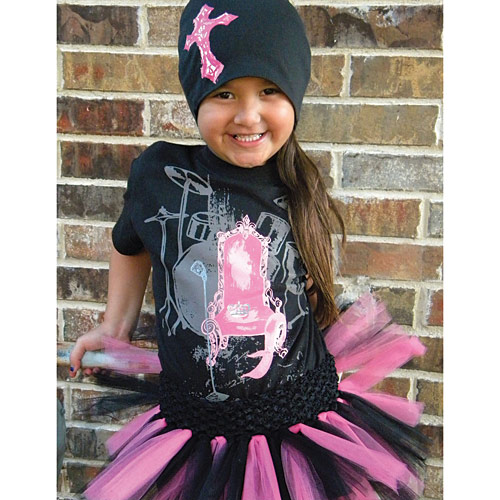 Fresh Threads
Layette set from I Play's Gauzie line.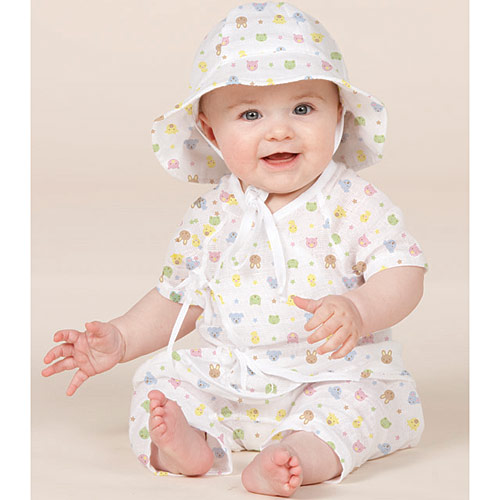 Fresh Threads
NOO Designs' cheetah coat.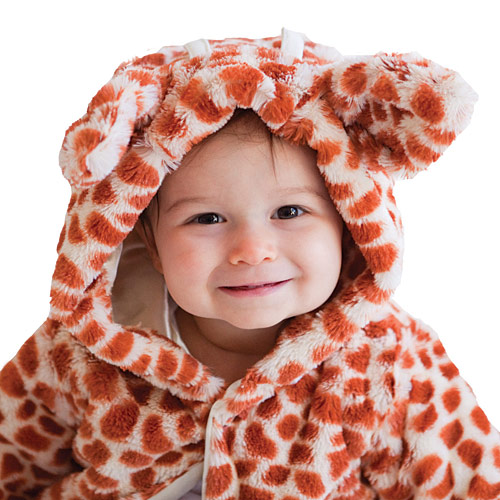 Feet First
Jefferies Socks' hand-crocheted booties.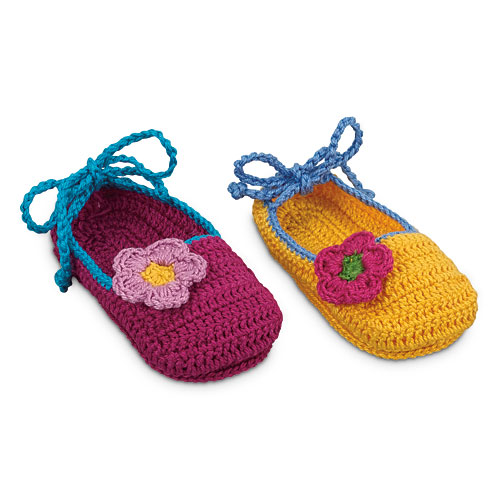 Las Vegas is set to become even more family-friendly as the 8th annual ABC Kids Expo rolls into town. The latest in children's wear, baby gear, nursery décor, toys, gifts and more will be on display at the Las Vegas Convention Center from Oct. 10–13, and president and show director Larry Schur said there will be plenty of "fresh products from current and brand-new resources" to tempt buyers." Every category has grown—most notably apparel and toys," he said of the sold-out space.
The show will boast free wi-fi throughout the exhibition hall and two designated areas for "mommy bloggers" to post news about trends, vendors and products. Close to 1,000 exhibitors will blanket 1 million square feet of exhibit space, including a new Maternity Square pavilion with 100 booths and a jammed-packed First Exhibitor pavilion, which Schur said has been relocated to high-traffic real estate on the upper level. "There's a lot of innovation there for retailers to be excited about," he noted.
Fresh Threads
~ Australian company NOO Designs introduces a new line of furry, ultra-soft animal-inspired jackets. The button-up coats are lined with satin and come in ladybug, cheetah and giraffe designs, with a hood adorned with animal ears or antennae. Each jacket wholesales for $24.50. For details, call Just Kidd'n Distributors at (425) 868-3195 or visit www.noowear.com.
~ Pink Axle expands its rocker-chic offerings with five new products. Black and white tees (sizes 3 months to 4T), bodysuits (3 to 18 months) and sleepers (newborn to 6 months) wholesale for $15 each and feature edgy guitar, tattoo, drum set, cross, rose and throne screenprints. The company also bows infant and toddler tutus ($15 wholesale) and matching tulle headbands ($5) in more than 25 colorways. Call (469) 544-2401 or visit www.pinkaxle.com.
~ I Play uses organic cotton gauze throughout its new layette line, called Gauzie. The breathable and delicate collection for newborns to 9-month-olds comprises wrap-style gowns, bodysuits, shirts and gusseted pants. Accessories include brimmed hats, bibs, burp pads and blankets. All items soften with each wash and come in a unisex multicolor animal print. Wholesale prices range from $5 to $12.50. Call (828) 254-9236 or visit www.iplaybabywear.com.
~ Rashti & Rashti extends its line of Taggies licensed products to the infant and toddler bath category. The cotton terry range incorporates Taggies' patented tags—said to soothe and comfort baby—into colorful appliquéd bathrobe, hooded towel, storage bag and washcloth designs. Boys' dog, girls' frog and unisex duck motifs are available. Products are geared toward newborns through 1-year-olds. Wholesale prices range from $6 to $16. Call (800) 4-RASHTI or visit www.rashtiandrashti.com.
Parental Necessities
~ Based on Baby K'tan's original baby sling/carrier hybrid, the company's new Breeze design uses a mesh and cotton construction to help reduce heat and moisture, making babywearing more comfortable. The lightweight, breathable and compact carrier features the same double loop design as the brand's original model and can be worn in nine positions. The Breeze is available in white and black for $33 wholesale and comes with a matching baby hat and sash. Call (954) 889-5666 or visit www.babyktan.com.
~ As a more personal and fun alternative to dowdy hospital attire, Hot Mama Gowns delivers options in bright colors and feminine prints. Made of 100-percent organic cotton and designed with a full snap back and discreet breastfeeding panels, the gown can transition into nursing pajamas post-birth. Sizes range from women's 2 to 24 and colorways include green/pink, yellow/orange/white, purple/ivory, pink/white and black/white. The wholesale price is $60. Call (302) 376-5926 or visit www.hotmamagowns.com.
~ Silikids re-interprets its line of silicone encased baby bottles for children transitioning to "big kid" cups. The 6 oz. toddler-size drinking glasses are designed to prevent slipping and are offered in kid-friendly colors such as red, lime, aqua and purple. Each set of four glasses wholesales for $15.57. The company also offers 11 oz. and 12 oz. sizes for the rest of the family. Call (866) 789-7454 or visit www.silikids.com.
Cuddly & Captivating
~ Expanding its selection of patchwork blankets and accessories, Family Ties debuts a new line
of ultra-luxurious
shag blankets with satin trim. The shag chenille blankets measure 32×38 inches—the appropriate size for stroller use—and have a soft hand for baby's comfort. Pink and blue styles are available for $30 wholesale. Call (305) 775-2363 or visit www.familytiescollection.com.
~ Drool Monkey Organics delivers heirloom-quality lovies that help prevent "drool rash" and soothe teething tots. The 100-percent organic cotton, custom-woven lovies feature an absorbent plush monkey head, a rattle sound and two removable teethers that can attach to strollers or carriers. The all-in-one design comes in a reusable drawstring bag. The wholesale price is $15. Call (831) 240-9102 or visit www.droolmonkeyorganics.com.
~ The latest toys from Haba USA pop with primary colors and tone-on-tone prints. Animal-shaped (a sheep, horse and bunny) and multi-texture rattles make a pleasant noise and are made of soft fabric to keep baby interested. Other products include a curly knot clutching toy with three interlocked rings, each made from different fabric, and a plush triangle ball with a soothing velour hand. Toys are for babies 6 months and older and wholesale for $3.50 to $7.50. Call (800) 468-6873 or visit www.habausa.com.
Present Moment
~ Baby Aspen launches a range of cuddly woodland-themed gifts called "My Little Night Owl." The set ($17.50 wholesale) comes in a wicker basket and includes a large plush owl, tree rattle, canvas door hanger and a satin-trimmed lovie blanket—all in a gender-neutral palette. The company also offers a matching owl snuggle sack and cap for newborns to 6 months. These two pieces are bundled on a tree-like hanger and wholesale for $18. Call (800) 659-0471 or visit www.babyaspen.com.
~ The Safe and Sound Sleep gift set from Halo Innovations pairs the vendor's signature wearable swaddle blanket with a CD of soothing white sounds by acclaimed pediatrician Dr. Harvey Karp. The unisex star and moon-themed swaddle comes in two fabrications—microfleece ($14.50 wholesale) and plushy dot Velboa ($15)—and gift-ready packaging. Call (516) 482-4866 or visit www.halosleep.com.
~ Wry Baby expands on its Super Snapsuits! collection with a new villain theme. The dark green "Super Bad" screenprinted one-piece ($14 wholesale) comes in sizes 0-6 and 6-12 months and is topped with a lime green cape. Additionally, a new character adorns the brand's hooded towel: a one-eyed, two-horned, snaggletoothed monster. The wholesale price of the teal, purple and lime green terry towel is $16. Call (704) 660-6955 or visit www.wrybaby.com.
Feet First
~ Jefferies Socks bows cozy hand-crocheted booties ($5.50 wholesale) for newborns with a vintage vibe. Ballet slippers for girls are accented with a flower and delicate back bow. The sporty faux lace-up boys' styles are available in navy/light blue, royal blue and navy/red/tan colorways. For girls sizes 2T to 14, the company introduces funky two-tone capri leggings (each leg is a different color) in vibrant combinations of bubblegum pink/white, turquoise/orange, lime/yellow and pink/lilac. Each pair wholesales for $3.50. Call (800) 334-6831 or visit www.jefferiessocks.com.
~ Jazzy Toes expands its trompe l'oeil sock options with several new products. Sock slippers in six funky motifs for 6- to 24-month-olds feature non-skid soles made of soft, machine-washable leather. Designs include cowboy, cowgirl, gothic cross, sandals, and red and black hi-tops. Each pair wholesales for $9. For 0 to 6 months, the company bows packages of four bamboo booties in a pink/purple palette for girls and blue/brown for boys. The variety packs wholesale for $12.50. A set of super-soft infant and one-size-fits-all adult Mary Jane socks ($9 wholesale) round out the offerings. Call (800) 519-3128 or visit www.jazzytoes.com.
~ Nowali rolls out its signature Swedish slipper moccasins in new nature-inspired patterns. The Spring '11 collection for children 3 months to 6 years features pastel butterflies, owls, bumble bees, leaping frogs, dainty daisies and strawberry motifs. Wholesale prices range from $13.50 to $15.50. Call (877) 466-9254 or visit www.nowali.com. —Angela Velasquez