For Carol Adams, the owner of Torly Kid in New York City's trendy Tribeca neighborhood, necessity truly is the mother of (re)invention.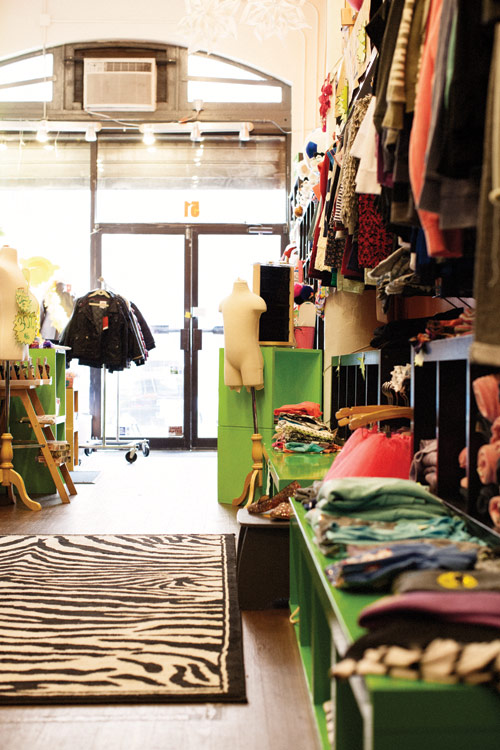 In an industry often obsessed with customer metrics, focus groups and big data, Carol Adams relies on a refreshingly hands-on approach to retail: Talk to your customers. Even better, befriend them.
It's a fitting strategy for Adams, the owner of Torly Kid, a New York City boutique best known for its bright, stylish assortment for tweens. After all, she has two pretty reliable resources when it comes to identifying what kids want in her trendy, Tribeca 'nabe: her two daughters, Tori, age 13, and Carly, age 12, who also serve as the store's namesake. (Since the two are close in age, friends often referred to the girls as "Torly.")
Torly Kid wasn't always known as a neighborhood hot spot for tween apparel—in fact, it wasn't always known as Torly Kid. Adams purchased the shop 11 years ago, when it was a toy store dubbed Happy Baby Toys. The previous owner had built out the interior, set up a point-of-sale system—and decided to get out of the retail game after only two months. "It was the craziest thing. She put it up on Craigslist," Adams recalls with a laugh. A former finance manager, Adams longed for a challenge, but she knew she wouldn't be able to balance a 60-hour work week with taking care of her daughters, then 2-years and 10-months-old. "My husband was away for business in London, and when he came home, I said, 'I bought a store today.'"
At first, Adams named the store Babylicious and offered a range of gifts, toys and apparel for tots. As her girls grew, the merchandise began to shift toward apparel for the 7- to 14-year-old set—a coincidence of timing, Adams insists. "People always said, 'You're growing with your kids, and I was, but I was also growing with the neighborhood kids.'" When the store first opened, she notes, the area had morphed into a coveted zip code for parents attracted to its good schools and celebrity inhabitants, most famously Robert De Niro and Jay-Z.
As the children in Tribeca aged, so must her merchandise mix, she realized. "When parents walked by the store with older kids, I heard them say, 'No, that's a store for babies,'" she recalls. Rebranding, it seemed, would be necessary. The first change? Babylicious became Torly Kid. Next up was adding a range of apparel suited to the area's young shoppers, who Adams notes tend to be a bit more conservative when it comes to fashion. (Think sophisticated silhouettes enlivened with a colorful palette and fun patterns—nothing too flashy or revealing.) Or as Adams sums it up, "My motto with tween is: We carry clothes that tweens love and moms tolerate."
MIXING IT UP
Even so, she adds, getting the range right has been a careful balancing act over the years. The biggest change she's seen in the industry since the boutique first opened? "When I first started buying kids' clothes, I'd buy three or four of each size. Now I only buy one of each size. My sales haven't gotten down, necessarily, but in the beginning I had fewer options and more depth. Now I have more variety and less depth," she explains.
While Mayoral, Appaman and Toobydoo tend to be the shop's bestsellers for both boys and girls, when it comes to tween girls, that variety is key. Bright, casual styles from Wildfox, T2Love and Zara Terez,
as well as bottoms by DL 1961, are current customer favorites. For dresses, Sally Miller is a go-to, Adams reports, calling the designer "the queen of tween." And for taller girls, Adams loves U Go Girl's stylish basics, which are available up to size 16 (unlike most kids' brands, which only offer up to size 14). "There are 10-year-old girls who wear size 16, and they can't shop in women's," she points out.
Though Torly Kid's mix now tilts heavily toward that tricky tween demographic, (Adams estimates that the category accounts for about 35 percent of the store's total sales.), she still stocks an array of apparel for baby, including bestsellers like Lucky Jade, Magnificent Baby and Paige Lauren Baby—which she praises for its "delicious cotton cashmere." That baby selection has been a boon for the shop in one other major way: its popular gift baskets.
Adams works with several concierge services in the city to provide their clients with custom-designed, luxurious gift baskets, which are delivered in decorative boxes. "We get the clients' information, including the age of the child, where they live, whether they are a more traditional or rocker type, and we build a basket based on their budget with those thoughts in mind. Then we put everything together in a beautiful basket, wrap it in cellophane and ship them out," she describes.
The idea was inspired, she adds, by one-too-many bad gift baskets her friends received at baby showers, filled mostly with stuffing and paltry plastic trinkets. Accordingly, the store's gift baskets are stuffed with real products, like a matching romper and blanket by Paige Lauren, paired with a plush toy by Jellycat.
EVENT WORTHY
That personal touch, she notes, is what's made the store stand out with local moms for more than a decade. "I really try to bring the neighborhood together and create some camaraderie, because at the end of the day getting people in just to buy my stuff didn't make sense to me," she says. Today, that means a monthly tween book club, which sometimes includes visits from the book's author. Adams also throws a tween party every year. While a hula hoop contest is standard, previous parties have also offered a French braid artist creating fancy up-dos, an airbrush artist crafting summer camp tees and a jump rope specialist teaching double dutch.
And in September, Torly Kid hosts a Reviving the Renaissance sidewalk chalk contest—an idea inspired by the family's trip to Florence, Adams adds. "In the morning we would see these artists drawing on the street, and we'd come back at the end of the day and there would be this beautiful piece of art, a huge mural, made out of chalk."
In fact, the store hosts at least five or six events a year, often on the topic du jour, like the New York City Kindergarten process. And every year is capped off with one of the boutique's most beloved traditions, Christmas caroling in the neighborhood, finished with a cup of hot cocoa for the little ones and champagne for the parents. "That's how our name became well-known in the neighborhood because we created a place to go to hang out, rather than just a shopping experience," she sums up.
That being said, the shopping experience at Torly Kid definitely doesn't disappoint. The store's bright and inviting jungle theme—with orange walls and pillars covered in animal print—is a perfect canvas for its playful product mix. Adams makes sure the look and feel of the merchandise complements the store décor. It all comes together, she adds, to convey the store's overall brand, which she describes as a "downtown, casual feel" with an affordable price point. (The store's average dress retails for around $65.) "If my store were very French looking, then my customer wouldn't be surprised if I had a dress that sold for $300. The expectation is that the store is going to be reasonably priced for a boutique, so I work hard to keep it within that price range," she adds.
Maintaining that consistency is why Adams insists on doing all of the buying herself. "I let my staff takeover in a lot of places, but I never give up the buying. That's what defines my store. That's my brand. I work really hard on developing my brand," she relates.
Fittingly, the look of a garment is her top consideration when scouting the market (She jokes that she won't buy any brands with Peter Pan collars.), but her second biggest requirement? Brands must be easy to work with. "I've dropped lots of companies who don't make it easy to have a good relationship," she reports. It's as simple, she adds, as shipping goods on time, and accurately. Adams especially appreciates companies that are accommodating when presented with very rare special requests. One recent example? When last year's warmer-than-usual weather put the brakes on the store's outerwear sales, Adams asked Appaman if the brand could send the jackets to a shop in the Midwest instead. "This winter was the very first time in 10 years I asked them to take a product back, and they did without blinking," she says.
But what's next for the popular spot—now that the kids in the 'hood are growing up—Adams says is the "hardest question of all!" Without a doubt, the shop will continue to offer lifestyle activities and information that cater to its clientele. And since globetrotting is a family passion, Adams recently started a travel log on Instagram (@TorlyTravels), and is working on a blog where she will share travel tips for kids and tweens. "As a family, we love to travel, and I always have people asking me to help them create itineraries and plan trips," she describes. Next stop: tween travel agent?