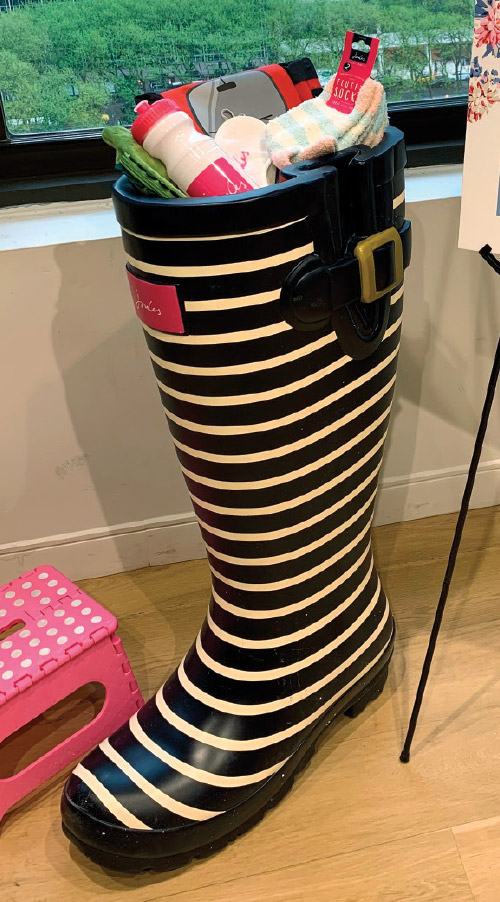 In support of its Right As Rain collection, Joules has rolled out the Wandering Welly, an interactive POP experience for its retail partners. The (really big) boot is brimming with the British brand's giveaways, like water bottles, notebooks, backpacks, pencil cases, scarves and gloves. Patrons are encouraged to select treats from the oversized boot, no purchase necessary!
"The Wandering Welly is a uniquely Joules approach to supporting our key independent retailers across the country," says Dave Wood, U.S. general manager. "It's a way of bringing the brand out to the market and into the heart of the country, which is something we value and is the core of who we are in the U.K."
To be considered, a store must sell Joules rainwear and be nominated by a sales rep. "We also make sure the retailer has enough room for the Wandering Welly in their store," Wood adds with a laugh. Once selected, the Instagram-worthy activity arrives on a Thursday afternoon to be displayed through the weekend. Then the retailer ships The Wandering Welly off to the next location with a UPS label provided by Joules. "We take care of everything down to scheduling the pick-up," Wood says, affirming the entire process is free for its retailers.
"The people who visited our store all had fun," says Mikako Fukagawa, buyer from Allen's Department Store in Leominster, MA. "It was a great opportunity to let people know about Joules." The owner of 5th Street Clothing in Chico, CA , Jennie Munson agrees, saying she was "thrilled to be part of the adventure!"