Designers and toymakers are sewing masks and reconfiguring supply chains to get them into the right hands.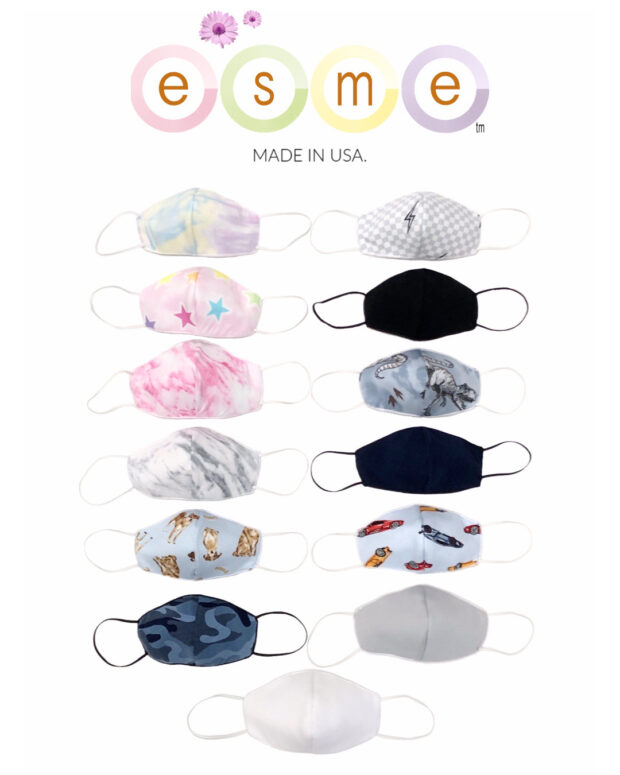 If there's one thing the kids' and fashion industries knows how to do, it's pivot. Items explode onto the scene faster than you can say squishee toy, and manufacturers must immediately jump on a trend or get left behind.
It's such nimbleness that is enabling companies to recalibrate factories and supply chains to produce desperately needed masks and other PPE (personal protective equipment) for our nation's first responders and health care workers. Some indie brands are sewing (non-medical) masks for the public too, while larger conglomerates are teaming up their expertise and resources to fill orders from the federal government. The general mood? We're all in this together!
On the medical level, a coalition of iconic American apparel brands and textile companies have responded to the White House call for medical supplies. Parkdale Inc., the largest yarn spinner in the U.S., lead the effort to build the coalition with Hanesbrands, Fruit of the Loom and six other companies to set up a manufacturing supply chain and begin ramping up production of the masks. Once fully ramped up, the coalition expects to produce up to 10,000 million face masks per week in the U.S. and Central America. Other companies include: American Giant, Los Angeles Apparel, AST Sportswear, Sanmar, America Knits, Beverly Knits and Riegel Linen. The first face masks were approved by the U.S. Department of Health and Human Services.
Mud Pie recently made news by asking global sourcing partners for N95 masks. How is the rest of the industry contributing?
Mattel, which is already setting good role models for kids with its Barbie dolls on #NationalDoctorsDay, is doing its part to help doctors and nurses around the country with a new mask-making initiative.
"Our design and development teams in El Segundo, CA, and East Aurora, NY, are producing face masks from Barbie and Fisher-Price fabric to help meet the significant demand for these supplies," says Mattel Chairman and CEO Ynon Kreiz, noting that all manufacturing is done within safe social distancing guidelines. "These masks will be distributed to hospitals and first responders later this week … [and] we are also prototyping, with guidance from healthcare professionals, personal protective equipment (PPE) such as face shields."
Other toy companies have also gotten involved to help with shortages.
Isaac Larian, CEO of MGA Entertainment, the parent company of L.O.L. Surprise! and Little Tikes, has launched OPERATION PAC-MAN, a non-profit organization to help fight the spread of COVID-19 worldwide. Thus far, MGAE has purchased and donated hundreds of thousands of protective masks to doctors and nurses at hospitals. An additional shipment of goggles and protective shields are already on the way, which MGAE has purchased and will promptly donate.
The designers and engineers at MGAE and Little Tikes even invented a ventilator prototype currently being tested at UCLA. Once clinically approved, the Ohio-based Little Tikes factory, will begin mass production for immediate distribution.
"I ask everyone to please help in any way you can to support this or other causes and together defeat this terrible virus," says Larian. "Any donation amount to this cause will provide more funds to purchase PPE and distribute them." Larian and MGAE are matching donations raised by the public, with all money donated will go directly towards procuring more PPE products for our healthcare workers.
Not all masks being manufactured are medical grade or for medical purposes. Amid complaints that the public is using up masks needed for healthcare workers and first responders, some companies are producing masks for the general public as well, especially as the CDC considers advising everyone to wear one. While they're not all medical-grade masks, they will help people stop touching their face with hands that could carry disease. Plus they help fill in for health workers facing shortages.
"We decided to make masks after hearing of mask shortages of our hospitals, but after a few calls to hospitals, we realized that they needed surgical or N95 masks, not the handmade masks, so we decided to make masks for the public," says Sara Oh, CEO/Designer of Esme. "We were a little hesitant at first, but my friend and  Sales/Marketing rep, Allison Moroze at Ali's Market, gave me a huge nudge to go public on March 24. The response has been good so far! We've gotten requests from nurses, as they are running short of masks and saving them for the nurses on the frontline helping to fight COVID-19." Esme is also donating a portion of all sales to the LA Food Bank and donating masks where it is needed the most.
Imoga has also been helping the cause by sewing homemade masks to donate to local hospitals and healthcare facilities and encouraging Instagram followers to do the same.
Fashion designers like Nicole Miller have also gotten into the action.
"While I have a few sewers locally that can produce a limited number of cloth face masks here, I want to do more to fight this pandemic!" says Nicole Miller. "For the past few days, I've been busy working the phones with city and state authorities to determine their actual requirements for medically approved face masks, gowns and other personal protective equipment and trying to mobilize our overseas supply chain to see what we can supply in volume."
Bump Biddy is targeting pregnant moms, as they are protecting for two with each mask. The company is providing masks with each purchase on its sister websites Curvy Sense, Nikxie and Bump Biddy.
RETAILERS RESPOND
Retailers are also doing their part to help. Over in Europe, Spain has been hit extremely hard by COVID-19, and Spanish brand Mayoral is doing its part to fight the pandemic. Mayoral Moda Infantil SAU is donating supplies for Spanish medical centers to the tune of 20,000 masks, 10,000 gloves and 3,000 protective suits. "Mayoral, as a global logistics company, is using its global resources to help the authorities in southern Spain in any way possible," says Adam Herman, County Director of Mayoral USA, Inc.
Spanish company Mango is also donating 2 million masks, while footwear brand Callaghan has shifted production to sanitary materials for Spanish hospitals, according to reports.
Gap and Zara are other retailers that have joined the fight. Gap Inc., the owner of Old Navy, Banana Republic and Athleta, is also shifting some factory production to help make masks, gowns and scrubs for medical workers. "Gap Inc. is still ironing out the details, but is looking at all opportunities to support its communities right now," the company said in a news release on Twitter. "Our teams are connecting some of the largest hospital networks in Calif. w/ our vendors to deliver PPE supplies."