[Editor's Note: Welcome to our new daily blog! Stop by for up-to-the-minute coverage of the children's industry, including brand spotlights, trend reports, trade show recaps and lots of interviews with the industry's most fascinating retailers, reps, manufacturers, designers and more. Every Wednesday we will check in with a different children's retailer, to find out what's […]
[Editor's Note: Welcome to our new daily blog! Stop by for up-to-the-minute coverage of the children's industry, including brand spotlights, trend reports, trade show recaps and lots of interviews with the industry's most fascinating retailers, reps, manufacturers, designers and more. Every Wednesday we will check in with a different children's retailer, to find out what's selling across the country. In honor of the Earth Day celebrations taking place this month, our first post features a Seattle retailer who specializes in organic and all-natural products. Enjoy!]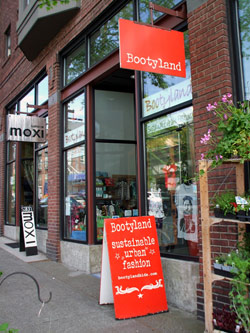 Founded for moms by moms in 1995, Bootyland Kids is all about sustainability. The Seattle store was the first in the city to carry organic and hemp baby clothing, and it eventually expanded to toddler, kids and even adults. Bootyland houses a wide selection of locally-made products and vintage and upcycled clothing, as well as bigger brands like Under the Nile and Redfish Kids. Due to the Seattle climate, owner Ellie Cassidy says their selection differs from other kids' stores. "We wear long sleeves for so long here," she notes. "Our customers don't buy a lot of tanks and shorts. We stock hoodies all year—spring hoodies, winter hoodies." And of course, she adds, "Rain boots are also big."
What are your bestselling brands for baby?
Under the Nile is great. We've also been doing really well with Little Lark, a screenprinter out of Portland, OR. Tomat is another great brand for us. And we've been doing an in-house project with local artists called Snap Dragon. They offer printed tees with black silhouettes of crows, owls and other nature-themed things.
What are your bestselling styles and brands for girls' apparel?
We do really well with a local brand called Ricili Kids and another local company called Dandy. They make capes and skirts and very cute handbags. The capes have been selling really well. It's an unusual item that's new and different and kind of cool. Redfish Kids from Canada is another top seller. A lot of our unisex stuff sells well. We have some items that are traditionally for boys, like the Little Lark wolf raglan, but we mix them in with the girls' stuff to make it more edgy and fun.
How about boys' apparel?
A brand that we love that just stopped producing is Rock N Roll Babies. They had some great prints that hopefully we can continue carrying. The mom and dad tattoo tops, 'aye aye' tops and octopus prints are very popular.
How about toys?
This spring, we sold a lot of PlanToys. Every year, they come out with something that's a little bit more environmentally friendly than the last year. They had some water-themed toys that have done really well. There's a company in New York called Wild Apples. They make really neat pull toys. Their dragon does well.
What is your store's go-to brand and why?
We've had a really good relationship with Kate Quinn Organics. She's our go-to for baby. Little Lark and Red Fish are our go-to brands for boys and girls at the moment. Ricili has been consistent, too.
How have spring sales fared so far?
They've been OK. I think it's a little different in Seattle. It's still chilly here, so we don't get that spring rush until around May. That's been really consistent for the past few years.
Do you think this back-to-school season will surpass last year in sales? Why or why not?
Back to school is always busy. Because of the climate, our busiest time is mid-August to December, and I think it will surpass last year. Sometimes it just depends on timing and weather. Since we carry products for both baby and kids, our customers come in at different times. Our back to school season lasts a little bit longer because people shop for the younger ones when the weather changes and for the older ones when they have time.