Pink Chicken Hatches Layette Line Pink Chicken's layette  line is hatching just in time for Spring '18 delivery. In an expansion of the brand's growing baby offerings, the new collection features six silhouettes in sizes newborn to 3 months including a reversible bib, bodysuit, gown, two romper styles and a two-piece set. Inspired by a classic aesthetic, […]
Pink Chicken 

Hatches Layette Line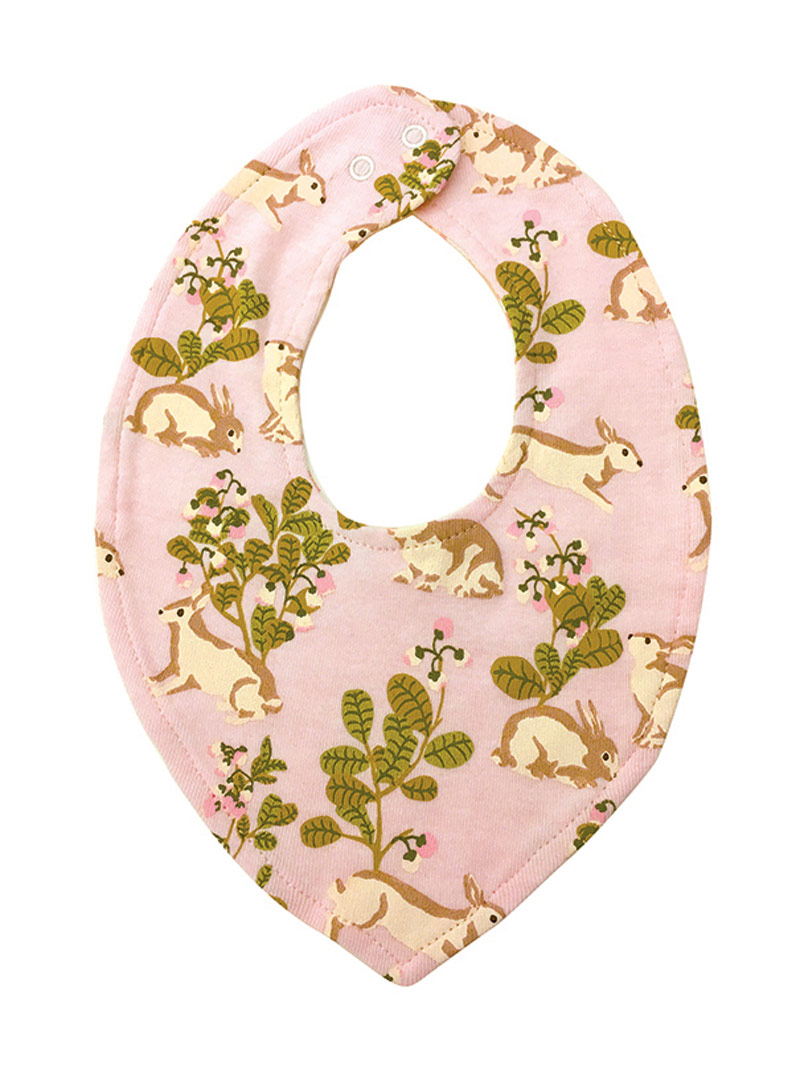 Pink Chicken's layette  line is hatching just in time for Spring '18 delivery. In an expansion of the brand's growing baby offerings, the new collection features six silhouettes in sizes newborn to 3 months including a reversible bib, bodysuit, gown, two romper styles and a two-piece set. Inspired by a classic aesthetic, soft pastel colorways are prevalent throughout the collection in shades of white, lavender and baby pink with contrasting binding. For a pop of personality, prints include triangles, flowers, llamas, raindrops or rabbits.
Christina Field, senior designer, says the idea for a layette collection has been in the works for a while, as the brand sees the new addition as a great sales opportunity with new mothers as well as friends and family for gifts. The layette wholesales from $9 to $30. "Slowly we've been growing baby, and it just seemed we were ready," she says, noting that Pink Chicken plans on including layette in future collections. Going forward, Field hopes to add more fashion pieces–like the smocked romper style for spring—to enhance the collection's foundation of basic silhouettes.   
Apple Park Debuts City Pals Plush
Apple Park, The eco-friendly juvenile products brand, is celebrating the seventh anniversary of its original plush line, Picnic Pals, with a continuation of its story-driven plush collection for older siblings. The collection is aptly named City Pals.
"There was market space for a sibling gift," says Nancy Carlson, director of marketing, noting that City Pals targets older siblings ages 3 to 5. "Something to give a new brother or sister that would be really exciting—and a little different," she adds.
The team at Apple Park envisioned what its classic Picnic Pals would be like grown up and created five sophisticated characters: Dandy Lion, Bettina Bunny, Allistor Alligator, Sheila Sheep and Byron Bear. Each plush lives in a hip city (e.g. San Francisco, Montreal or Portland, Ore.), while pursuing a passion like art, teaching or computer programming. Debuted at the Atlanta Gift Show in July, each new plush wholesales for $15 and will be carried at boutique and specialty retailers.
"[City Pals] make great talking points for little kids," Carlson says. "It shows that there's more than just your own neighborhood to think about, opening a door to different occupations and cities." Unlike their Picnic Pal counterparts, City Pals don't have books yet; however, Apple Park's designers are in the process of developing them for each new character, as well as expanding the collection to include more cities worldwide.
AG Jeans Teams Up with Five Star Apparel for Kids' Collection
Global lifestyle brand Adriano Goldschmied (AG) Jeans has come together with Five Star Apparel to launch a full range of comfortable on-trend jackets, tops and denim for kids. The  AG Kids Spring '18 collection, available in sizes newborn to 14 years, debuted last month at Children's Club New York at a launch breakfast hosted by Earnshaw's. The breakfast was followed by a runway showcase of the new line.
"A long time ago, a retailer at Bloomingdale's told me that Justin Bieber could walk in and hand denim to a teenage girl, but if it's not comfortable, they're not buying it," says Debbie Baker of Five Star Apparel's marketing team. That's why the new children's offerings closely mirror the signature soft denim treatment of AG's adult line—"a must for young customers who focus more on playtime than current trends," she adds.
From the dark-wash T-shirts to patchwork jeans with distressed hems, little models and their moms alike expressed approval of the quality denim after the runway debut. "I heard kids saying, 'Mom I would wear this," Baker says, noting that in an age when most children wear joggers to school and denim is considered "dressed up," that's a glowing recommendation.
Letter Baby
Offers Velcro 

Varsity Patches

While Danielle Powell reminisced with her husband about his athletic schooldays, particularly recalling his treasured letterman jacket, the duo was struck with the idea to start their own clothing line Letter Baby. Powell noticed how ridiculous it was sending varsity jackets away to add patches, pondering that there had to be an easier way. "We thought, 'How cool would it be to affix the patches to the jacket instantly?'"

Letter Baby was launched in March 2016 to capitalize on parents' nostalgia while offering their children a taste of the "glory days." Just in time for the back-to-school buy, the brand offers six unisex jacket styles in black and white with more than 23 (and counting) Velcro patch options. Patches, wholesaling for $2 each, come in a variety of sizes and designs, including gems, planets, letters, numbers and emojis.

When Letter Baby debuted this year at Children's Club in New York, Powell recalls that "every child who saw the jackets wanted to purchase one." The jackets, which wholesale for $45, were originally created just for children; however, Powell decided to recently add adult sizes after receiving such positive feedback. "There are not a lot of custom children's jackets out there, so we thought we'd bring that to the market," she says.

In the future, Powell is looking to offer more jacket colors and custom patches, as well as dabble in backpacks for kids and shoulder bags for women. Letter Baby currently sells online, with the brand's Instagram presence on the rise. "We've been picking up on Instagram as of recently in terms of building the brand and getting more connections," Powell says. In addition, she plans on growing her presence in specialty boutiques throughout the coming months.
Ellen Introduces Baby Lifestyle Line
Ellen DeGeneres has announced the launch of her ED Ellen DeGeneres baby lifestyle collection. The new line includes a wide variety of baby categories from furniture and bedding to apparel, accessories and gear. Brand collaborations for the new offerings incorporate several leaders in the children's product industry like Aden by Aden + Anais, Bivona & Company, Camuto Group, Crown Crafts and Naturepedic. 
     "Babies love to be swaddled and should always be surrounded by love and kindness," DeGeneres says. "I created my baby collection with that thought in mind. Each piece has a message of love, and the line is filled with whimsical and fun pieces." DeGeneres' love and passion for animals is showcased throughout the collection with vibrant animal patterns, the ED doodle dog and dancing bunny graphics. Reflecting an overall classic yet playful aesthetic, designs incorporate other cheerful embellishments such as pop-up bunny ears and happy verbiage like "Love," "Kind," "Joy," "Made with Love" and "I Can and I Will."
Debuted last month, all offerings will be exclusive to BuyBuy Baby stores nationwide and online at www.buybuybaby.com.  However, in less than six months, the line is slated to open for wholesale at specialty and boutique retailers.