Spring/Summer '16 accessories preview.
Forget the minimalist, pared-down bows and bangles of seasons past. This spring, it's all about over-the-top accessories. As Jamara Ghalayini, owner of Pumpkinheads in Brentwood, CA, puts it, "anything that really stands out," will earn a spot on her store's shelves. Gleaning inspiration from a range of exotic locales—from the outer limits of space to the great depths of the sea—children's designers imbue an array of styling staples, from necklaces to neckties, with an otherworldly quality. On that note, look for exotic textures, arresting colors and mesmerizing finishes to make mirrored sunglasses and holographic backpacks best bets. Ready to make your accessories section shine? We asked experts from across the industry to share the top trends for Spring '16.
Rocket Fuel
A rainbow of holographic hues lend kids' accessories a space-age luster. Luminous foils, precious metal patterns and iridescent details shine bright on a range of hats, belts and bags. "Metallic, iridescent and holographic colors and finishes are key," reports Bray. The shimmering sheens imbue pieces with a cosmic glow capable of changing shades depending on the light, but no matter the color, these high-shine materials are sure to spark a fashionable flame.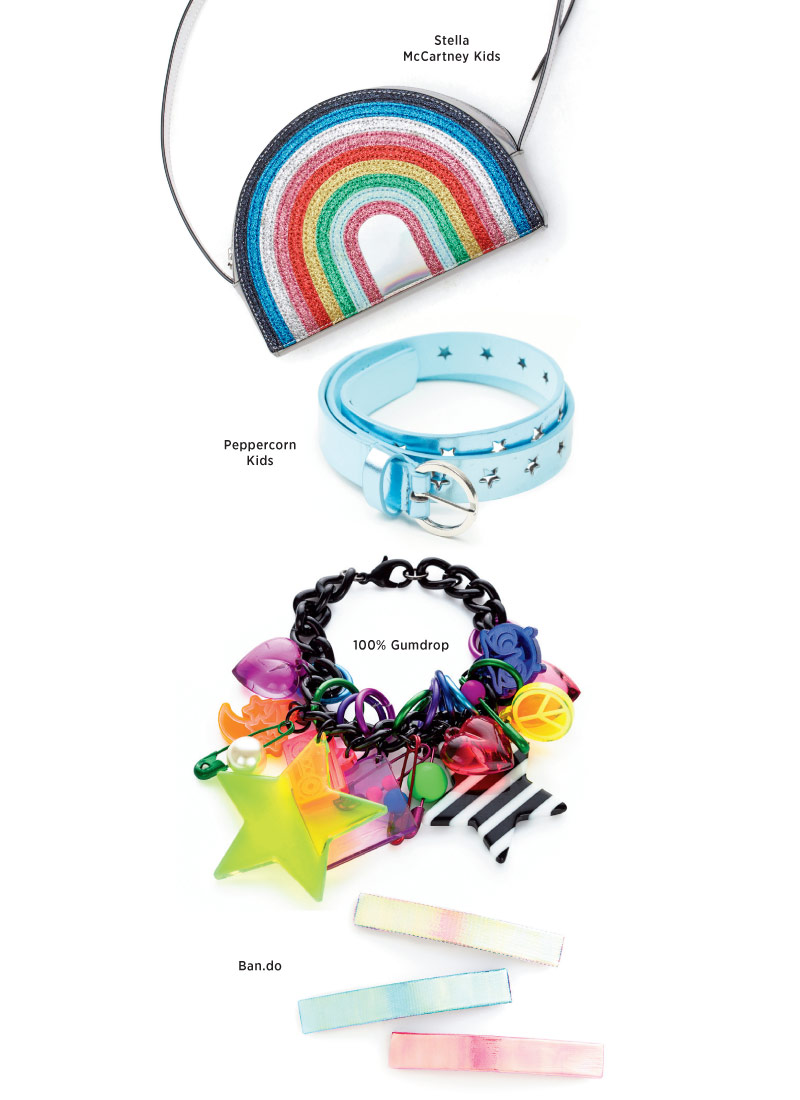 Bucket List
Once reserved for dads on vacation and '90s hip-hop icons, the bucket hat has staged a fashionable comeback. The floppy headgear can be found on everyone from international pop stars to models walking the Spring '16 Fashion Week runways. Nelson predicts that the hat will be a key piece for both boys and girls come spring, and points toward floral patterns and New York City-inspired prints as revitalizing the classic shape.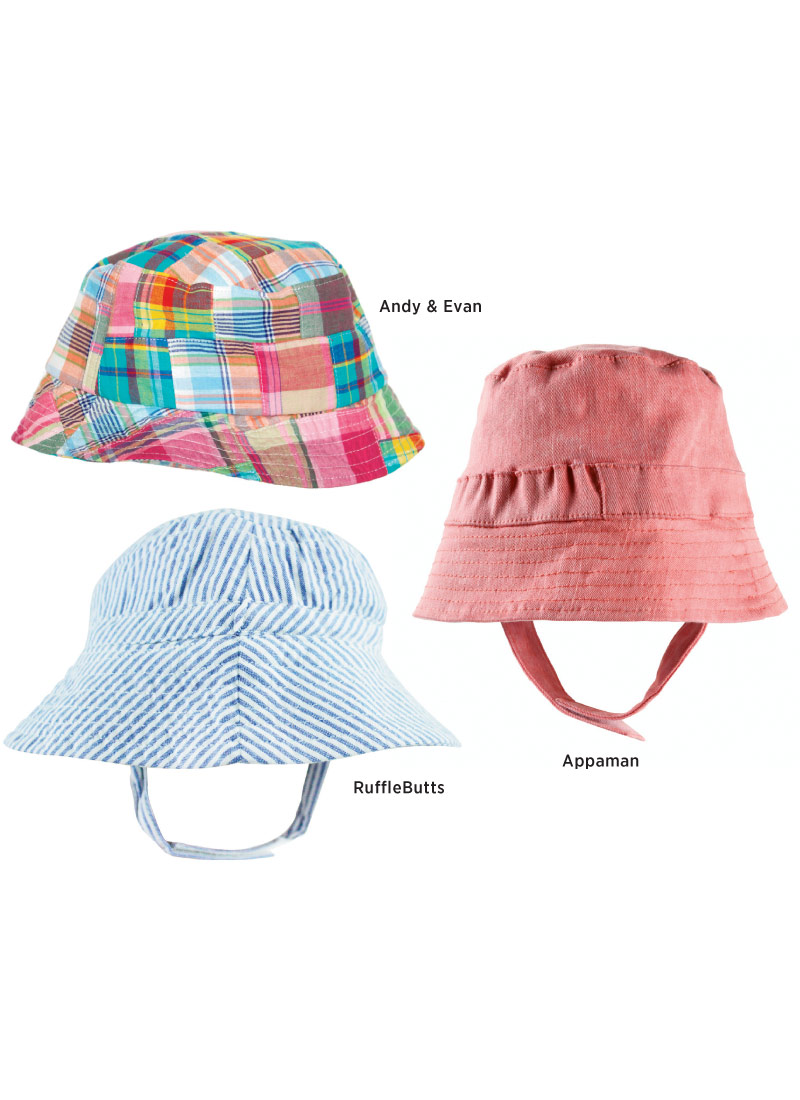 Free Fur All
Fur is no longer just for fall. Reimagined in bold, bright colorways, this fuzzy material is perfect for upping the luxe factor on a plethora of girls' spring accessories. Inspired by the candy-colored furs on Betsey Johnson's and Marc Jacobs' fall runways, classic brown and black are replaced by a veritable rainbow of hues. "Faux fur in neon and bright colors," confirms Ghalayini, of her must-have hair accessories. "If it's in the hair, it better stand out!" Monochromatic highlighter hues and bold color-block combinations are on trend for furry ponytail holders, headbands and hairclips.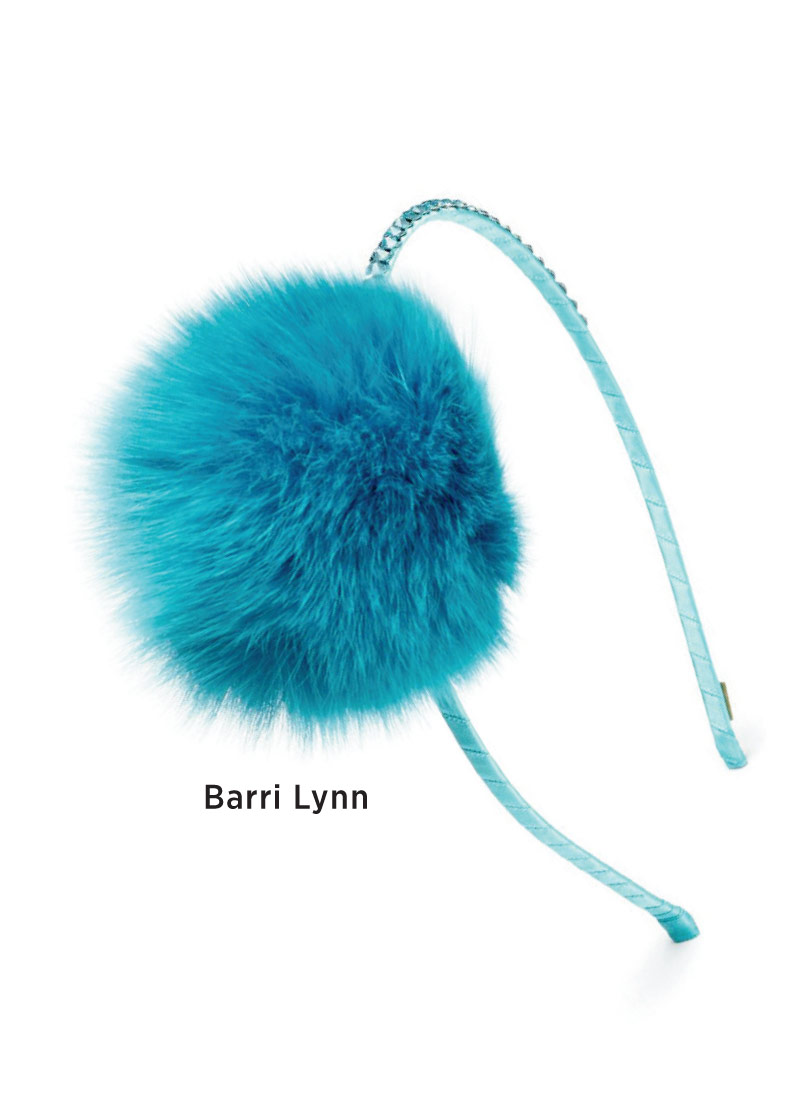 Water World
A treasure trove of aquatic accessories bubble up from the deep blue for spring. Veering away from nautical clichés, designers plumb the depths of the life aquatic for fresh details, eye-catching treatments and interesting textures. "Underwater is a huge trend," confirms Bray, pointing toward mystical creatures such as mermaids and giant octopuses, along with jellyfish and scale motifs as important. She also predicts that aquamarine will be the "It" color of the season. Expect a wave of iridescent leather treatments, abstract wave prints and 50 shades of blue this spring.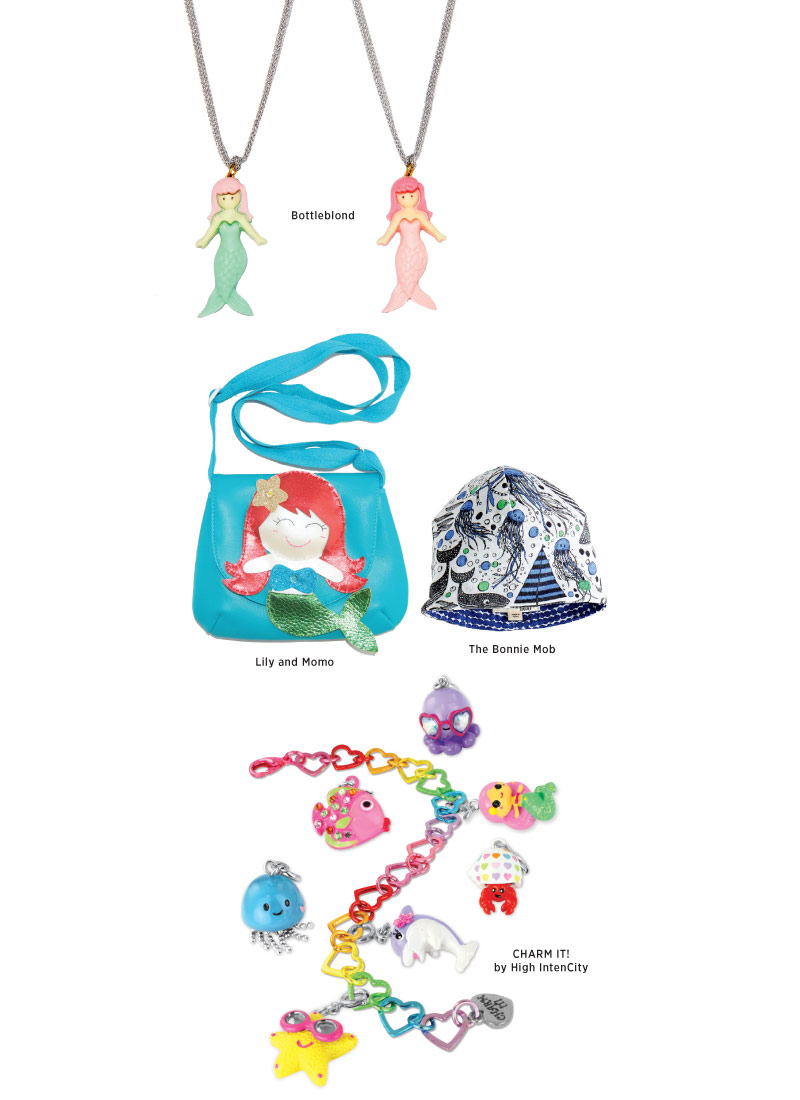 In a Tassel
As womenswear continues to embrace '70s-era styling, children's designers look to tassels and fringe to bring the trend down to pint-sized proportions. Fringe-trimmed faux suede bags and colorful tassel-bedecked jewelry lead the season's free-spirited selections. In what Bray calls the biggest jewelry trend of the season, look for "'70s-inspired long multi-row necklaces with tassels, fringing and pompoms." Paired with simple silhouettes in oversaturated colors, these peace-and-love embellishments look chic, not costumey, with oversized beads and delicate charms.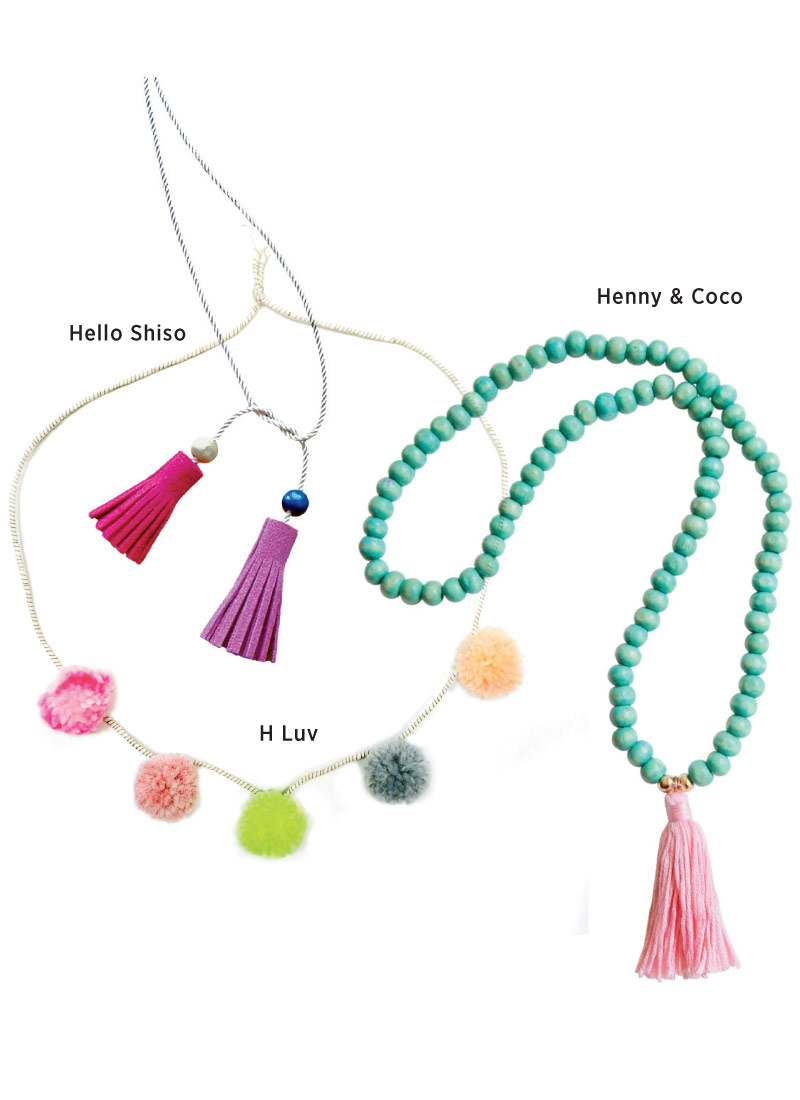 Mirror Mirror
One would be hard pressed these days to spot a celebrity not sporting a pair of mirrored sunnies, and children's designers are taking note. Now kids, too, can throw shade from behind these highly-reflective, enigmatic lenses. Ranging from high-octane rainbow hues to subtle flash-coat finishes, Nelson says mirrored lenses are a must-have, especially in bright colors such as golden yellow. As for frames? On-trend silhouettes range from round to retro, Nelson reports.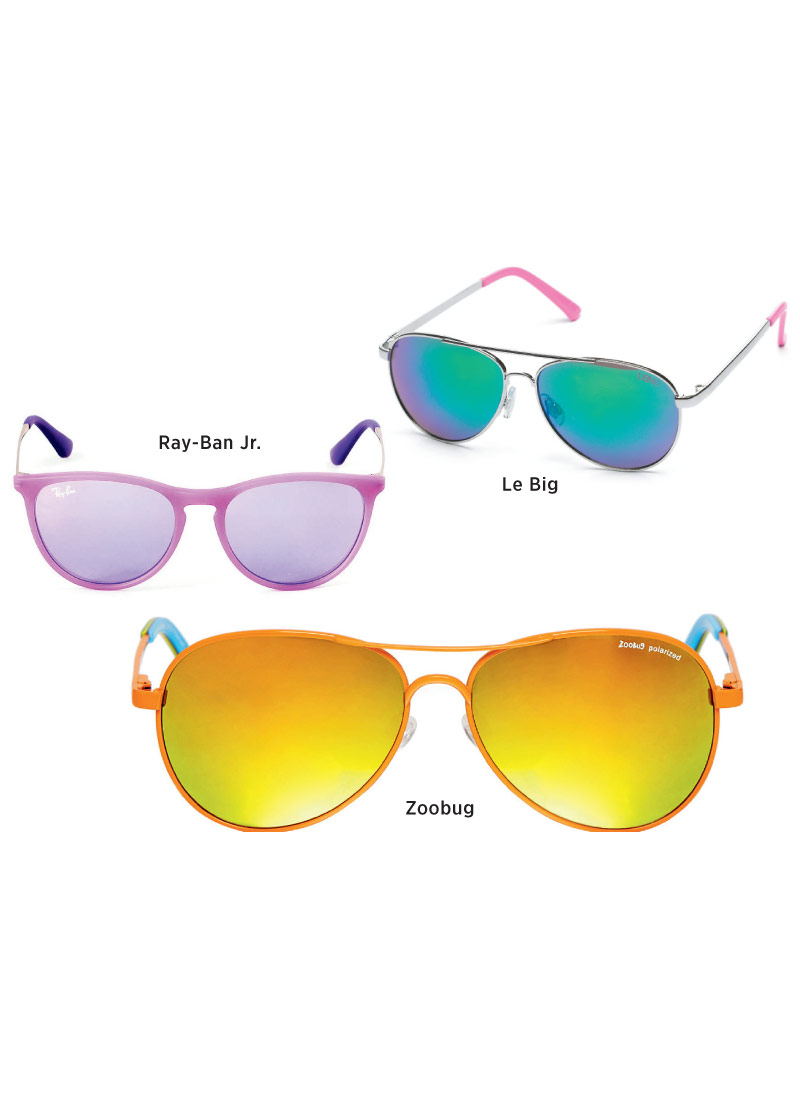 Full Bloom
Thanks, initially, to Frida Kahlo, and now, to a crop of festival-going tastemakers, floral crowns are poised to bloom for Spring '16. Bray and Leah Nelson, co-founder of kids' accessories brand Milk & Soda, agree that floral garlands and embellished headbands will have a bountiful spring season. Look to dainty blooms strung along ribbons or large statement-making flora on headbands to help little ones reconnect with nature.

Fast Fashion
Kids have always loved unhealthy treats, but it wasn't until Jeremy Scott introduced a McDonalds-themed collection for Moschino and Karl Lagerfeld turned Chanel's runway into a supermarket packed with good-enough-to-eat accessories, that childrenswear designers took their fast-food fascination seriously—a trend that continues to fill collections this spring. In fact, Kelly Bray, accessories buyer for AlexandAlexa, predicts another tall order of ice cream and burger motifs on kids' accessories. While metallic treatments and glitter embellishments keep creamy treats looking cool, bold colors and graphic patterns make savory options standout. Seen on backpacks, hair bows and jewelry, there's enough on the menu to keep little one's wardrobes satiated all season long.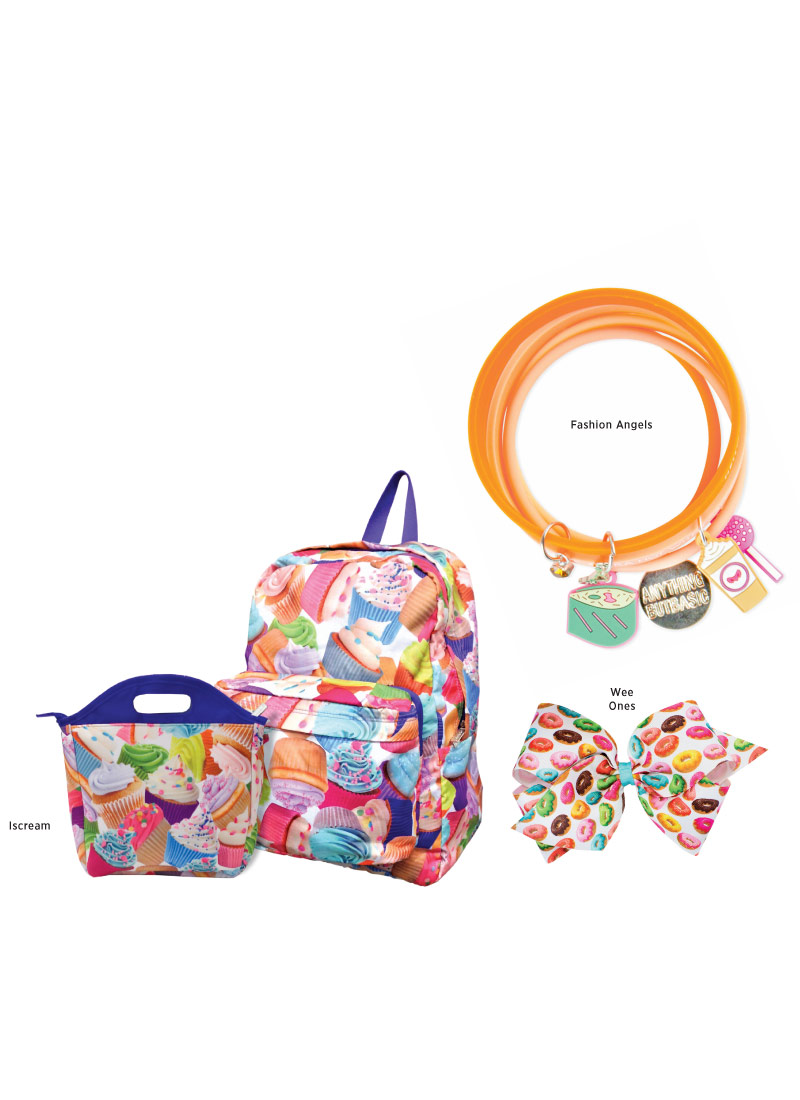 In the Bag
As the Mommy & Me trend continues to percolate through the apparel segment, it comes as no surprise that mini-me accessories are gaining traction. "Anything that looks like mom's bag" will be big, predicts Ghalayini, pointing toward styles with design elements similar to iconic bags by behemoths like Hermès, Chanel and Valentino. "We see the trend for faux-luxury mini-bags continuing and being a huge seller," she notes. Quilted details, high-shine hardware closures and rich colors help budding fashionistas feel just like mom.